Frontline Training During Reopening And Recovery
The restaurant industry is fighting low staff levels combined with high customer demand and ever-changing regulations. Training leaders from Portillos, Hopdoddy Burger Bar, David Chang's Fuku, and Paris Baguette share strategies for a successful training program in the new era of restaurants.
For Trainees: The Power Of Imitative Learning
Imitative learning, also called shadowing, is a common form of coaching in restaurants. "In its simplest form, training is: 'tell, show, do, review.' But, I think that we underplay the power of 'show,' " says Kelly McCutcheon, vice president of training at Hopdoddy Burger Bar, a 32-location restaurant group based in Texas. Kelly adds that in-person training can be replicated in a digital environment, but mostly in the form of reinforcement and assessment: "Standing behind a cashier and watching that interaction and then getting the chance to do it yourself is important."
For Trainers: Body Language And Tone Of Voice Connect With The Audience
The human connection between trainers and trainees is critical in the service industry. "It's all about the social cues, such as body language and tone of voice," says Frank Palmieri, senior people operations manager at David Chang's Fuku." There are tons of verbal and non-verbal cues that can help a trainer better connect with their audience."
Why Are Restaurants Ditching Paper Training?
Digital Training Is Time And Cost-Effective
"eLearning can provide time and cost-effective ways to supplement in-person training," Palmieri says. "Most managers don't have the singular responsibility to focus on training and development. So, eLearning tools can support managers and leaders by freeing up more of their time to focus on other aspects of a business while delivering effective training content via phone, tablet, or laptop." At Fuku, Palmieri leveraged our company to handle COVID training for his restaurant teams by delivering it over text message in the form of a "text message course." They've since expanded the platform to distribute anti-harassment and custom training over a text message.
Digital Training Supports In-Person Learning
In-person training should not be replaced, but there are opportunities to enhance it. In its simplest form, blended learning combines online content and online interaction with in-person methods. It also requires some elements of self-paced trainee control over time, place, and path.
John Isbell, vice president of learning and development at Portillo's, a 60-location restaurant group based in Chicago, believes the best way to deliver training content is whatever way his employees need it. "Give training to [employees] the way they want it." Isbell notes that some people prefer to read and write, while others prefer to watch a training video and gather the info they need, independently of an instructor. McCutcheon agrees that there's rarely a one-size-fits-all approach to restaurant training.
Training During Reopening And Recovery
Training Content Is Changing Rapidly
Restaurants have to be nimble to keep up with rapidly changing conditions and training needs. Training content for restaurants is evolving just as rapidly as delivery methods such as mobile LMS and text messages. During recovery and reopening, training directors have used creative methods to engage employees who are changing positions and responsibilities on the fly. From TikTok videos to text messages and videos, restaurant training is evolving to meet new challenges and conditions. The question is: Are these changes here for good?
"Content needs to be readily available for all stages of learning and types of learners," says Cynthia Lehr, director of training and development at Paris Baguette America, a 77-unit restaurant group. Lehr adds that training is no longer only about standard operating procedures. The focus has expanded to include guest and employee safety. Workplace safety training for restaurants has, of course, always been an important element of training, but Lehr observes that a new challenge is creating "authentic connections to handcraft personal experiences where safety versus service is at the forefront."
Video Training For Restaurants
Video Training Over Mobile Displaces Desktops And Tablets
Desktop and tablet learning has always been a challenge in restaurants that have only one device per store. Nevertheless, it was the only learning technology solution available when eLearning began to take hold in the restaurant industry in the early 2000s. But now, 97% of Americans own a cell phone of some kind and mobile phones have become an increasingly popular method of delivery. Palmieri adds that employees rarely lose their phones and don't go anywhere without them. "We need to present content [over mobile] and they'll always have access to it as long as they have their phones."
Daily Training Videos
There's also the consideration of employees' time. McCutcheon and Isbell both advocate using cell phones to deliver bite-sized mobile training to employees. No one has time for long chunks of training, nor do they want to dedicate time to leadership and development training. In the past, McCutcheon used to send a weekly or a monthly newsletter which may or may not have been consumed. Now, she sends bite-sized pieces of information via daily 60-second check-in videos. "We're reaching people where they're at."
Make Video Content Fun And Competitive
Isbell suggests making a competition out of video content. "I'm taking video submissions." This not only reduces the burden that training directors have to develop hours of video content but it has the added benefit of engaging employees who have deep institutional knowledge. Mobile learning platforms can support this method, provided that they accommodate secure video submissions from employees and allow for administrative review.
What's Next For Restaurant Training?
Capturing And Keeping Attention
Isbell notes that finding ways to capture employee attention immediately is key. "I think you have to give them something that is visual. I think it has to be auditory. I think there has to be some practice with it. And I think it has to be quick. There's just no attention span anymore."
In fact, researchers at the Technical University of Denmark concluded that our collective global attention span is narrowing because of the abundance of information presented to us. Mobile learning has to accommodate this shift.
"If there is a hint of anything that makes somebody feel like they're not going to be able to understand it, they're just gonna shut down," Isbell says. It can be a mix of user-generated content, curated videos from the internet, and interesting articles. Eventually, this will become a place where employees check out because it's social.
Cross-Training
There's an increased need for cross-training. For example, at Portillo's, there were some employees who were long-time beef-station people, or who were sandwich-making station people. Then, during the pandemic, there was a massive need for runners and order takers in the drive-through. "We had to take people who were not used to talking," Isbell says. "They might smile and wave, but people, as they walked through the line, they never talked to anybody." So Isbell realized how important cross-training would be so everyone could hop onto different positions as needed. "I don't think we could have survived if we hadn't done it."
Accessibility
"My kids do their homework on their phones. I come in and I say, 'I thought you were supposed to be doing homework' And they'll say, 'we are.' They show me and they're doing their own work on their phones. We've got to stop the stigma of phones in a restaurant. Use it right. Be responsible."
Emergence Capital reports that 80% of the global working population does not sit at a desk all day. Yet, 99% of investment dollars are going to the 20% who do. This might have been the case before COVID. However, restaurants are investing in the intersection of training and technology. McCutcheon adds: "The truth is our industry and our frontline team are not necessarily as tech-savvy as those 20 percenters that are sitting at a desk all day."
Final Thoughts From Restaurant Training Leaders
Motivation
The most important factor when it comes to succeeding is motivation, according to McCutcheon. Without motivation in the form of inspiration, money, or positive reinforcement, employees simply won't learn anything regardless of the way training is presented, she says. One way to motivate workers is to leverage them and set one employee up to be a positive example. "That kind of behavior is contagious in a good way," notes Palmieri.
Communicate Expectations
A good training plan with structure helps keep team members engaged and improves retention. Lehr suggests communicating regularly and providing honest and direct feedback that is relevant, fun, and effective. "Leaders and managers must promote a culture of learning and development," she says, explaining that team members want to know that their contributions are valued and that employers are investing in their future.
McCutcheon adds, "we've all been through something together and we have to pay reverence to that in everything we do. We've trained employees that  rapid changes are coming and anything can change in the blink of an eye." The restaurant industry is known for its resilience. It is no secret that employees are being trained to be more agile in the event that another global event like COVID takes place.
Industry Leaders Must Make A Strong Commitment To Training
Team members need new guidance on how to navigate through post-pandemic changes and challenges, says Lehr. Training is no longer just about standard operating procedures. The focus now includes maintaining safe environments for guests and team members, creating authentic connections to handcraft personal experiences, where safety versus service is at the forefront. "Team members will need to develop their emotional intelligence, in addition to the expected technical skills."
Growing Demand For Training Tech
Palmieri predicts that there's going to continue to be a demand for more updated technology. "If I hire you for a sales job and tell you I'm going to measure your performance by calls per week and then hand you a rotary phone, you'll probably just hand me your notice. We need to equip our frontline teams, but in accessible ways that feel relevant to them."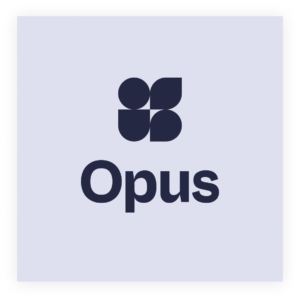 Opus Training
Meet your workforce where they are. A simple, powerful way to train and engage your "deskless" workforce. Train consistently, gain visibility, and increase productivity.