Digital Transformation Economy: What About Instructional Designers?
It's a complicated title to an article, but then careers are a complicated subject. In case you are unfamiliar with digital transformation and digital transformation economy, I would recommend you watch this video and this advert before you continue reading.
You can only predict your career if you are able to see how your industry is evolving and what some of the early adopters in your industry are doing. Hence, we will start by examining the top 5 companies in the Education space and figure out how they do business. Next, we will quickly discuss how career planning has evolved, and finally touch upon the concept of breadth versus depth. This concept has proved tremendously useful for me over the past 11 years of my career. I will talk about how you can apply this framework to plan your own career.
Top 5 Companies In The Education Technology Space
Forbes published an article listing out the top 10 Education Technology companies to watch out for and I have curated my findings from there. Let's start with my favorite.
1. Udemy.

There was a time when learning a new skill was time consuming and expensive. You had to figure out an institute, pay a premium, and attend classes based on their time table. Given the rapid pace of technological advancement, it's impossible to find the time and money to keep attending such classes. Udemy allows a Subject Matter Expert to create, publish, and sell courses at a very reasonable price. It allows learners to learn from the best by paying a small fraction of the cost that they would pay for face-to-face training.
2. Andela.

Andela is a talent accelerator company that runs intensive programming courses in Nigeria and Kenya. The program unites qualified African students, regardless of age, income, or gender with leading developers who teach them how to code. The students are then placed in leading technology companies around the globe.
3. Coursera.

Coursera is in the business of proving real college education to people for free or a nominal fee depending on the learning track and economic background. Such offerings are popularly known as MOOCs and MIT called them the most important education technology in the last 200 years.
4. Kaltura.

Kaltura's technology was created to accommodate the multifaceted requirements of media companies like HBO. It then started catering to major enterprises including Bank of America and now offers the same functionality to Education companies to setup and manage video streaming services.
5. Blink Learning.

There are so many different publishers worldwide who have created brilliant nuggets of information for any given topic. Blink Learning allows department heads and teachers to pick and choose nuggets of content from each of these publishers and create their own personalized book for students.
The Billion Dollar Question
The title is not a coincidence here. The Education industry is in the middle of an upheaval and there are multiple companies that are vying to becoming the next billion-dollar unicorn. However, to participate in this revolution, we Instructional Designers need to evolve our skills and approach. Based on the companies described above, how many job descriptions do you see here that requires detailed knowledge of how to create web-based trainings, instructor-led trainings, job-aids, and all the other traditional things that Instructional Designers are trained to do? How much time do you think can be spent on filling out a detailed needs analysis template and creating a 10-page design document that outlines each screen of the proposed course? I am a traditional Instructional Designer by heart and love all these activities, but I think we will quickly see a new set of skills that are in high demand. As Instructional Designers, we will need to acquire these skills to develop relevant offerings for the modern-day learner.
Traditional Understanding Of Careers
We traditionally have the following assumptions about our careers. Some of us don't always think of it in these terms, but these assumptions subconsciously play a large part in our career choices.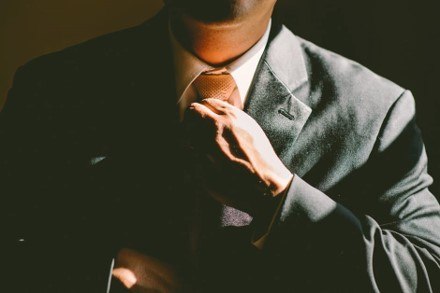 We assume career progression automatically happens with time.
The pace of digital transformation means time in the one thing most of us don't have.
 We assume hard work is enough.
Hard work is a necessary, but not sufficient ingredient for career progression. It's very important to work hard on the right skills at the right time and be able to deliver results.
 We assume career progression is liner.
We always start at the bottom of the ladder and the only way is up. The changing nature of the workplace means horizontal and sometimes even downward movements may be a great idea to develop new skills that ensure you are relevant in the workplace.
 We assume we will work in the same domain forever.
We no longer have the luxury of saying " I am an Instructional Designer and that's not my job". We may have to edit a video, write some code, tweak a graphic, and measure the ROI on training to ensure we add value to our business.
Career Planning For Digital Transformation
I believe the only job an Instructional Designer –if the title remains the same over the next few years– will have is to create engaging curriculum that can be consumed just-in-time, in small nuggets, on any device, and provides analytics to your business on how it is moving the needle for your organization.
Instructional Designers will have to do whatever it takes to get these results and that means stepping outside traditional boundaries. It is nearly impossible for a single designer to be skilled on all these things at once. That's why the conversation of breadth and depth becomes important. I believe that Instructional Designers will have need to have a wide breadth of knowledge to design impactful learning solutions, but they will also need the depth of subject matter expertise in a few areas.
The image here represents some of the key skills that I think would be relevant for Instructional Designers to develop over the next few years. Let's review each of these skills.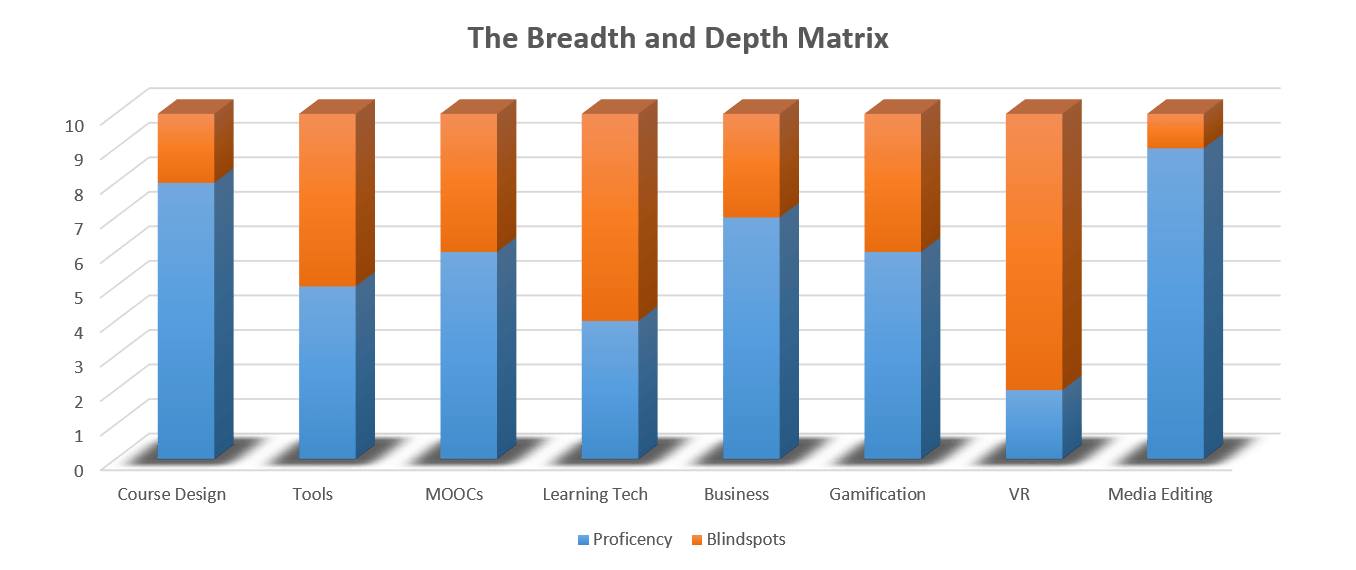 1. Course Design.
This is traditionally the skill the best Instructional Designers already possess. The ability to look at raw content and use Blooms Taxonomy and Gagnes Nine events to create an engaging and effective course. It is highly recommended that Instructional Designers checkout the Neuroscience of Learning course by Britt Andreatta on Lynda.com to learn about the how you can join the dots between neuroscience and the age old Instructional Design theories that have worked for us.
2. Tools.
The education market is flooded with tools that allow you to develop interactive and modular content. Articulate 360, Adobe Suite, Inkling, and Camtasia are some examples of popular tools that are available in the market. Most people know how to use these tools but it's important to figure out when to use which specific tool and why. For example, Articulate Storyline works best when you want to build and support interactive and gamified e-learning, while Captivate works best for certain simulation activities. Articulate Rise works best if you want to build and release small nuggets of information, which can be hosted on a traditional Learning Management System but Inkling works wonderfully when you want to create digital books that can be downloaded on any user's mobile device or tablet. Pricing also pays a huge part in selection of tools since most companies are now operating on subscription pricing and try to give a complete suite to an instructional designer. The ability to pick the right tool for the right scenario would be crucial to an instructional designer's success.
3. MOOCs.
MIT called MOOCs the most important education technology in the last 200 years and they said this for good reason. Coursera was one of the first pioneers in this space, and this model has been rapidly adopted by some other players. Enterprise organizations have been relatively slow to catch onto this wave but SAP is leading the pack with Open SAP. They offer courses related to SAP and non-SAP technologies to a technical audience. This helps them generate enough technical expertise in the field to support the rapid growth of SAP and it also ensures that SAP experts are constantly in touch with real-world implementation scenarios and concerns. Any large technology company that is looking to gain thought leadership and mindshare in the market place will do well to adopt this model. Instructional Designers will have to learn how to partner with experts and create small nuggets of information that can be published in the MOOC environment. They may also need to learn about the basics of setting up and working with some MOOC environments.
4. Learning Technologies.
There is a significant difference between tools and learning technologies. Articulate offers a set of tools to create content but a CMS, an LMS, or an LCMS are examples of learning technologies. The digital transformation journey means that a lot of people need to learn new skills and they need to do it very quickly. This means there is a ton of scope for using machine learning, artificial intelligence, Drupal, and other such technologies to build custom solutions. Checkout this story on how IBM Watson was used as a teaching assistant in the Georgia Tech university and this video on the use of AI for individualized learning for children. Such technologies gradually permeate into mainstream usage and digital transformation will ensure that these innovations become mainstream very quickly. As an Instructional Designer, you may not know every piece of technology inside out, but if you want to lead transformation using education, you need to know which technology to bet on and have enough knowledge to collaborate with the right group of experts.
5. Business.
It's crucial that Instructional Designers understand the business of education. How much effort and money does it cost to build and run a training program? How do you measure return on investment for stakeholders? How do you showcase the business impact of training? If you have not planned for these events while designing the training, the chances of successfully doing this as a postmortem are very rare. I have heard so many Instructional Designers complain that their leaders don't understand Instructional Design theories and don't appreciate creativity. Meanwhile, leaders are forever worried that the designers don't appreciate the fact that it takes real money to build training and design cycles cannot go on forever. The only way to break this deadlock is for Instructional Designers to learn more about business. A very good resource is to sign up for a this course on Udemy and then treat your own course like a mini-business. You can implement all of some of these skills and help your organization showcase the value of developing education.
6. Gamification.
There is so much buzz around this word and many companies like Badgeville are making a fortune by using some key core drives defined in gamification. I would recommend you start by reading this book by Yu Kai Chou to understand the basic core drives in human beings and why they respond so well to a game-based architecture. Then, spend some time with Articulate Storyline to use triggers and variables to create some samples. This will allow you to apply some gamification concepts. Whenever you have a requirement to apply gamification in a course, you can either build engaging gamified curriculum using Storyline or partner with a vendor who can give you more options. Either way, base knowledge of gamification will help you tap into the core drives within people and create engaging learning experiences.
7. Virtual Reality (VR).
Thanks to Google Cardboard and Unity 3D, anyone with some basic coding skills and creativity can dip their feet in Virtual Reality. Consider a scenario where you have to train software developers on customer empathy. It's a key skill that allows developers to understand customer issues and create great software. Can you ensure each developer meets a customer and understands their pain points? Can every developer see how their software may be causing issues to customers? That's logistically and financially impossible. However, Virtual Reality makes this a reality and the benefits of such an approach are amazing. The software development teams can sit on their workstations and explore a fully-fledged customer environment. They can live and breathe a customer's challenges and pain. No amount of web-based training can replicate that effect.
8. Media Editing.
This is probably the easiest skill to pick up for Instructional Designers. Tools like Camtasia and Audacity make it extremely simple to edit video and audio. These skills are essential as you build small nuggets of information that can be consumed across all devices. This allows Instructional Designers to focus on rapidly developing and releasing nuggets and frees up the graphic and media designers for higher-value offerings like designing gamification interfaces or creating virtual reality trainings.
Summary
The transformation may sound daunting, but the rewards for people who participate are tangible. You will get to be a part of the fourth industrial revolution of digital transformation and help make a huge difference to your learners and your organization. Remember the concept of the breadth and depth matrix. You need the breadth across all these skills to design an optimum learning solution but you only need depth across a few core skills that you are passionate about. Your depth will ensure you keep adding value to your business, while the breadth will ensure you know your blind spots and can collaborate with someone to build the optimal solution.