Reskilling Programs: Is It Time To Rethink Your Skills Training Strategy?
Research shows that 74% of employees are willing to learn new skills or re-train so they can remain employable [1], and 94% would stay in a company longer if it invested in their development and learning [2]. Reskilling helps organizations rely on the top talent they already have while taking on new projects and scaling their business.
An efficient reskilling program should prioritize self–paced and customized learning to provide today's workforce with the flexibility and autonomy they need when it comes to training content.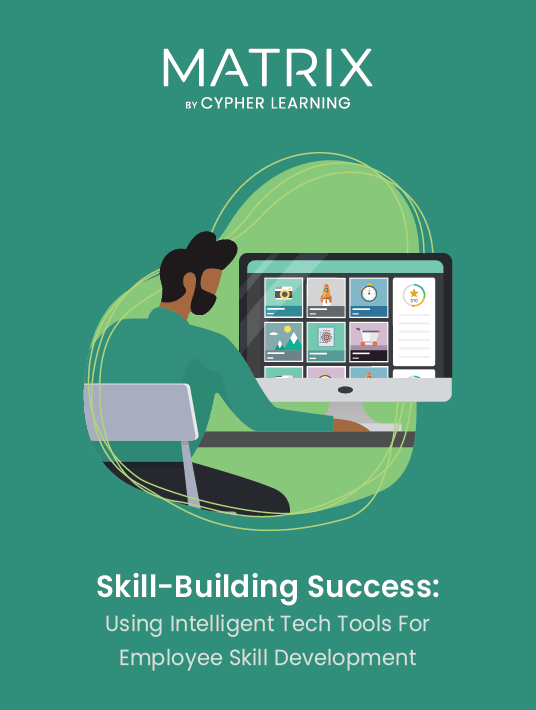 eBook Release
Skill-Building Success: Using Intelligent Tech Tools For Employee Skill Development
Let's explore how to design effective skills development strategies in any organization with the help of the latest learning technologies!
Signs Your Organization Is In Need Of A Reskilling Program
High employee turnover is a problem organizations can tackle, among others, by reskilling their workforce. As companies of all sizes embrace digital transformation, employees need to keep pace. Reskilling programs help them get ready for new roles as some of their previous responsibilities are automatically dealt with by using new technologies.
Reskilling can minimize the risks and damages associated with not knowing how to meet new business demands as companies go digital. According to World Economic Forum research, more than 54% of employees worldwide would need significant reskilling [3].
Furthermore, when employee morale is low, so are their results. According to a PwC study, More than 39% of respondents in 19 countries are afraid that their jobs will become obsolete in the next five years [4]. Reskilling can alleviate some of this stress by providing employees with the new skills they need to successfully meet ever-changing demands and challenges at work.
Every company is a dynamic environment where, every now and then, people change their departments, get promoted, or leave. When a new position becomes available, there's often someone within the organization ready to step in and take the new role. That person might have the experience, commitment, and ambition it takes. However, they might lack the full suite of skills their new role requires. A reskilling program can offer them the knowledge they need to shine in their new position.
Reskilling through a proper employee training solution can help you retain your most valuable workforce, improve work performance, raise employee and customer satisfaction, and boost your organization's revenue.
4 Tips To Find The Right Employee Training Solution
With the right employee training solution, your L&D department can streamline reskilling programs and implement customized learning strategies that bring positive results at an individual and organizational level. Here are four things to consider when searching for the best employee training solution for your company.
1. Conduct Training Needs Analysis
Training needs analysis helps you pinpoint the type of reskilling program your staff needs based on their current level of training, their needs, and the organization's goals. It involves scrutinizing key areas such as skill and knowledge gaps, lack of or ineffective training, and performance issues.
To conduct training needs analysis, organizations could rely on the same software they use as an employee training solution. For example, intelligent learning platforms (ILPs) are equipped with tools like surveys that can help you find out what your staff needs.
2. Tailor Your Training To Your Employees' Preferences
Having worked with different organizations as a trainer and currently leading a dynamic international company, I can't stop emphasizing the importance of offering personalized training content to employees. If you want to truly engage people in their reskilling training, you need to provide them with content that's relevant, suitable for their skill level, and resonates with their career goals. Moreover, this content should have an engaging format and be easy to access at any time, from anywhere.
The ideal training solution enables both remote and in-person training to allow all employees to easily squeeze learning into their busy schedules, acquire new knowledge, and complete assignments at their own pace.
Training solutions such as ILPs foster remote, self-paced training by offering a virtual learning space, personalized learning paths, customized content recommendations, and other features that enable customized learning.
3. Choose The Training Solution With The Most Useful Features
More is not necessarily better, and many training platforms, such as intelligent learning ones, boast a large number of features these days, which makes your choice more difficult. To choose the right employee training solution for your organization, you should start by establishing your priorities.
If you're looking for a platform that emphasizes collaboration, features such as groups, chats, forums, integrations with video conferencing tools, or team assignments come in handy.
If your aim is to enable your staff to gain ownership of their training, features that promote self-paced learning, such as personalized learning paths and setting learning goals, are must-haves. Paired with personalized content recommendations, these features enable employees to decide what, when, and how to learn. Based on their skills and goals, employees should get a variety of training recommendations such as videos, articles, third-party courses, and different types of assessments to test their knowledge.
You will also need to keep a close eye on your trainees' progress and your overall reskilling training efficiency. In this case, robust analytics and reporting tools are essential. Your training platform should provide a variety of in-depth reports.
4. Consider Time And Budget Limitations
Factor in your staff's availability as well. Employees are usually reluctant to spend extra hours at work for training. Trying to squeeze reskilling training into their schedules might be hard to achieve. Therefore, you can allow employees to learn at their own pace when their workload and schedules allow them to by relying on training software rather than in-person or live online sessions, which are hard to organize, especially for large international teams working across different time zones.
Staying within your budget is also essential when you have to decide how to reskill your workforce. Hiring external trainers to design and deliver reskilling programs is typically more expensive than providing training via e-learning platforms. These solutions enable you to create and access training content from multiple sources and share it with your employees regardless of their location, thus cutting the time and costs associated with traditional training.
Key Takeaways
Reskilling training is key to an organization's success; it allows employees to develop the abilities they need to successfully take on new roles and helps retain your most valuable talent instead of bringing new hires aboard. A robust, feature-rich employee training solution should provide you with all the tools you need to design, deliver, and track customized reskilling training programs while allowing your staff to learn at their convenience.
References
[1] 39 Statistics that Prove the Value of Employee Training
[2] 2020 Workplace Learning Report
[3] The Future of Jobs Report 2018