The Ideal IT Infrastructure Solution: What Should It Look Like?
A well planned IT infrastructure solution can significantly reduce the costs and boost revenues. With the rapid growth of the organization, IT infrastructure grows even more rapidly from few servers initially to large data centers housing the modern technology. Thanks to virtualization, now you can have multiple virtual servers on a single real server. So what's the best infrastructure solution? Let's take a look at some facts first.
According to India Brand Equity Foundation, "the contribution of the IT sector to India's GDP rose to approximately 9.5 percent in Financial Year 2015 from 1.2 per cent in Financial Year 1998".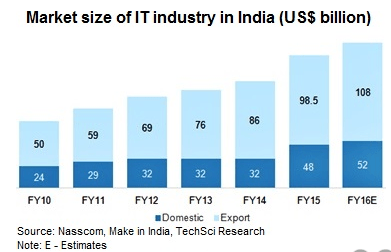 What does that imply? It suggests that the IT sector has occupied the market in a vast scale and that technology is empowering the world. In an era that is technology-loaded, your business needs to adapt to the latest technology to be able to breathe in the world of tech Goliaths.
A robust IT infrastructure is more important that you might realize. Giving it in the hands of an amateur might lead to serious consequences. A well-established IT infrastructure needs to be reliable, flexible and secure.
"7 out of 10 organizations believe IT infrastructure enables competitive advantage and optimizes business performance."
A robust IT infrastructure is vital to enhance the overall efficiency of your organization while also ensuring cost savings and security of your critical business data.  Most of all, it gives a competitive edge over other competitors keeping at a higher pedestal regarding performance and adaptability.
What An IT Infrastructure Solution Consists Of?
Even before you're thinking of visiting IT infrastructure solutions and service providers, you must know what IT infrastructure consists of.  Its components are hardware, software, network resources and services which are required to run the organization successfully. Within the organization, it may be supporting business operations or may be used to deliver technology solutions for the customers. The typical components of an infrastructure are:
The Hardware.
It consists of servers, computers, data centers, switches, hubs, and routers, etc.
The Software.
It consists of Operating System, ERP, CRM and other applications.
The Network.
It consists of network enablement, internet connectivity, firewall, and security.
6 Features The Complete IT Infrastructure Must Have
Well, the above are just the components, but the complete IT infrastructure is much more than that. It has to meet the service level expectations of the organization. For an IT infrastructure to perform well in your business environment, it must have:
1. Latency Proof
Latency is the delay that may happen in the communication of data over the network. There are 2 types of latency:
Low Latency Networks: These are the network connections in which small delays occur.
High Latency Networks: They are the network connections which suffer from long delays. This kind of latency creates bottlenecks, and it prevents the data to take the full advantage of the network and decreases the communication bandwidth.
Bottlenecks Causing Latency: In some cases, the problem may be with transmission medium. The network router or switch may have a problem. Some software may be malfunctioning due to which the network may be facing latency issues.
There may be few ways as to what can be done to remove network latency. One of them is provisioning servers with high-capacity ports.
2. Optimized WAN Network
With WAN optimization, you can be assured of better network management. With it, you can prioritize the traffic and ensure that business critical applications get the bandwidth they require. It not just lowers the traveling costs, it also increases the productivity.  Let's take a look at some of the technologies which are used:
Traffic Shaping.
The traffic is prioritized, and bandwidth allocation is done.
Data Deduplication.
It eliminates the redundant data. In this instead of sending the actual data, the references are sent
Data Compression.
It helps in contracting the size of data to limit bandwidth usage
Data Caching.
In this, frequently used data is hosted locally on a local server for faster access.
The importance of WAN Optimization is more in the current business environment where more and more companies are moving to cloud. There are two ways to address this, first, purchase more bandwidth, and second, use what you have already more efficiently.
3. Zero Downtime
It is critical to reducing disruptions in the business and ensure that all the mission critical applications are up and running whenever they are needed the most. With a modern updated infrastructure, you'll be eliminating the system downtime as a factor which may cause revenue losses.
In telecom networks, any increase of capacity and a simplification of various carrier network layers need extensive planning along with highly experienced people to design and deploy. Any downtime in the telecom network can prove to be very costly for the company and the customers as well. Only a company which is experienced with MPLS, Metro Ethernet, Core and Edge networks will be able to help overcome the dreaded downtime.
4. High-Performance Storage
The requirement of the most demanding high-performance computing, financial, life sciences, manufacturing, and other academic environment drive high-performance storage challenges that must be met with an offering which is flexible and robust.
The need for block and file storage products and solutions is mandatory to meet the need of unique requirements of Big Data and Web 2.0. The current storage technologies which are used are:
Disk Storage Systems: Enterprise SAN and NAS.
Disk Backup Systems: Virtual Library Systems, D2D backup, Removable Disks.
Tape Drives and Blades: LTO, DAT Simple, and Fully Automated Tape Libraries.
Back-Up and Archival Solutions.
Virtualized and Unifies Storage Solutions.
Disaster Recovery and Business Continuity Solutions.
The organizations that adopt HPC technologies need to prepare for this very high increase in the data by adopting technologies that will enable high performance. It'll also lead to real-time collaboration and will drive down the cost of computing.
5. Virtualization
Server virtualization is a technology which is in existence for a decade, but some still consider this as something new. Any multimedia integration is easy, and it provides efficiencies and capabilities which aren't possible with a physical world. There are many benefits of virtualization:
Energy Saving.
Virtualization can save you a lot of energy. This means cost reduction and more saving and more budget to focus on other areas.
Faster Server Provisioning.
With server virtualization, the administrators are enabled to provide system provisioning and deployment at a short notice.
Increases Uptime.
The virtual servers offer some advanced features which are simply unavailable in physical servers. This leads to increased uptime and business continuity.
Improved Disaster Recovery.
Virtualization offers hardware abstraction, easy replication, and failover when the disaster strikes.
Fosters Cloud Computing.
When the world is moving towards cloud, virtualization makes it easy to go on cloud. By virtualizing the servers and abstracting the underlying hardware, you are gradually embracing cloud computing.
When it comes to implementation, prior experience helps. A virtualization project will span across:
Server consolidation and infrastructure optimization.
Desktop Virtualization.
Storage Virtualization.
Server Virtualization.
6. Security
Security plays a major role in moving an IT infrastructure from a vulnerable state to an optimized state.
"The Global Risks 2015 report, published in January by the World Economic Forum (WEF), included this rather stark warning: "90 percent of companies worldwide recognize they are insufficiently prepared to protect themselves against [cyber-attacks]." Source: whitecase.com
The areas where security plays an important role is:
Controlling information access. 
It allows the access of information to managed and defined. It means identity management, network access control. Simple access to critical resources is granted only when the authentication is successful.
Implementation of standards.
Implementing the ISO/IEC standards makes systems more secure. They are widely used and help in formulating the security policy, so it is important to have the business processes aligned to the international standards. One of the commonly used standards is ISO/IEC 27002. It is a rule which is published by the ISO and provides best practices recommendations on information security management.
Availability of data.
The security is instrumental in ensuring that data is available to post optimization. While the administration of the device can be simplified with NAP, a well-designed security policy will define the process of business continuity. BCM (business continuity management) may be integrated during any implementation of information safety standards.
Conclusion
IT Infrastructure is the backbone of any organization. Doing it with careful consideration will save you a lot of efforts while also improving your workforce efficiency and meeting business goals. Outsourcing your IT infrastructure management is a great decision, but a tricky one.
Choosing the right solution is often complex and requires thorough technical knowledge. It is recommended that you question the representative about your darkest as well as the most obvious technology fears and needs. While giving it in the wrong hands may lead to technology nightmares, giving it in the right hand will result in a chain of events that will lead to your business success.
Scalability, reduced capital expenditure, improved security and the ability to focus on the core business are just some of the benefits of giving your technology infrastructure in the right hands.