The Key Benefits Of Mobile Learning You Should Know About
With mobile phones becoming more pervasive, it is no surprise that they are the most preferred way we consume content today. According to Ericsson's forecast, 80% of the world's population (6.4 billion people) are smartphone users. Given this trend, it is a natural progression for mobile phones to be extensively used for training, as well, in the future. Organizations are lapping up the key benefits of mobile learning, as well as the opportunity it offers.
In my article "Take Your Mobile Learning To The Next Level With Creative Design Strategies", we explored the various creative design strategies to implement mobile learning. To make mobile learning more impactful, we use a responsive custom framework, authoring tools, and creative design strategies to align required assets (text, pictures, animations, and the interactions).
The Success Of Mobile Learning
Either we talk about Performance Support or collaborative eLearning environment, mobile learning is best suited for it. Why are learners more motivated and engaged in mobile learning courses?
Here are a few benefits of mobile learning:
1. Learn Anywhere, Anytime Leading To Better Course Completion Rates
Mobile learning allows for flexibility by eliminating the need for learning to happen at a particular time and place. Mobile learning takes learning flexibility to another level by making instructional content like videos, podcasts, and other multimedia formats available on smartphones and devices. Learners have an added advantage of accessing the content wherever and whenever they want. Mobile learning seamlessly integrates learning into the daily routine of the learner, which results in successful course completion and retention of knowledge.
2. Bite-Sized Delivery Leading To Faster Learning
The shift towards microlearning and creating learning that can be digested in bite-sized "chunks" has been heavily influenced by the adoption of mobiles as a mode of learning. Since the real estate is small, the content presented is crisp and concise. Information is more readily accessible when needed for on-the-job training. This helps in avoiding cognitive overload and increases learning.
3. Improves Knowledge Retention And Information Recall
Mobile learning leads to improved knowledge retention thanks to the fact that learners are more likely to remember crisp and concise data at the moment of need, which they find relevant and relatable. Thus, they will be able to recall information while at work and perform their job to the best of their ability, given that they have committed the subject matter to their long-term memory.
4. Personalization Leading To A Higher Rate Of Engagement
One of the widely known advantages of mobile learning is personalization. The tailor-made courses promote a higher rate of engagement and motivation for learners. Moreover, the fact that mobile learning is accessible at any time, any place helps learners stay on track with training.
5. Availability
When you adopt mobile learning in a digital training strategy, there is a unique advantage of 24x7 availability. Whenever an employee is about to perform a task, for example, or give a sales pitch about a recent product, they can quickly take out their phone and launch a short course that helps them brush up their key concepts. Such a just-in-time Performance Support lays a strong foundation for the employees.
6. Responsive Design Leading To Easy Adoption And Future Proofing The Content
We've all experienced how certain websites that look great on our PCs do not come across well on our smartphones. And same would be true for mobile learning if it weren't for responsive design. Responsive design enables the interface to adapt to multiple device sizes, whether it's desktop, laptop, smartphone, or tablet. Responsive design goes hand-in-hand with mobile learning. This shift has helped to "future-proof" the content and design, as mobile technology advances.
We have implemented several mobile courses taking advantage of the technologies and frameworks that are now available, such as HTML5. Let's next have a look at a case study:
Coffee Manufacturer In Asia
This responsive microlearning course was developed using a custom HTML5 framework to help the employees in coffee manufacturer to understand the various aspects of production cost and other costs involved in coffee making. The course begins with a unique activity wherein the learner needs to select the financial advice of a manager. Upon selecting the financial advice, the learner needs to solve the issue and proceed. This was one of the unique activities which were created on a mobile platform. The sample screenshot of the course is given below: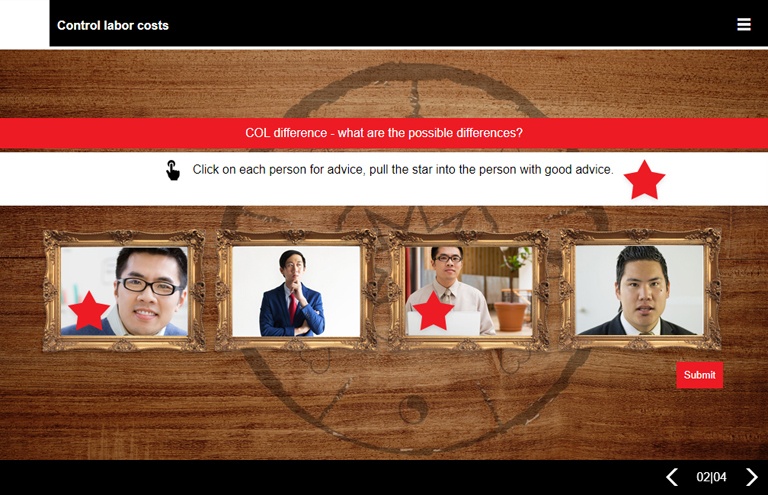 Conclusion
Mobile learning is here to stay, and its benefits are proof that organizations will look for greater implementation of the same.
Learn more about how Tesseract Learning is helping you to plan, strategize, develop, and deploy custom learning solutions with insights on revolutionary mobile learning implementations or leave a comment below with your feedback and suggestion.
Suggested further reading:

Prodient.io
Prodient.io is a cloud-based rapid eLearning authoring tool filled with templates to develop engaging, interactive and fully responsive eLearning courses easily, powered by Tesseract Learning. Contact us for a walk-through demo of the tool.