Lite LMSs: Comparing Mindlfash, Litmos, and TalentLMS
Mindflash
Mindflash is the leader on this market with a product history of several years.
Functionality: 7

Pros: Proven through time, Faithful conversion of PPTs and other documents, Native iPad application
Cons: Based on Flash which is a dying technology; does not support any eLearning standard like SCORM; Needs a native mobile application to work on mobile devices; limited customization (a few predefined templates), minimum functionality out of content creation.

Easy-of-use: 9Flash make this product easy and entertaining to use.
Cost: 5This product was the most expensive of the three we tried. With a cost of starting at $119/month for 20 users $399/100 users/month
Sum: 21 points out of 30
Functionality: 8Pros: Supports Scorm and Tincan standards, decent functionality. It supports a basic Instructor Led Training module. Recently it announced support for several languages.
Easy-of-use:  9

Litmos is promoted as the easiest LMS and certainly it is easy to use. It has an easy to understand admin dashboard with clear stats about most things happening inside your learning portal.
However, at the moment its interface looks a bit dated. It also has a few modules, like its assessments engine, that do not fit with the system well (they look like external modules) and can cause confusion.

Cost: 7 Litmos start at $299/month for 100 users and has a cost of $699/month for 500 users (updated 31/12/2015).
Sum: 24 points out of 30
TalentLMS
TalentLMS is a newcomer. It is based on recent standards and technologies and that shows on its speed and user interface. It also offers a good balance between functionality and ease-of-use. TalentLMS comes with a content consumption gateway from services like Youtube, Slideshare, Wikipedia etc (which is nice!) and branded sub-portals (functionality found usually on very expensive alternatives).
Functionality: 8TalentLMS offers a lot of power under a very easy and modern user environment. Its responsive interface makes it a nice fit for a variety of mobile devices and without the need for a native application. The product comes with support for multiple languages.
Easy-of-use: 9The product was easy to use with a simple yet modern interface. We especially like the ability to "locate" objects (users, courses, etc) from the header. As a new product there are a few rocky spots though.
Cost: 9TalentLMS is by far the less costly solution to start with online training. It starts from $29/month for 25 users and a cost of $99/month for 100 users.
Sum: 26 out of 30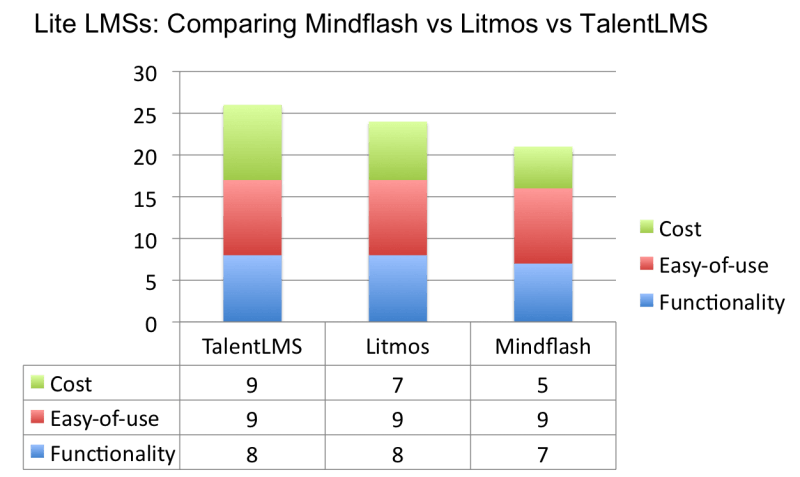 ConclusionNo matter how we see it, TalentLMS seems your best choice. It is fast, easy to use with the functionality you will need (but not more) and a smooth interface. It is also the cheaper. You cannot go wrong with this one.
At the following graph you will review and some important features such as branded sub-portals, multiple languages, standards, HTML5, etc.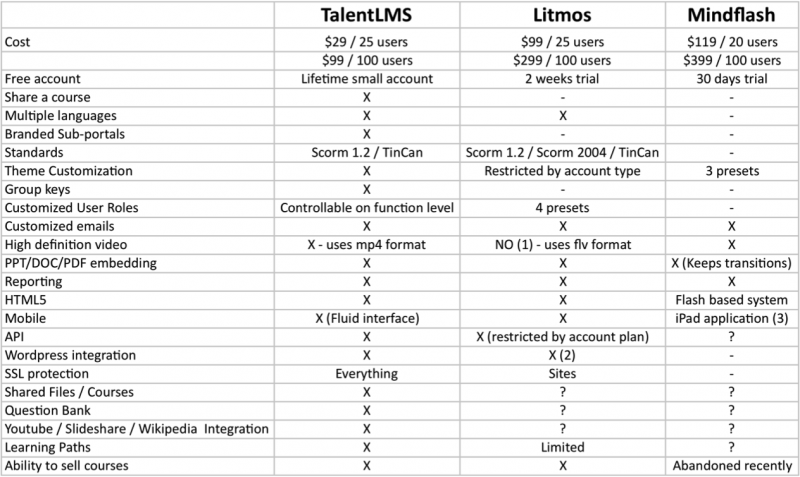 References: