LMS Integrations To Achieve Your Business Goals
Companies need rapid results without cutting corners. One of the most effective tools at your disposal is data. Actionable insights you can use to facilitate better customer service, manage employee performance, and identify crucial gaps. So, how to centralize every aspect of your business so that you can track online training initiatives and bring those pain points into focus? The solution is Learning Management System integrations. Apps that merge with your online training platform to ease accessibility, boost collaboration, and form a connection between L&D and workplace performance. Here are 7 types of LMS integrations that streamline your business operations.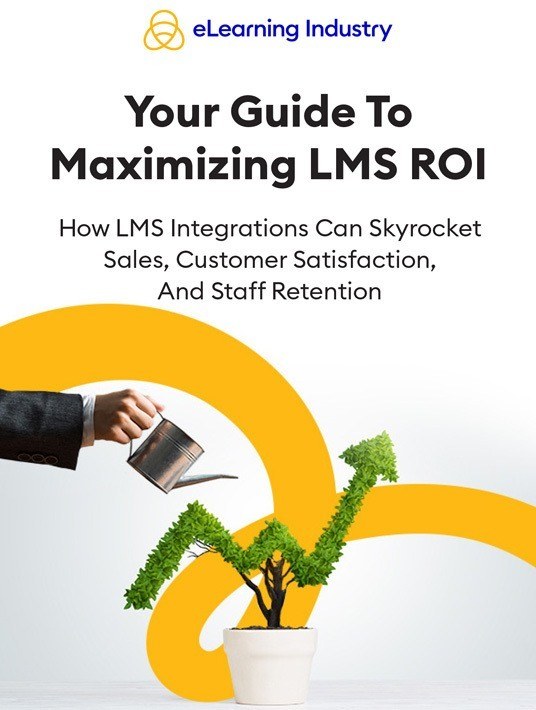 eBook Release
Your Guide To Maximizing LMS ROI: How LMS Integrations Can Skyrocket Sales, Customer Satisfaction, And Staff Retention
Choose the best integrations based on your L&D strategy and business needs.
1. CRM
Platforms like SalesForce LMS integrate your customer relationship management software with the online training system. They allow you to designate personalized online training plans for sales and customer service staffers based on their gaps and your business objectives. You can also facilitate better communication with prospects and loyal customers using an LMS with CRM as well as automate certain processes. For example, the employee automatically receives online training recommendations or certification paths to address their low conversion rates.
2. Single Sign-On
Single sign-on is a time-saving LMS integration that allows your team to log in once and access the entire software infrastructure. For example, employees can input their username and password to access the LMS, then seamlessly transition to SalesForce to view customer reports. This also helps maintain tighter security and prevent data breaches. Especially if the LMS vendor has advanced safety protocols such as anti-virus and domain restricted registration.
3. eCommerce
If you plan to sell your online training content, eCommerce LMS integrations are essential. They cover everything from sales and conversion reports to payment processing so that you can maximize profits and build your brand. Some companies even choose to sell more advanced consumer education resources to generate extra revenue. For example, a certification eLearning course that lets loyal customers become brand advocates and build relevant skills. Some of the most popular eCommerce LMS integrations are PayPal, Shopify, and Stripe.
4. CMS
You must be able to organize, manage, and revise existing content to improve online training ROI. A content management system LMS integration allows you to develop and deploy courses using a single tool. This also ensures that everything is compatible (e.g., they both use SCORM or Tin Can API tech standards). You can also repurpose existing content to stretch your budget as well as store assets in a centralized location so that you can access them when the time is right. For instance, you're compiling a comprehensive JIT online training library for your sales team and need to gather all relevant online training resources.
5. Video Conferencing
Video conferencing is one of the most effective ways to bring people together and get them involved in online training. So, why not invest in an LMS that integrates your favorite web conferencing software to host live events and boost active participation. Employees have the opportunity to ask questions and get eLearning feedback in real time. They can also get insider tips and tricks from remote coworkers who have more experience. You can market live events, add them to the group calendar, record them for later viewing, and upload them to the LMS library without ever leaving the platform.
6. Collaboration Tools
Collaboration LMS integrations range from shared calendars to PM platforms. From a back-end perspective, this type of integration saves time and maintains open communication. Developers and admins can collaborate to revise content, create new online training resources, and provide immediate eLearning feedback. All the online training insights are there to develop a plan of action and identify pain points. Keep in mind that video conferencing tools can also be used in this regard. For instance, your L&D team uses the Adobe Connect integration to host weekly recap meetings and course updates.
7. Social Media
From online discussion forums to online training resource sharing, there are plenty of reasons why you should integrate social media with your LMS. Social media integrations also enable you to monitor informal online training activities and facilitate peer eLearning feedback and support. You can also incorporate wikis and online articles into your online training plan to enrich the experience. As well as host online polls, live chats, and form social media groups that bring everyone into the L&D fold.
Still Not Sure Which Integrations Are Worth The Investment?
One of the most effective ways to narrow your LMS integrations evaluation criteria is to test-drive the tool. Most vendors offer free trials or demos so that you can gauge the functionality and determine the best integrations for your team. Is it easy to access reports across the entire LMS ecosystem? Are single sign-on integrations or an LMS with CRM even more crucial than you thought? Get input from users to find a tool that's right for their workflow and skillsets as well as their experience levels.
These types of LMS integrations can streamline every aspect of business operations because they create a nerve center for your organization. A central location where employees can gather and manage data, access support online training resources, and collaborate with peers. The key is finding a platform that has all the essentials without going overboard. Compile a targeted list of all the apps you currently use and if they're still worth the expense. Do they really help with L&D team productivity? When was the last time they logged into the app and is there another LMS function that makes it redundant?
Once you have the shortlist, compare your top choices to see which Learning Management System delivers the best value for money. And omits any extraneous features or integrations that inflate the price point. Then again, you can always think of innovative ways to use those LMS integrations to improve functionality and ROI.
If you're looking for ways to boost the functionality of your LMS and turn it into a powerful tool for your organization, then this eBook is for you. Download Your Guide To Maximizing LMS ROI: How LMS Integrations Can Skyrocket Sales, Customer Satisfaction, And Staff Retention and discover must-have features, tips and best practices for implementing LMS integrations.