Microlearning Produces Mega Results
Implemented correctly, microlearning can have many benefits for a professional and be hugely valuable to organizations. For L&D professionals, microlearning can be a more agile, more flexible, more affordable, and more manageable way to support employee development. For learners, microlearning works with our natural learning processes to keep the learning experience engaging and convenient.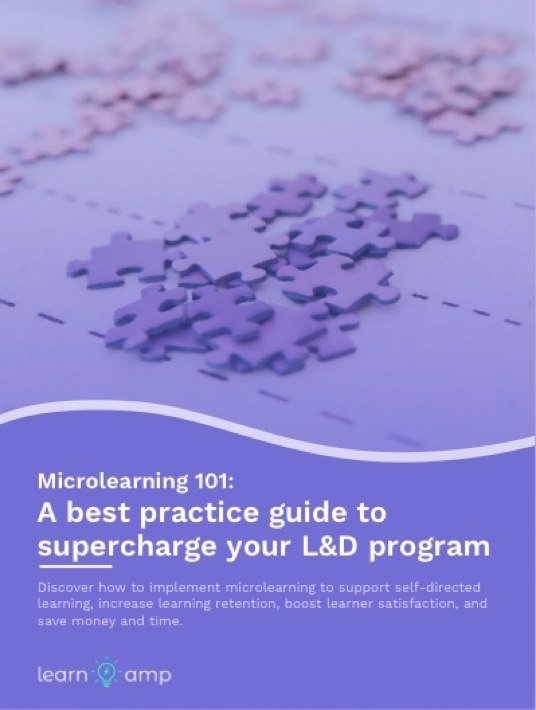 eBook Release
Microlearning 101: A Best Practice Guide To Supercharge Your L&D Program
Discover how to implement microlearning to support self-directed learning, increase learning retention, boost learner satisfaction, and save money and time.
What Benefits L&D Professionals Should Expect From Microlearning?
Working with microlearning assets can be far easier than large-scale training programs. Micro assets (the small units of learning content used in microlearning) are simpler to create than longer training content. They take less time to design, less time to record and can be curated and updated in smaller chunks.
What's more, you can design exactly the asset you need for a specific requirement. As each asset is small, you may be able to simply create it yourselves, whether by pooling information from in-house resources, from the web, or by shopping around for the best vendor for a specific asset. And, if you decide you want to purchase a particular asset, you can choose exactly the content you need, rather than purchasing a one-size-fits-all learning package.
Microlearning Can Help Keep You Agile
L&D professionals consider agility a benefit of microlearning, as they may struggle to keep pace with the fast rate of change. Keeping your team up to date with the latest information can be an ongoing battle. Updating full courses can be time-consuming, and will often need to be redone just a few months—or weeks—later.
By contrast, with micro assets, you can respond promptly to learner needs with Just-In-Time content that keeps up with the pace of change. You can simply archive the component that needs to be updated and replace it with the new information, without having to build a whole new course.
To keep your learning assets current and optimized, you'll also need to constantly iterate and improve them—a process made far easier if you're working with micro assets. L&D teams can create or purchase a basic version of a learning micro asset, and then test, iterate and improve that element alone. Assessing, updating, and replacing a micro asset is much quicker than optimizing a full-length course from an eLearning package.
Micro assets themselves are also far more flexible to use. Once you've created a small learning asset, you can use it in multiple ways to support employee learning. For instance, the same asset could be used before a training session to inspire interest, and then presented after the session to reinforce and support key learning outcomes. Similarly, the same information can be adapted to multiple formats, to suit different learning styles. The same learning asset could be redeveloped as a video, a podcast, an infographic, and a quiz. The user can then select the medium that best suits their approach to learning.
Micro Assets Are Quicker And Easier To Manage
By quickly tagging each micro asset, you can make it far easier to get hold of than a learning unit buried in the middle of a large file, eLearning package, or course. This is a huge time saver for L&D teams. No more wading through huge courses to find the unit a specific role will need to get started. It also makes it quicker for learners to self-serve the information they need, meaning they're less likely to need to call on the L&D team for help in the first place.
In fact, bite-sized micro assets are ideally suited for peer learning; employees can pass on a learning chunk they found helpful to a colleague struggling with the same issue, reducing the need to involve the L&D team or a line manager. As microlearning units come in small file sizes, they are also easily distributed, potentially globally, meaning that L&D teams can keep multiple teams up to date with the same information at an international level.
Microlearning Can Save Your Company Time And Money
Microlearning is delivered online and does not require the physical attendance of trainers. It's also delivered in the workplace, meaning that employees don't need to take time out for travel. And finally, it can be adapted to individual needs. No more signing up the whole team for a full learning course, knowing that only 5 of them need the whole course and the rest only need to refresh one section.
The company saves money, and the employees are spared the inconvenience and tedium of sitting through an unnecessary learning program. In fact, because microlearning fits into the employee's working day, it is usually far less disruptive than group training sessions which can take up several hours and may require relocation.
Microlearning Assets Make L&D Analytics Easier
One of the most interesting benefits of microlearning for an L&D professional is how much easier analytics may become. Reporting becomes far more informative when you're working with micro assets. The smaller the chunks, the more granular your reporting can be, and the easier it becomes to measure engagement and monitor user feedback. Perhaps more importantly, because microlearning is so targeted, it's an ideal way to track the effectiveness of your L&D initiatives. Microlearning chunks are designed to address specific, narrow learning outcomes so it's easy to measure whether or not they can be considered to have achieved their aims. And, with easy access to learner data produced by microlearning approaches, L&D teams can begin to harness data analytics to tailor the learning experience, predict learner performance, and improve learner assessment results.
Microlearning Benefits For L&D Professionals And More
Discover how to implement microlearning to support self-directed learning, increase learning retention, boost learner satisfaction, and save money and time. The eBook Microlearning 101: A Best Practice Guide To Supercharge Your L&D Program has everything you need.