GBL Training Pitfalls And Implementation Tips
If every business could move beyond the misconceptions surrounding game-based learning (GBL), they'd probably rethink their entire employee training program. Badges, points, levels, and serious games don't have to be distractions. You just need to know the basic rules of GBL training to implement a successful strategy for onboarding, compliance, certification, and performance management. This versatile approach allows you to track competencies, impart real-world experience, and boost employee engagement. Our guide can help you design an effective framework. But first, let's review some of the most common mistakes to avoid in gamification design.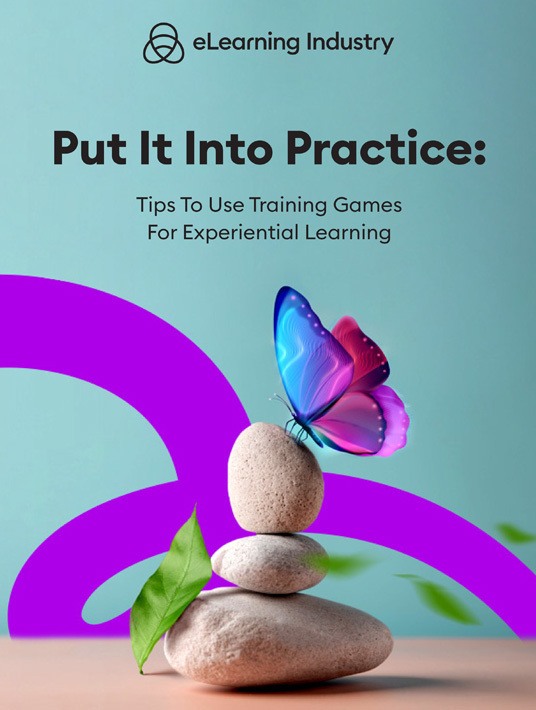 eBook Release
Put It Into Practice: Tips To Use Training Games For Experiential Learning
This guide can help you put everything into context and leverage the full power of game-based training in your L&D program.!
5 Mistakes To Avoid When Creating Your GBL Training Strategy
1. Not Knowing The Limitations
Game-based learning is not the miracle cure-all. It won't bridge every gap in under five minutes or remedy all your compliance issues. The secret is knowing GBL training limitations in advance so that you can incorporate them into your existing strategy. Game-based learning is best for reinforcement and knowledge refreshers. It can also be used to bridge more targeted skill gaps. For more comprehensive training challenges, you might consider a gamification strategy that involves incentives. Which we also discuss in the new downloadable guide.
2. Unclear Budget And Implementation Timeline
You don't know how much you have to work with and which resources you have on hand. Nor are you certain of the implementation time window. These are all factors that must be ironed out beforehand. Set a realistic budget that accounts for reusable assets and upkeep costs. Then develop an implementation timeline that includes every task, milestone, and team member assignments. Meet with your L&D department to get their input and evaluate their current workload. Do they have the time, experience, and resources to develop GBL activities, or should you consider outsourcing?
3. Don't Have The Right Tools
Game-based learning isn't reserved for pro game designers, but you need the right tools to lessen the learning curve. Preferably, software with built-in assets to reduce costs and speed up development time. Rapid authoring tools are usually the go-to platforms because they're easy to use and have a resource library. For example, they might feature game templates, customizable badges, and cut-out characters. Look for tools that are compatible with your LMS to avoid additional replacement fees. Test out the top choices to check for intuitive UIs and multimedia integration.
4. Your Design Is Anything But Mobile-Friendly
Every gaming experience is packed with need-to-know info and supports your eLearning objectives. But does everyone get the same benefit from your online training? What about mobile users who must swipe and tap their way to the end? Your training games must be mobile-friendly to improve accessibility and foster an inclusive training environment. Not to mention make employee development more convenient for remote staffers.
5. Games Don't Align With Desired Behaviors
A major mistake that GBL designers make is to focus on the entertainment value of training games. They want to keep employees engaged, even if it's at the cost of the training objectives and goals. The top priority should be the behaviors, skills, and competencies you need your employees to develop. Games must show staffers how negative behaviors or gaps impede their work performance and explore all the risks involves. As well as the consequences they can expect if they fail to meet company standards or break the rules.
About This eBook
What are the secret ingredients for a successful game-based learning strategy? How can you cut costs and develop gaming experiences that reinforce favorable behaviors? Here's a sneak preview of the tips and tricks in our eBook:
7 Reasons To Use Gamification In Business For Boosting Employee Buy-In
7 Steps To Develop A Gamification Design Framework For A Successful Onboarding Training
How To Use Training Games For Mistake-Driven Learning And Experience Building
7 Tested Game-Based Learning Techniques For Mobile-Friendly Training
How To Get Your Copy
GBL might encourage learners to make mistakes so that they don't repeat them on the clock. However, there's no room for error when launching your gamification training program. Get your copy of Put It Into Practice: Tips To Use Training Games For Experiential Learning today to launch a GBL strategy that wins everyone over, including accounting departments that have second thoughts about investing in gamified talent development training.