3 Ways To Effectively Welcome New Hires
Does your organization effectively onboard new hires through hands-on learning? In this article, we explore the benefits of using augmented reality (AR) for employee onboarding and 3 examples you can use at your organization.
Ensure Success From The Start With The Right Onboarding Solution!
Discover, choose and compare the top Employee Onboarding Software!
Why Is Employee Onboarding Important?
With a structured onboarding program, organizations build a strong workplace culture that increases employee retention and lowers turnover costs. From the employee's perspective, onboarding helps reduce their first-day anxiety, increase their productivity, and help them become more proficient in their role faster.
While traditional onboarding effectively brings new hires up to speed in their role, future learning technologies like augmented reality (AR) have provided more modern, interactive learning experiences that increase engagement and knowledge retention.
Let's dive deeper into the benefits that come with using AR for onboarding and explore examples you can apply to your organization's onboarding.
5 Benefits Of Using Augmented Reality For Onboarding
AR elevates traditional onboarding by giving learners a more engaging onboarding process through hands-on interactions. AR technology superimposes text, images, video, and 3D models into the real world. Once placed, learners can complete realistic, hands-on interactions with digital learning materials.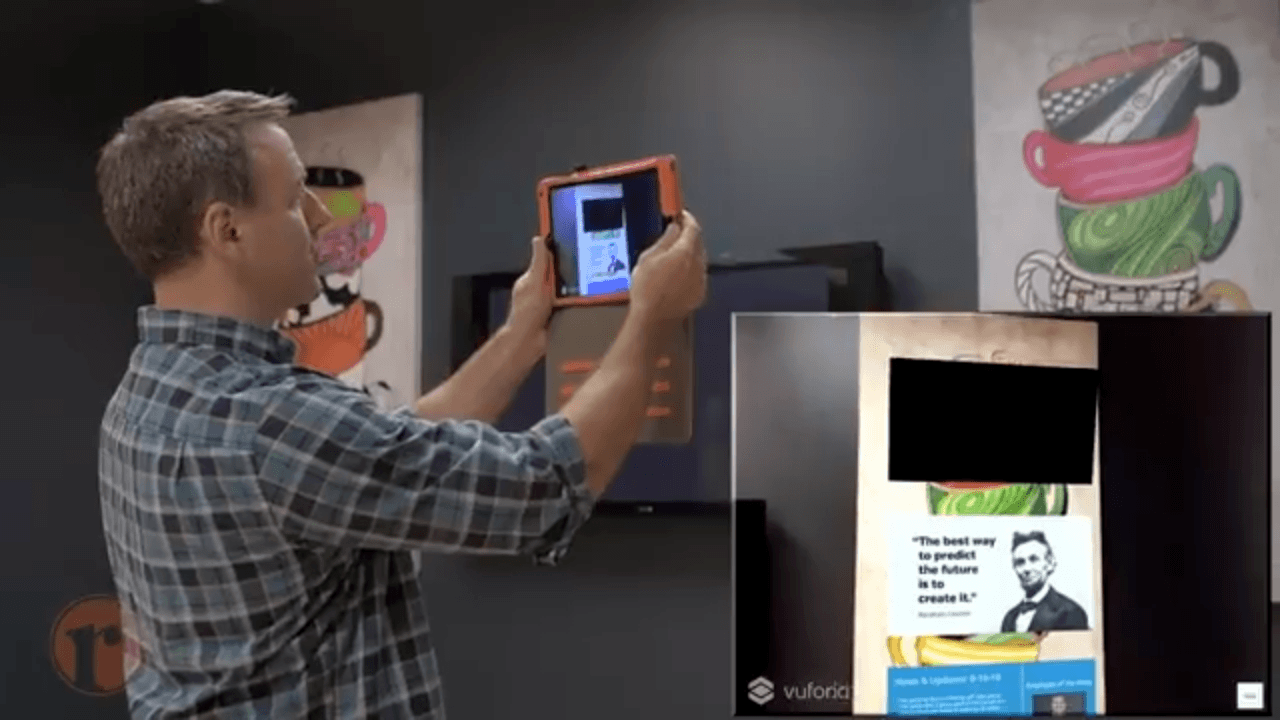 Specifically, with AR, your organization can experience the following 5 benefits when onboarding new employees:
Easily reuse and distribute training at scale
Provide consistent onboarding materials to new hires
Avoid the need to rely on subject matter experts for information
Speed up time for resolving issues
Reduce potential safety incidents on the job
Next, let's explore 3 examples of using AR technology for onboarding new employees.
3 Examples Of Onboarding With Augmented Reality
1. Send Employees On An AR Scavenger Hunt
Regardless of the industry, a new employee needs time to adjust to their new organization. This involves understanding key information about the organization's origins, workplace culture, and foundational values. For some employees, this process may take days or even months to fully complete.
In order to speed up this process and give new employees an engaging onboarding activity, employees can use an iPad, tablet, or mobile device while on a scavenger hunt around their new workplace. To complete the activity, learners simply scan real-world 2D images (e.g. a poster or sign), then interact with digital, custom-built learning materials in front of them.
These digital assets may include:
Interactive digital posters that display information about the organization's founders and beginnings
Pop-up videos where members of senior leadership introduce themselves
An intricate map of the employee's new work environment that identifies the location of important areas (e.g., emergency exits and bathrooms)
These activities provide an interactive, visual introduction to an organization instead of a more traditional onboarding experience, such as a tour or in-person introduction to leadership. Employees will likely be more excited to complete their onboarding and learn about their new organization with this AR technology.
2. Conduct Equipment Training With AR Object Recognition
AR can train new hires on complex machinery and equipment without the use of real-life equipment (e.g., engines, POS systems, motors, and drills). Regardless of the complexity of the piece of machinery or equipment, AR recreates real-life objects as detailed digital forms that learners can manipulate, explore, and master prior to stepping foot on their new job.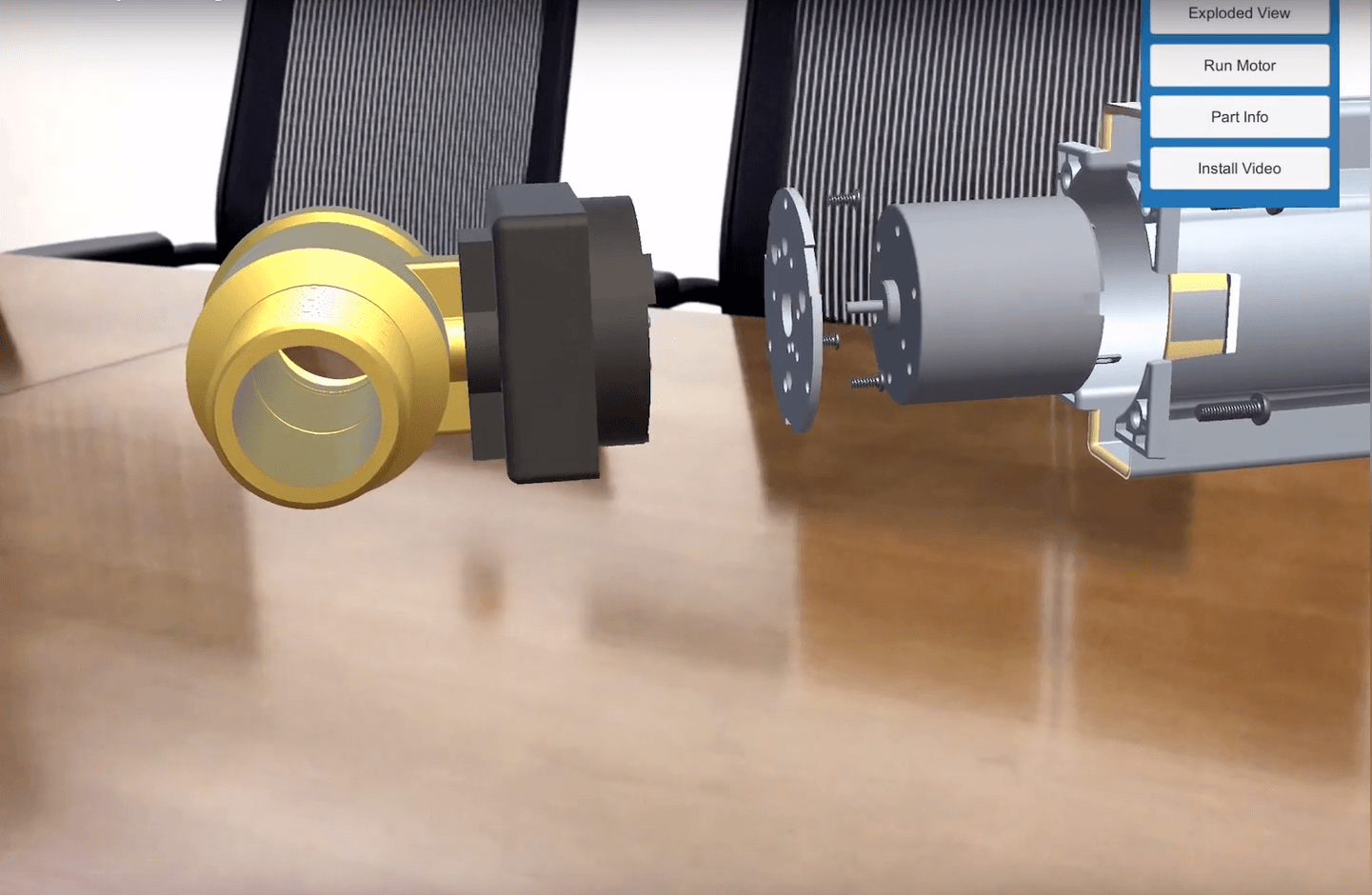 Consider the experience of an automotive technician that's new to the industry and still learning key processes. One of their main responsibilities involves operating and repairing complex vehicles. Instead of traditional training, such as job shadowing, the new technician can use AR object recognition to learn how to change a tire.
By simply scanning the real-world tire, the learner can overlay digital assets, including:
Informational text relevant to the object
Isolated areas that highlight specific parts of the object
Watch virtual demonstrations of various processes
3. Complete Process Training Through Detailed AR Demonstrations
AR technology can be used to display critical instructions for whatever real-world tasks a new employee's position requires. These AR demonstrations can introduce learners to intricate processes, such as steps along an assembly line or how to handle money at a register.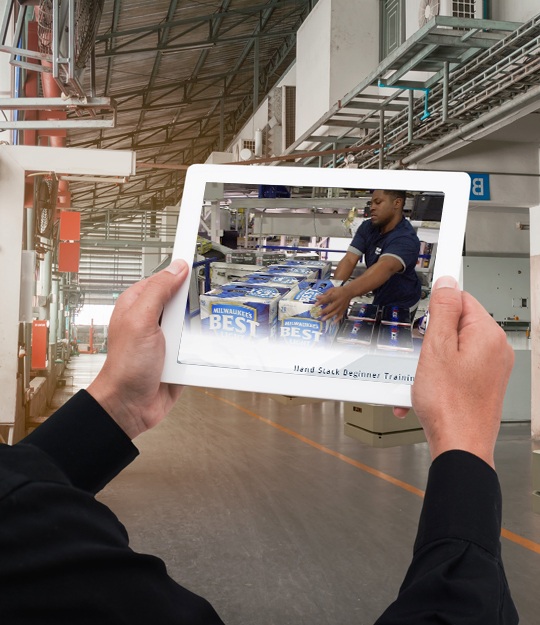 For example, in the retail space, a new hire can be trained on their store's POS system, up-to-date policies, and best customer service techniques. By simply scanning a flat surface in front of them and tapping their screen, learners place a digital recreation of their store's POS system. After doing so, learners can practice completing the following tasks:
Applying discounts
Refunding customers
Sending digital receipts
Supplying the proper amount of change
The major benefit that AR brings to retail training is that new employees can train without worrying about how their actions affect their store's reputation, revenue, or client base.
Are You On Board With Augmented Reality For Onboarding?
AR takes traditional onboarding and elevates it through interactive learning activities that are guaranteed to leave a lasting impression on your new hires. Are you ready to onboard your new hires through AR technology?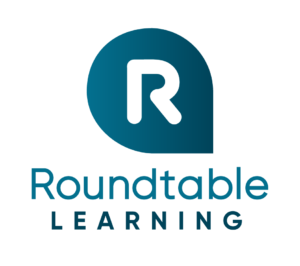 Roundtable Learning
At Roundtable Learning, we partner with clients to bridge the gap between existing training strategies and the future of learning through technology-enhanced, blended learning solutions.