How TalentLMS Can Help You With Online Training For The Banking Sector
If "Money Makes the World Go Round" as the saying (and famous 70s song) goes, then surely the banking sector's job is to make sure that money itself goes around smoothly.
And what a job it is -- managing, distributing, loaning and securing all that $60 to $80 trillion dollars that is said to be the world's full stash of money.
Those that perceive the financial sector as a snooze-fest of epic proportions are only right about the "epic" part. For finance is actually a globe encompassing, fast moving, highly competitive industry that is as exciting, and as demanding, as the best of them.
It's also a sector that can greatly benefit for increased training efficiency and reduced costs and friction. Especially since in finance, mistakes can cost millions (and, if you are particularly unlucky, even billions) of your organization's and other people's money.
In this article we will detail the most pressing eLearning-related needs of the financial sector, and how a modern LMS like TalentLMS can help the banking industry, well, make bank.
How eLearning Fits The Finance Industry's Training Needs
You think that the tech industry moves fast? You should try the banking sector -- where financial products are constantly created, whole new markets emerge (and submerge), and everybody is on the lookout to get an edge.
For financial advisors, banking executives, and banking sector employees, continuous learning is just a fact of business.
You have to keep up with the competition, you have to stay ahead of the latest developments, and you have to familiarize yourself with the global market, and with the financial, political and social environments that you operate in.
Then you need to teach all this information (plus a stack of national and international banking rules and regulations as large as a Goldman Sachs' bonus) to others in your organization, and to its local, regional and global facilities.
In a distilled, and easy to follow form. And that's on top of your organization's internal guidelines and operation procedures, that everybody working for you must internalize as fast as possible.
eLearning makes training your people on all this stuff possible.  Still hard, mind you, but nowhere near as hard as going about it the traditional classroom-based training way.
For one, eLearning is extremely scalable. Kind of like digital currency can float all around the world in an instant, eLearning makes your training material instantly available on all your regional branches, international offices and global subsidiaries.
With eLearning, not only you are spared the expenses of renting and/or equipping classrooms, employing multiple instructors, printing and handing out training materials, etc. (which might or might not be a big deal for your organization), but most importantly you are spared the business disruptions, and scheduling nightmares that come with in-person training.
Online training material is always available up on the Cloud, allowing your executives and employees to study at their own pace without interrupting their (more often than not) hectic schedules. This capability alone can potentially save you millions of dollars.
Not that the deployment savings compared to traditional classroom based learning are anything to sneer at.
You need only consider, for example, that TalentLMS can accommodate an unlimited number of learners from a single Cloud account, only charging you for those that are actively training.
TalentLMS also lets you drop the printed handouts and physical textbooks (and thus save the trees), and allows you to maximize the value you get out of your instructors, as a single person can prepare study material and tend to hundreds or even thousands of learners.
TalentLMS Features For Finance Sector Training
TalentLMS is a leading Cloud-based eLearning Management System (LMS) and as such its not that different than other leading LMS platforms.
Where it excels, however, and what makes it a good fit for the finance sector, is in its emphasis on being easy to use for non-techie learners (in other words, mostly everybody), and in its balance of intuitiveness, extensibility and native power.
The features that we believe make TalentLMS stand out as an LMS for the finance sector are:
1. Easy To Use
Banking might be nearly as complicated as rocket science in some aspects (at least to me), but finance training is not, and doesn't have to be.
Whether your employees are computer wizards or barely know their way around Excel, they will find in TalentLMS a friendly user interface (that has even won several industry awards for its ease of use).
2. Turn-Key
TalentLMS is not a project for your IT team to embark upon, or a long bet on some software vendor's ability to deliver. It's already a product, it's used by hundreds of thousands of people over thousands of companies and organizations, and it works, right here, right now. Plus, as a Cloud-based platform there's no installation, setup, or maintenance to burden you.
All you have to do is open a single TalentLMS Cloud account (as simple as registering for Facebook or Gmail), and you will be ready to deploy online training for thousands or users in under a minute.
3. Enterprise Grade
The banking sector has strict IT policies and demands enterprise level performance and standards compliance. TalentLMS, which has a long history as a corporate LMS, covers all of that.
With full-featured Single Sign-On support (covering LDAP, A.D, SAML 2.0, Okta, and more), dozens of native integrations (from Salesforce to SCORM) and thousands of third party ones through Zapier, advanced Reporting options, custom certifications, task automation, comprehensive Tests, Quizzes and Surveys, multimedia and ILT support, RESTful API, and official native mobile clients for iOS and Android, you won't be missing out on any features.
4. Flexible
Financial sector businesses and organization can take many forms and have multiple facets. TalentLMS organizational tools let you model any kind of corporate hierarchy, even allowing for unlimited independent (but centrally managed) training portals for different departments, branches, subsidiaries and partners of your organization.
TalentLMS User Types and custom permissions allow you to protect your courses in a fine-grained manner, giving access to sensitive material to just the right employees or executives, and having complete insight about any access to it.
5. Engaging
Keeping learners engaged has always been a difficult task. Doubly so in a corporate setting in the always busy finance sector.
TalentLMS's Gamification engine, Discussion forum system, microlearning, multimedia, rich-content support, and mobile learning support can help onboard, assess and train new hires and existing employees in an engaging and motivational way -- without getting into theirs (way, that is).
Conclusion
Banks, financial institutions and related businesses have immense training needs that traditional approaches cannot properly address anymore.
Online learning, with TalentLMS, can help financial organizations train their employees faster, and get not just cheaper, but, most importantly, better results, in a way that befits financial industry requirements, needs and schedules.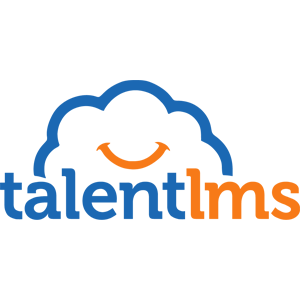 TalentLMS
Easy to learn, easy to use, and easy to like, TalentLMS is designed to get a "yes" from everyone, including C-level execs, budget heads, and busy employees. Now, instead of checking out, your whole organization leans into training.