Minneapolis, Minn. — March 10, 2022 — CustomGuide released a simulation-based QuickBooks Online course that was built to give new users a solid foundation for working with the financial program. QuickBooks is the leading accounting software for small businesses and its online version is quickly gaining popularity.
"We've been hearing a growing demand for basic QuickBooks training from our clients so we responded with a course that covers all of the essentials of working in QuickBooks," Matt Petricka, CustomGuide Area VP said. "Since we ourselves are avid QuickBooks users at CustomGuide, it was a natural area for us to extend our expertise."
CustomGuide's new QuickBooks Online Basic course is available to try for free. The interactive course contains 38 bite-sized lessons with pre- and post-assessments in place to measure learner improvement. In addition to the online tutorials and skill assessments, CustomGuide has also produced instructor-led courseware materials for QuickBooks, including a customizable Student Manual and Instructor Guide. The courseware matches the online course topic for topic so they can be used in combination with each other or as an alternate learning format.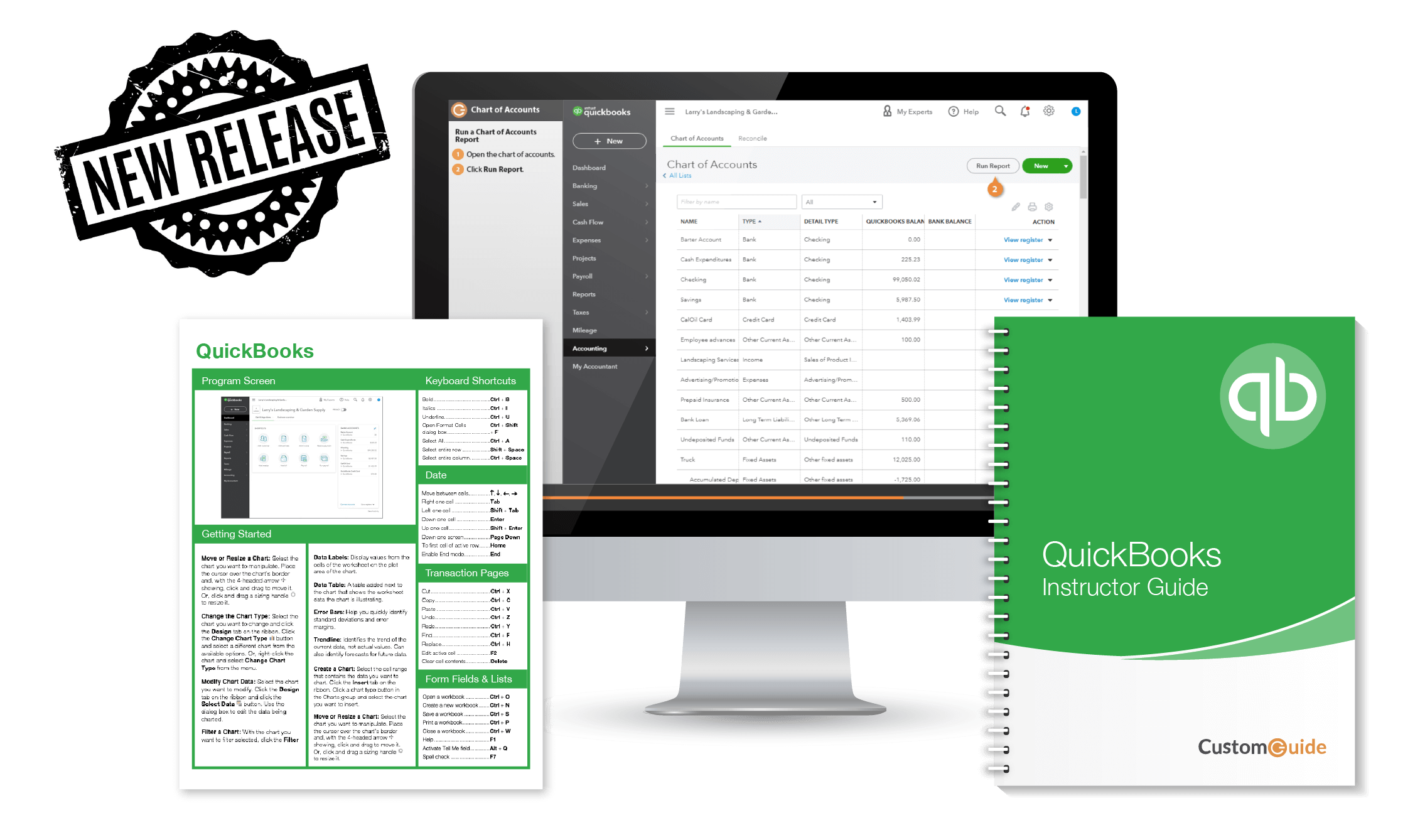 QuickBooks follows CustomGuide's proven learning method that results in an average skill improvement of 44% upon course completion. As with all of CustomGuide's courses, QuickBooks was developed in house, leaning on industry expertise along with customer feedback.
The new course provides step-by-step instructions for managing financial transactions, creating invoices and receipts for customers, tracking inventory, doing online banking, and reporting on expenses and income. After successfully completing the accredited course, learners will earn a Skills Certificate and 4 CPD (Continuing Professional Development) credit hours.
While new in relative terms, this isn't the first QuickBooks title CustomGuide has developed in its 22 years in business. Previously, QuickBooks 2005 was a staple title in CustomGuide's robust training library that has since grown to more than 100 courses, including Microsoft Office training and Google Workspace training.
CustomGuide plans to develop a QuickBooks Intermediate course in the future that will build on the topics covered in its Basic course and introduce some more advanced topics for those who already have familiarity with QuickBooks. Coupled together, the QuickBooks Basic and QuickBooks Intermediate courses will prepare students for Intuit's QuickBooks Online Certification.
"We see a huge need for additional training in the accounting and financial realm," Jon High, CustomGuide CEO said. "With another QuickBooks course, as well as Personal Finance and Finance Basics training, we'll be well positioned to satisfy that need."
CustomGuide also produced a one-sheet QuickBooks Basic Quick Reference that reinforces the training and serves as a job aid. All of CustomGuide's 100+ handy Quick References can be downloaded and distributed free of charge.
About CustomGuide
CustomGuide is the leading provider of simulation-based software training for business professionals so they can learn by doing—not by watching. CustomGuide offers 100+ accredited courses in subjects that are critical to workplace productivity, including Microsoft Office, Google Workspace, QuickBooks, and Business Skills. CustomGuide's friendly learning management system boasts simple data visualization to track learners' achievements, making it ideal for organizations of all sizes. In addition to online learning composed of bite-sized lessons, CustomGuide produces top-notch customizable courseware manuals that can be used during instructor-led training as well as handy Quick References with shortcuts and tips for on-the-job learning reinforcement.