Elucidat's New Feature Makes The eLearning Production More Flexible
Elucidat, an award-winning eLearning authoring platform for enterprise organizations, has announced the release of their Advanced User Management tool, that assists in scaling the eLearning production.
This new feature will help L&D teams step up to the increased demand for eLearning, fueled by the pandemic. Now, L&D can be more confident in giving access to wider stakeholders to produce eLearning in Elucidat. From limiting access to branding and template design to better control over who can release a course—customizable permissions and user roles give complete flexibility and centralized control.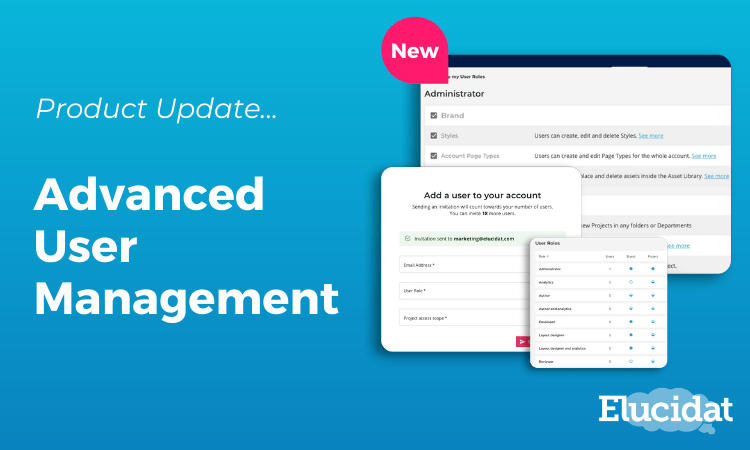 This launch builds on Elucidat's major summer update, which introduced a tool to make it 4x faster to produce quality eLearning. Together, these improvements have made it easier than ever to scale up and speed up the production of quality elearning to meet growing demand.
What Elucidat Advanced User Management Gives You
1. Custom Permissions For Nuanced Control At The Individual Level
Roles can be created for any way of working—so that any company is in complete control of the features and permissions users can access when using the tool.
This means that users aren't locked into their permissions from the role that was chosen for them at the start of the eLearning process.
2. Default Roles That Accelerate Onboarding And The Permissioning Process
Designated roles can be customized so that layout designers, authors, and reviewers each have a separate function within the software, and have their own specific permissions for each project.
The ability to edit these default roles means that roles and responsibilities for each employee can be tailored to the responsibilities of the team.
3. Bulk User Management That Enables Onboarding Operations At Scale
Companies can now add multiple users at once, and edit their users at scale.
Any user in the database can be added, edited, or removed at any time, saving time and money by making role changes easier than ever.
There's more pressure than ever before for L&D teams to meet the changing needs of eLearning within their company.

Our new features are designed to enable L&D teams to draw in expertise from across their organization in a safe and controlled way. The benefits of this are to increase capacity to produce eLearning during a period when the demand for effective online learning is higher than ever. These changes are based on our research as well as feedback from our customers. We are always looking for ways to improve our tools and we think L&D teams will notice immediate benefits.

- Simon Greany, Founder and Chief Product Officer at Elucidat.
Learn More about Elucidat's new Advanced User Management tool.
About Elucidat
Founded in 2013, Elucidat's vision is to help build more successful, more ethical businesses through people-centered training.
Elucidat's eLearning authoring platform helps big employers drive down the cost of business-critical training. It makes quality eLearning easy to produce, super fast. More than just an authoring tool, their team of experts offers unparalleled support to customers to ensure success.
Visit Elucidat to learn more.