PulseLearning And Sears Holdings Corporation Win Gold At 2017 Brandon Hall Awards
Now in their twenty-third year, the Brandon Hall Group Excellence Awards is known as the "Academy Awards" for the learning industry. PulseLearning and Sears Holdings Corporation are delighted to have won Gold at the 2017 Brandon Hall Awards in the Best Use of Games and Simulations for Learning Category.
SHC recently revamped its internal learning platform and compliance training program to increase its associates' engagement and ownership of compliance. As part of that larger project, the Company wanted to create a new flagship training course for its core corporate policy, the Code of Conduct.
The SHC team believed that a role-playing/game storyboard would be an ideal solution and would act as a catalyst for discussion on ethics and the Code of Conduct across the target demographic. The objectives of the new course were not only to teach associates about the Code of Conduct, but also to grab their attention in an engaging and unconventional way.
PulseLearning engaged with the SHC compliance team to investigate the feasibility of a Code of Conduct Game and brainstorm theme concepts to meet the required learning objectives. PulseLearning created a medieval-themed game concept that surpassed all expectations, Quest of Honor was developed to engage, educate, persuade, and change learner behavior.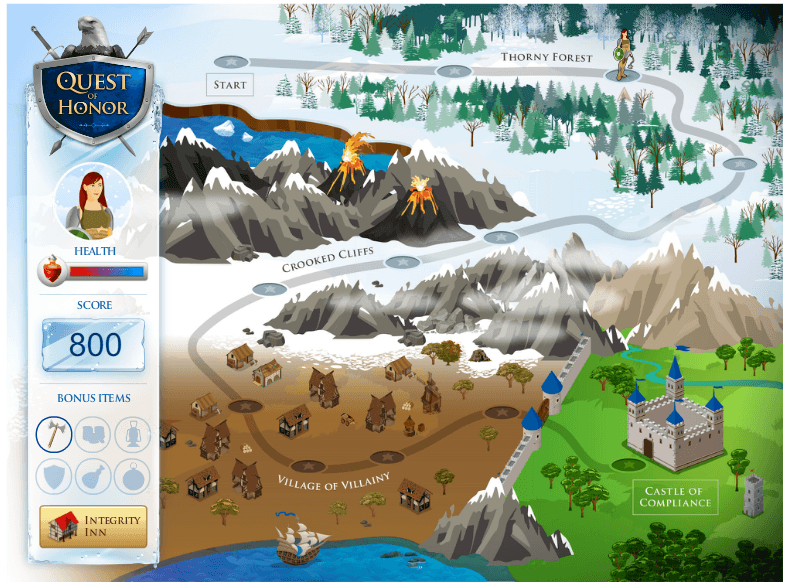 The 2017 Brandon Hall Excellence Awards nominees were evaluated by an international panel of independent industry experts, Brandon Hall Group senior analysts, and an executive leadership team. The judging was based on the following criteria: fit the need, design of the program, functionality, innovation, and overall measurable benefits.
Commenting on the award, Pa Fealy, CEO of PulseLearning, said:
"At PulseLearning, our primary goal is to exceed our Client's expectations. We are excited and honored to receive this Gold award for our innovative work on Quest of Honor with SHC. Our team thrives on opportunities to push creativity boundaries for Clients."
Commenting on the award, Ed Brice, Director, Learning Operations at SHC, said:
"We thoroughly enjoyed partnering with PulseLearning on this initiative. The end result was not only a dynamic and engaging solution for our associates, but it also altered the perception of compliance courses as content that is not only necessary, but can also be fun and interactive."