SweetRush Receives 16 Gold Awards
San Francisco, Calif., September 14, 2020—In collaboration with its client-partners, SweetRush took home a vast array of Brandon Hall Group HCM Excellence Awards, including 16 Gold, 3 Silver, and 7 Bronze awards. SweetRush shares these prestigious honors with the American Association of University Women (AAUW), Bed Bath & Beyond, Bridgestone, Google, Hilton, Mondelēz International, and Wells Fargo.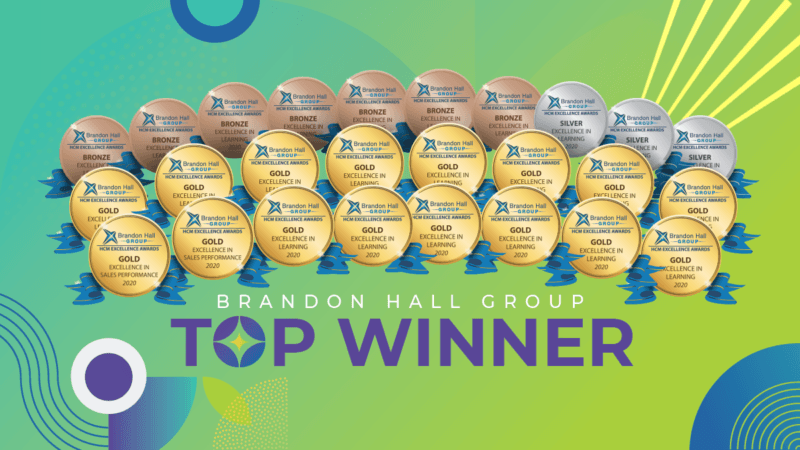 "We are thrilled that our work has been recognized along with so many incredible teams around the world using L&D to support people and causes. Right now we are helping our clients' people grow in their abilities, partnering with over 30 nonprofits, and creating learning programs that support frontline health care workers. I am so grateful we are in a craft that can do so much good, and I am proud of the relationships that have developed between our team and our client-partners, who trust us and allow us to develop cutting-edge creative solutions," said Andrei Hedstrom, CEO and Cofounder at SweetRush, a people empowerment company specializing in custom learning solutions.
"Our clients are competing for excellence, and every day we are designing creative solutions that meet their performance improvement challenges head on. Next year is our 20th anniversary, and we've developed such breadth and depth of capabilities. Winning awards in 15 different categories demonstrates that we have a lot of tools to craft creative solutions and help our clients do remarkable things," said Arturo Schwartzberg, Chairman and Cofounder at SweetRush.
Among 15 categories, SweetRush won awards for best results of a learning program, learning strategy, blended learning, video, mobile learning, and games and simulations.
Other Highlights
Six Gold awards for innovation in learning programs
Three Gold awards for VR training and use of emerging technologies
Certification programs, a specialty, brought home two awards
The awarded programs also represent a vast array of subject matter and business objectives: empathy and relationship-building, leadership, sales, product launch and product knowledge, new hire onboarding, operations and efficiency, and salary negotiation.
SweetRush is serving and supporting a broad array of industries: health care, pharmaceutical, nonprofit/foundation, healthcare, automotive, telecommunications, business services/consulting, technology, hospitality, manufacturing, retail, and banking/finance.
Here is the complete list of SweetRush's 2020 Brandon Hall Group Excellence Awards:
16 Gold Awards
Best Unique or Innovative Learning and Development Program (5)
Best Advance in Custom Content (3)
Best Results of a Learning Program
Best Certification Program
Best Unique or Innovative Sales Training Program
Best Sales Training Program for Extended Enterprise
Best Use of Video for Learning
Best Use of Virtual Worlds for Learning
Best Use of Games or Simulations for Learning
Best Use of Mobile Learning
3 Silver Awards
Best Certification Program
Best Use of Mobile Learning
Best Advance in Competencies and Skills Development
7 Bronze Awards
Best Advance in Competencies and Skills Development (2)
Best Advance in Creating a Learning Strategy
Best Advance in Creating an Extended Enterprise Learning Program
Best Unique or Innovative Learning and Development Program
Best Learning Program Supporting a Change Transformation Business Strategy
Best Use of Blended Learning
"The Excellence Awards serve the critical function of reinforcing the essential business benefit of creating great experiences for candidates and employees," Brandon Hall Group CEO Mike Cooke said. "All award winners must demonstrate that their HCM programs drive bottom-line business results. That's what sets our awards program apart from all others."
Award entries were evaluated by a panel of veteran, independent senior industry experts, Brandon Hall Group analysts and executives based upon the following criteria: fit the need, design of the program, functionality, innovation and overall measurable benefits.
If you'd like to speak to SweetRush about its award-winning approach to learning and development, visit the company website.
View the winners on the Brandon Hall Group website. Congratulations to everyone who won!
About SweetRush
Since 2001, many of the world's most successful organizations have trusted SweetRush to help them improve the performance of their employees. Sweetrush is known for exceptionally creative and effective solutions that combine the best of instructional design with highly engaging delivery. Our work has earned a long list of awards and accolades in collaboration with our clients. Discover more at SweetRush.
About Brandon Hall Group
Brandon Hall Group is an HCM research and advisory services firm that provides insights around key performance areas, including Learning and Development, Talent Management, Leadership Development, Talent Acquisition and HR/Workforce Management.
With more than 10,000 clients globally and 25 years of delivering world-class research and advisory services, Brandon Hall Group is focused on developing research that drives performance in emerging and large organizations, and provides strategic insights for executives and practitioners responsible for growth and business results.