The Challenges Of eLearning Implementation
The process of eLearning implementation is one of the hardest and most demanding phases in an organization's roadmap. Even if everything is perfectly planned out, this is the step that determines the success or failure of your eLearning scheme.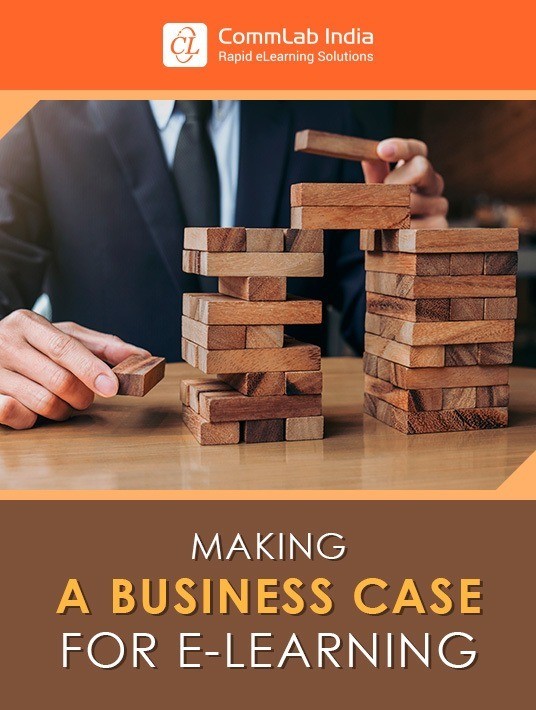 eBook Release
Making A Business Case For eLearning
This eBook will help you understand the finer nuances of building your eLearning strategy, as well as how to justify your choices to your manager.
This doesn't mean, however, that the other aspects of developing an eLearning scheme aren't as important. It simply means that this stage has a high rate of interaction and is, therefore, easier to make a mistake. Here is how to best prepare for eLearning implementation.
Evaluating Your Readiness
Before taking any big step, an organization has to assess how ready it is, where it stands, and what other changes need to be done before going for that big step. Only when an organization is fully equipped and prepared, should it take the risk of taking up that task. Evaluating your readiness is especially essential in the following areas, as described by Samantha Chapnick:
Content Readiness
Content is the lifeblood of your organization and its readiness will impact your budget, timeframe, and the resources required. To measure your content readiness, you have to consider a few points:
How aligned is your current content with the objectives you aim to achieve through the eLearning program?
How well is your existing content organized? Does it have a clear outline and learning objectives?
Is there a requirement for the customization of the content?
How frequently are content changes expected?
Technology Readiness
eLearning is built on technology and requires learners to be able to use the technology on which it is delivered. Identify learners who do not possess the required skills and provide training on the basic skills before eLearning is rolled out.
However, ask yourself whether it would be feasible to impart training to these learners, or whether changes must be made to the eLearning plan itself to accommodate these learners.
Technological factors that need to be considered and assessed include:
Internet connectivity skills to be able to access information online
Learners' experience with computer usage
Familiarity of learners with computer terminology and jargon
Stakeholder Readiness
Your stakeholders' approval is essential for success. Ensure they are ready for the transition to eLearning. It can include informing them, consulting them to obtain feedback and comments, conducting a collective inquiry to take their inputs into account, or empowering them through partnerships and other forms of collaboration.
Learner Readiness
This is the core component for the readiness assessment as it is the learner who makes or breaks the eLearning program. How tech-savvy the learners are, their prior knowledge of the subject, and their ability to grasp knowledge through a different learning medium, all these constitute a learner's readiness for transitioning toward eLearning.
SME Readiness
A Subject Matter Expert's e-readiness depends on various aspects of infrastructure and technology, the human capital, information security, commitment and assurance from top management, and the resistance to change to this transition. Evaluating your SME's level of readiness for each of these aspects will help you take the necessary measures to roll out a successful eLearning program.
Strategies For The Process Of eLearning Implementation
There is no better way to convince top management on the effectiveness and efficiency of eLearning than rolling out a pilot project. A pilot project is a small scaled-down version of a fully functional course that can be used to evaluate the feasibility, duration, cost, and learner acceptance, and improve upon the design prior to actually rolling it out to your employees.
In other words, it is a trial-and-error sample project that will help you look at the pros and cons of that particular model and make changes and improvements where necessary. Rolling out a pilot project helps set a strong base for the idea of introducing eLearning and helps stakeholders and top management look at all the relevant aspects in a practical way.
There are a few strategies that might help an organization decide on how to go about the process of eLearning implementation:
Strategy 1
In this strategy, the organization can get learners accustomed to eLearning. In the process, stakeholders will also collect valuable data about learner experiences that will be invaluable when scaling up.
The simplest option available is purchasing a catalog course(s) on a generic topic. An organization can simply purchase licenses of these catalog courses on generic topics that their learners might find interesting and engaging and roll it out to the workforce. They can even roll out the course only to a selected group of learners who may be chosen for their openness and enthusiasm to try out new things.
This will save a lot of time and resources as the course is tested only on a limited group of learners. This strategy can be implemented without any capital investment and can be used to analyze how learners are receiving the course and how effective the course is.
Strategy 2
Strategy 2 offers the option of developing one popular course on a company-specific topic (mission and vision, diversity, or onboarding) with the help of PowerPoint presentations used in classroom training, and host it on the company's web server, LMS, or SharePoint. The course can be published in-house using the free trial option of any standard authoring tool or can be outsourced to an eLearning vendor.
This step allows the organization to get their feet wet on course design and development, experience working with internal SMEs and/or external eLearning vendors, and gain insights into learners' behavior. It gives an opportunity to evaluate the pros and cons of developing courses in-house vs. outsourcing.
Strategy 3
The third strategy involves a slightly higher level of exposure where the organization is considering setting up a Learning Management System. The organization has the option of going for a cost-effective, free open source LMS like Moodle (the company's IT department can set up the basic version of Moodle). Or, if the company is willing to spend $2500-5000, it can enlist the services of a MOODLE partner for its setup and support.
After setting up the LMS, the organization can go with Strategy 1 or 2 to populate the LMS with eLearning courses.
Strategy 4
This strategy involves implementing a customized LMS. As this is critical to performance and involves a heavy capital investment—anything from $50,000 and above—the organization has to conduct due diligence before implementing this step.
The decision of going for an LMS and eLearning is to be taken only after analyzing all the aspects involved and after getting all the stakeholders and management onboard. As this strategy involves heavy monetary investment, it is recommended that the organization goes for strategy 1 or 2 to initiate the implementation process to get an idea of how and what it takes to roll out eLearning across the company. However, if the organization decides to invest in a customized LMS, they can go for strategy 3.
Conclusion
The process of eLearning implementation is the key to getting your eLearning scheme up and running. The eBook "Making A Business Case For eLearning" will teach you to overcome the obstacles you may encounter and how to use your knowledge in the field to form a business case that will reinforce the position of eLearning in your organization.
References:
[1] Are You Ready for E-Learning? By Samantha Chapnick
CommLab India Rapid eLearning Solutions
Working with multiple outsourcing vendors can be stressful, and a waste of time & money. With CommLab India Rapid eLearning Solutions, all your online training needs are taken care of, rapidly and economically.