Two Brains Are Better Than One: Social Learning With eFrontPro
Business has always been a social activity.
Learning too, has been a social activity, for as long as there have been schools and classes.
It's only natural then, that business training -- learning about doing business -- should also be approached as a social activity.
And this, in essence, is what social learning is all about when applied in the realm of business. Approaching corporate training and talent development as an inherently social process.
In this post we are going to describe what social learning is, how it applies to business training, and how eFrontPro can be used for implementing it.
Social Meets Business
A business or organization is an inherently social structure, complete with its own social graphs, different "neighborhoods", communities of interest, discussion groups, coordination structures and so on.
No wonder then that modern businesses have started experimenting with social networking, by both using established social networks like Twitter, Facebook and LinkedIn, and by deploying business-oriented social networking solutions, to various degrees of success.
The Learning Management System (LMS), the platform that's responsible for corporate training and talent development, is an obvious candidate for inclusion in a social business network -- encouraging employees to collaborate, share learning material and training insights, and even create new training and informational content for circulation inside the company.
Such a scheme boosts talent development and training engagement, allowing employees to learn from their colleagues and benefit from the experience of senior employees and experts in their organization.
Social learning helps convert corporate training from an isolated, compartmentalized experience, to a process seamlessly integrated with day-to-day operations, in which employees are not passive consumers but active participants and content creators.
eFrontPro For Business Training
eFrontPro has a long history as an established corporate training and talent development platform.
Built with web technologies, and available as a self-hosted LMS or a (fully customizable) Private Cloud service, it has been the eLearning platform of choice for businesses and organizations, ranging from smalls SMEs to corporate behemoths.
Built to be intuitive, eFrontPro offers a solid content creation and management experience (with a WYSIWYG editor, fast course creation, content sharing, extended corporate file format support, interactive content, advanced Test and Quiz options, Surveys, Question Pools, Courses, Audiences, Curriculums, prerequisites, teleconference, and more), as well as the kind of integration options and features expected from an enterprise-grade platform.
This includes things like:
Single Sign-On (with LDAP, AD, SAML 2.0 and so on) to hook up with your existing authentication solution.
Branches (centrally managed, but independently branded and operated learning portals, each with its own customizations and users) allowing you to cater to different facilities, departments and extended enterprise partners.
Reports for all aspects of your training program.
Certification backend to help you assign, track, audit and (optionally) auto-expire certifications, to handle any compliance training requirement and satisfy your auditors.
Fully customizable Gamification engine to increase learner engagement.
Thousands of native and Zapier-enabled integration options, including both a PHP-based plugin system and a RESTful API for unlimited extensibility.
Support for importing SCORM-compatible third party training content (including a full-blown courses marketplace with Open Sesame integration).
Support for blended learning and Instructor-Led training (with seamless integration between online and classroom-based courses).
Talent Development support, with Skills-gap testing and employee skills tracking.
There is also support for microlearning and microcertifications though eFrontPro's native mobile applications for iOS and Android.
IBM Connections Integration
While eFrontPro has some basic support for social collaboration, (thanks to its built-in support for messaging, discussion forums, and teleconferences), it's not in itself a dedicated social learning environment.
So, how do you turn eFrontPro from a popular corporate training LMS into a fully capable social learning environment?
Why, by adding "IBM Connections for eFrontPro", of course, the add-on solution from Epignosis that integrates eFrontPro's training power with IBM's extensible enterprise social network (ESN) platform.
This combination that gives the best of both worlds, has been fully blessed by IBM, and validated as part of "Ready for IBM Social Business" program - it doesn't get any more official than that.
So what do you get from your eFrontPro/Connections combo? Single Sign On between your ESN and LMS for starters, giving IBM Connection users access rights to eFrontPro, and allowing them to (optionally) subscribe for courses and ILT events from their IBM Connections portal.
Employees can create new course training content and share it with team members and other colleagues (with fine-grained control over sharing options on a per item basis), while managers can assign training content (including assessments, tests, quizzes, and surveys) to employees in their team and track their learning progress.
Combined with IBM Connections' social capabilities, eFrontPro allows corporate employees to create intra- or cross-departmental "communities of interest" around specific subjects (or work projects), increase their knowledge, and collaborate on common problems.
Conclusion
For companies looking to adopt an enterprise social network and encourage social learning, eFrontPro's integration with IBM Connections offers a solution that combines the training power of a dedicated LMS with the social dexterity of a leading social business platform.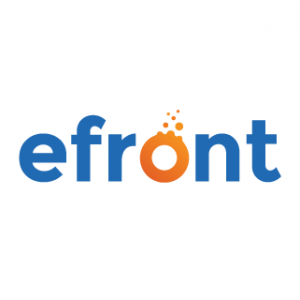 eFront
Train your employees, partners and customers with eFront, the powerful learning management system that shapes to fit your needs.