LMS eCommerce Integrations For Stress-Free Sales
Most LMS vendors exclude payment processing from their list of features. Storing and collecting financial info falls outside the purview. However, companies who sell online training content still need a system that supports user sign-ups, processes fees, and tracks conversions. The solution is an eCommerce LMS that has your favorite payment gateways built right in. Platforms that allow you to set up a virtual shop, integrate branding, and monitor marketing strategies. But how do you choose the best system for your budget?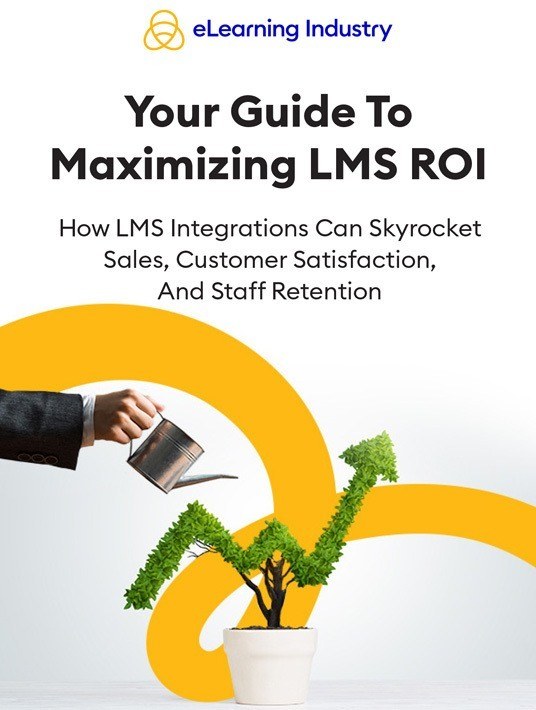 eBook Release
Your Guide To Maximizing LMS ROI: How LMS Integrations Can Skyrocket Sales, Customer Satisfaction, And Staff Retention
Choose the best integrations based on your L&D strategy and business needs.
Tried And Tested Techniques To Select Top Value For Money Integrations
1. Analyze Your Current Payment Gateway
You may already have a reliable payment processor that you use for other business operations. Such as online product sales. For example, you're familiar with Magento and need an LMS integration to blend it with your online training platform. It's crucial to evaluate your current payment gateway to determine if it still aligns with your needs and objectives. Can it handle your project sales volume? Does it feature end-to-end data encryption? If so, look for a Learning Management System that seamlessly integrates with your favorite payment portal.
2. Use An Online Directory To Find Compatible Solutions
Once you have an idea of the payment processing vendors you want to work with, use an online directory to choose a compatible LMS. Every listing features a detailed list of the integrations offered by the LMS company, ranging from CRM to eCommerce. This makes it easy to find a platform that covers all the business operations basics. But you should also evaluate their other features and functions to find the perfect fit. For example, do they have advanced support services? Can you assign roles? What about gamification features, such as badges and points?
3. Look For Platforms With Auto-Enrollment
One of the advantages of LMS eCommerce integrations is that you're able to automatically enroll learners after they've paid for the privilege. For example, they process their Woo Commerce payment and immediately have access to the course or certification path. No need to wait until ad admin reviews their personal info and adds them to the user list. That said, you should still have the opportunity to enact admin approval if you prefer. For instance, you'd like to verify that they've completed course prerequisites or have already registered their basic user info.
4. Consider Personalized Dashboards And Storefronts
Many vendors allow you to set up customized storefronts that reflect your branding. As well as personalized dashboards that reflect your identity and track individual online training course enrollments. For example, learners can quickly see which content they've purchased, when, and their overall progress. In some cases, they can even modify the layout to make it more intuitive. Such as moving their completion stats to the top of the page or adding a calendar widget so they can track upcoming deadlines.
5. Evaluate Reporting Capabilities
Every LMS should have out-of-the-box reports that offer basic online training metrics. But an eCommerce LMS needs to deliver more advanced metrics ranging from conversions and visitor stats to completion rates and satisfaction scores. This data can help you continually develop your marketing strategy and fine-tune eLearning course content. For instance, analytics allow you to pinpoint under-performing certification eLearning courses and identify the root cause. Especially if you follow up with surveys and questionnaires to get employee training participants' eLearning feedback.
6. Scope Out Their Subscription And Discount Options
Some companies choose to sell content subscriptions instead of one-time fees. For example, the employee training participant purchases a 3-month membership that grants them VIP access to your entire catalog. In this case, you need LMS eCommerce integrations that support subscriptions and/or membership packages—like a platform that integrates with PayPal. You should also be able to specify subscription parameters. Such as how long they have access to content, which eLearning courses/activities are omitted, and customized renewal reminders. Another feature to consider is discounts. Does the platform allow you to offer reduced fees for returning employee training participants? What about a special introductory price for new learners? Can you personalize the discount codes and set expiration dates or usage terms?
7. Add UI And Accessibility To Your Selection Criteria
Payment processing services, subscriptions, and storefronts aside, your eCommerce LMS must be user-friendly. Otherwise, employee training participants who've paid for your content won't be able to get the full benefit. This leads to negative reviews, low sales, and diminished brand credibility. Can learners access the eLearning course on any device? What about offline usability? Is the interface intuitive or does it require a challenging learning curve? Keep in mind that employee training participants don't have the time or patience to deal with navigation issues. In most cases, it's not mandatory. Unlike employee online training, these people are voluntarily signing up to bridge gaps and achieve their learning objectives. They must be able to log in to the platform, build crucial skills, then apply them immediately. Not spend half an hour trying to reach the JIT library because the dashboard is too complicated.
LMS eCommerce integrations should simplify every aspect of online training course sales. Not complicate matters with overly complex processing protocols and limited reporting capabilities. When in doubt, sign up for their free demo or schedule a meeting with the vendor. Identify your sales requirements and forecasted volume beforehand so that they can address your specific needs and concerns. You should also evaluate their processing fees and structure. For example, how much does PayPal or Stripe charge per transaction? That way, you aren't surprised by any hidden costs to come out of your profit margin.
If you're looking for ways to boost the functionality of your LMS and turn it into a powerful tool for your organization, then this eBook is for you. Download Your Guide To Maximizing LMS ROI: How LMS Integrations Can Skyrocket Sales, Customer Satisfaction, And Staff Retention and discover must-have features, tips and best practices for implementing LMS integrations.