TalentLMS And Customer Support  
One of our core beliefs at Epignosis is that the most important qualities of our software, and any software, for that matter, are the ones that can't be listed on feature lists and comparison matrices.
Take ease of use for example. Our industry leading eLearning platform, TalentLMS, is renowned for its intuitive and comprehensive user interface, and is frequently lauded by reviewers and users for its ease of use.
But how do you put that in a comparison matrix?
Unlike a well defined feature like "support for REST API", ease of use is something that any LMS vendor can claim to offer, even when they don't. It's not something that you can objectively measure and tick a box that says you have it ― rather it's something that your users get to experience for themselves.
The same goes for support. While it's unarguably an essential feature for any software, and especially business software, it's again not something that you can define easily. Everybody can claim to have "great support", and it's left to their users to find out whether this is or is not the case.
As for us, we value ease of use, stability and support more than piling up ever more obscure features that look good on comparison matrices but are of little or no use for most customers. We strongly believe that having great support makes all the difference between a software product that solves your problems and a product that creates new ones.
Offering great support is something that the TalentLMS team is well known for. Of course every vendor would say that, but in our case it's something that our users and reviewers also seem to agree upon (on the enterprise software review site GetApp, for example, users give us 4.5 out of 5 stars when it comes to customer support).
In this post we'll have a look at how the TalentLMS team deals with support issues, describe our support goals and methodologies, and provide a few metrics to help you better understand what goes on behind the scenes.
The first interesting fact about how the TalentLMS team approaches customer support is that we don't see it as the sole province of some "customer care" specialists. While we have a front-line of dedicated full-time support staff to answer the phones and help customers with basic questions and general inquiries, we also involve the whole team, and especially our developers and administrators, as soon as possible.
This means that whereas with most companies you get some non-technical person reading a "support script" back at you ("Have you tried rebooting the PC?"), with TalentLMS a support issue will immediately reach a technical person able to discover the source of the issue faster -- often the very one responsible for coding the respective functionality.
This way we've managed to lower our average response time (from incident report to having an answer or fix ready) from our advertised "next business day answer guarantee" to less than half a day, while handling hundreds of incidents per month.
Instead of directing customers to some call support facility in the developing world, and having them sit through call center muzak before they get to speak to some support person with an exotic accent and a questionable grasp of English and/or technical knowledge, we focus on asynchronous support channels such as email and incident report widgets.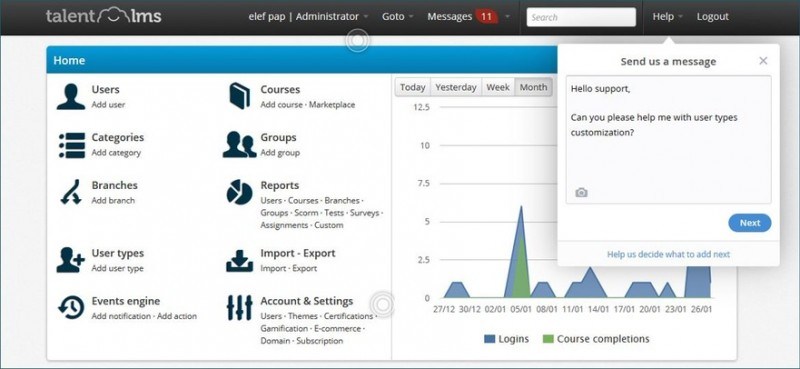 We've found that these methods are more effective for both the customer and the support department, especially since TalentLMS' customer base resides in multiple timezones all over the world.
More specifically, we offer three major ways for customers to report their issues:
A fast access "Contact" widget, directly from within their TalentLMS portal.
Our specialized support portal, which makes use of UserVoice's customer support platform (the same one used by industry heavyweights like Google, Microsoft, Cisco and Salesforce)
Direct email.
We've found that our users overwhelmingly reach for the Contact Widget (after all, it's only a click away), with 1/3 of them opting for the UserVoice support portal and a smaller, but sizable minority (around 12%) preferring to contact us by direct email.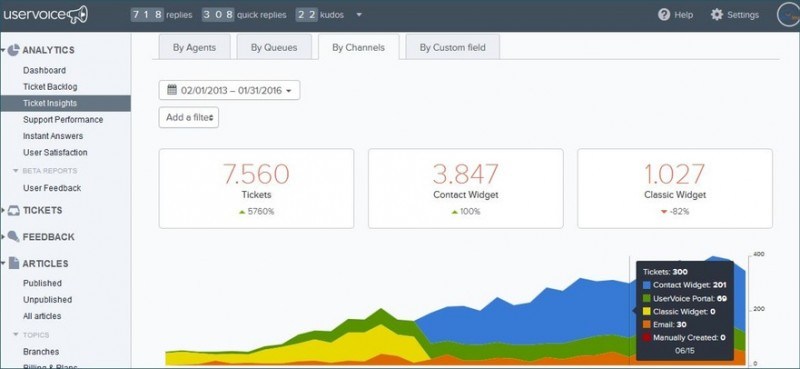 Our emphasis in ease of use in the operation of TalentLMS also means that we are not overwhelmed with questions about trivial day to day operations and features (course content development, user management, etc). Instead, it's the more technical and detailed tasks that they usually ask for support for, like customizing their eLearning portal with CSS and Javascript, developing some custom integration etc.
This, we think, is how it should be for most software; having the most common functionality be as intuitive as possible, so that if users face any difficulties its only for the more advanced tasks.
Of course all this would just be empty talk if we didn't keep detailed data on our support performance. Which we very much do, recording everything from response times and repeat inquiries to user satisfactions ratings.
All these support incident "metadata" are then aggregated and analyzed to help us identify and fix problems with our support performance. That, for example, is how we found that we needed an extra shift in order to improve our weekend response time for customers contacting us from Australia.
On top of that, we calculate our own "response time" rating, based on the amount of time a user has to wait for a response to their issue when contacting us. Scores range from A+ (user gets a response in under an hour) to F (response takes a full day). By keeping an eye on all the relevant stats and working on improving our performance, we've managed to raise our score from B+ to A- in the last 5 months.
But perhaps, even more so than metrics, what's important is to have the right attitude and philosophy when it comes to user support.
In our case, the number one priority is getting to understand a client's issue in full, especially for users not comfortable with technical jargon.
Support is not just about providing a narrow solution to a specific incident, but also enlightening the client about all the possible options that the software offers to get some particular task done. The first step is, of course, to make the customer feel that the person in the other end of line cares for them and their problem, and that there are no "stupid" questions.
If you do it right, you get rewarded with praise, such as these quotes from our customers:
"TalentLMS has met all our needs, but what we've been most fascinated with is their level of support - timely and expert advice each and every time we've contacted them for assistance! Thank you guys - keep up the great work!"

"Technical support was always available to provide assistance with extremely prompt responses."

"Their support from day one has been phenomenal, and the more I learn about the system the more I like it and the people at TalentLMS helping me grown my business."
Which, at the day of the day, is what makes our job worth it.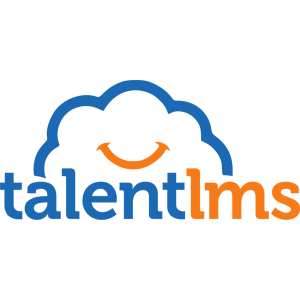 TalentLMS
TalentLMS is a super-easy cloud LMS that makes effective usage of your time and maximizes the training output.