Tips For Selecting The Right Social Learning Outsourcing Partner
So much goes into buying an LMS. It's a permanent purchase that can affect every department in your organization. Making the wrong choice, therefore, could inconvenience everyone, from customer service new hires to the CEO. The broader your LMS scope, the more detailed your criteria should be. So, what hints can help you validate your selection before you hit "buy"? Here are 6 tips to choose the best social learning platforms through careful vendor vetting.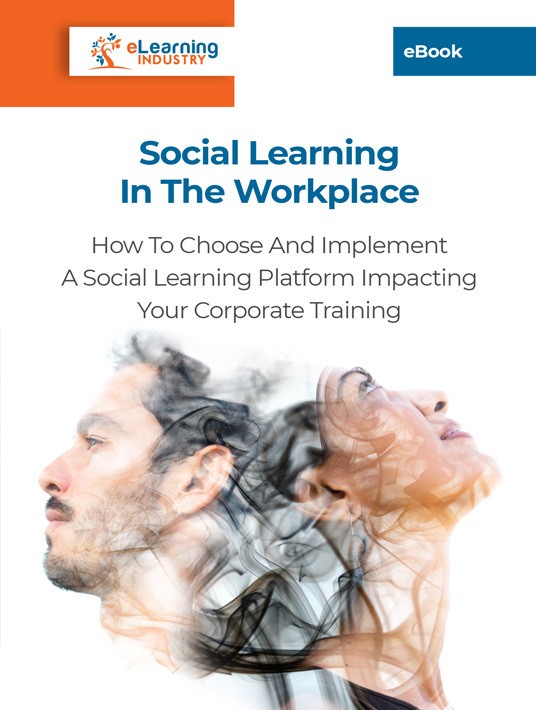 eBook Release
Social Learning In The Workplace
Discover everything you need to implement a social learning strategy today.
1. Start With A Timeline
Some people are often stereotyped as impulsive buyers. In truth, before they swipe that card, they may have window-shopped for months and tried on 17 different styles. They know what that the item looks like from every possible angle. And as they strut their stuff in front of the mirror, they're mentally adding accessories from their closet at home. That said, the purchase process is different when they're preparing for picking an outfit for a last-minute interview. The same principle extends to the LMS. If you have a year to pick, you can be more thorough and systematic. But the LMS may have crashed. Or the boss announced budget cuts the week before your LMS renewal fee is due. Now you must cycle through your options a lot faster. This is why it's always wise to have a backup plan—AKA a shortlist of potential replacements.
2. Check Social Learning Factors
Listing the features you need is a key part of any software shopping excursion. Usually, these lists focus on basics like analytics and mobile optimization. With social learning tools, you should seek features and options directly related to social knowledge sharing. These include instant messaging, social media integration, discussions, live chat, easy upload tools, and video conferencing. You can also ask for editing booths (sound, text, visual, and video). This is crucial for employee-generated content. It allows them to get more creative and refined with their crowd sourcing. As a result, they'll be more invested in the online training process both as mentors and mentees.
3. Use An Online Directory
Public search engines are a good place to start when you're seeking suggestions. However, visiting reliable review sites can help you narrow down your choices. Pay special attention to feature-based testimonials. One, they directly address the exact features you're looking for. And two, online reviews that are too generic are unhelpful—and may even be sponsored. Online directories are another good source. They're curated more carefully and may be categorized by price point, industry, and functionality. This generally makes it easier to make informed decisions. Look for an online LMS directory that includes ratings and reviews to streamline your research efforts. Bonus points if it mentions the users' industry, experience, or use case so that you can weigh each review based on your online training needs.
4. Research The Company
At this point, you should have a respectable shortlist. Now you can look into the LMS software itself. Start by checking your social learning software credentials. Find out the company name, and where possible, look into the individual team that worked on it. A bit of corporate sleuthing may be required. See what other products they've worked on, and what their experience is. This tells you how familiar they are with the social learning space. Look into the company's technical aspects as well. How good are they with support services, for example? How long does it take to respond to an email and are they knowledgeable about their social learning platforms? How often do they update the platform to keep up with modern tech? Lastly, who are their users?
5. Take A Test Drive
It's the most obvious step in any LMS software purchase but also the most underutilized. When we have an entire month to run a free trial, we're likely to overestimate our preparation time. This results in rushing through the last few days, which leads to ineffective software exploration. Instead, start with a plan. You already know how you intend to roll out your social learning. So, assume you've already made the purchase and start using it. For example, if you intend to share staff online training resources, get a test team. Assign them a month-long calendar where they take turns posting online training content and sparking discussions. Watch how they interact with the social LMS and take notes.
6. Get A Free LMS Consultation
If you want to speed up the selection process, you can opt for a free LMS consultation to receive a personalized list. These targeted recommendations are based on key criteria you provide, such as your use case, budget, number of users, timeline, and project details. It only takes a few minutes to provide some basic information so that you get more accurate LMS suggestions. Then you can continue with your social learning vendor vetting, armed with shortlist of top options, instead of researching all the best social LMS solutions and test driving every platform.
Buyer's remorse doesn't necessarily mean your social LMS purchase was sub-standard. But in the corporate space, it can lead to all sorts of problems for you and your colleagues. So, when you're buying an LMS everyone will use, do everything you can to get it right. Suggestions? Base your online training strategy on how much time is available before the purchase. List the features you need, with a focus on social learning implements. Narrow things down with an online directory and run a background check on your social learning vendor. Finally, do a dry run thoroughly testing each feature after you've requested a free LMS quote.
Interested in finding out more about implementing a sound social learning strategy in your organization? Download the eBook Social Learning In The Workplace and discover how to improve workplace performance with an LMS for social learning. Encourage peer-based support and create a workplace environment of trust and mentorship by choosing the right social learning software.