How To Hire An eLearning Content Provider For Compliance Training Gamification
Compliance training is not the most entertaining topic. In fact, most of your employees would rather do just about anything to avoid another ILT presentation or overdramatized safety video. That includes root canals and cleaning the bathroom. Fortunately, there is a secret weapon in your arsenal. Training games can make compliance training engaging and enjoyable. I bet you never thought you'd see those words together in a single sentence. Games impart the basics, build vital skills, and point out their mistakes. But you don't have to lay the burden on your L&D team. Here are some top tips to hire a training games eLearning content provider for your compliance training program.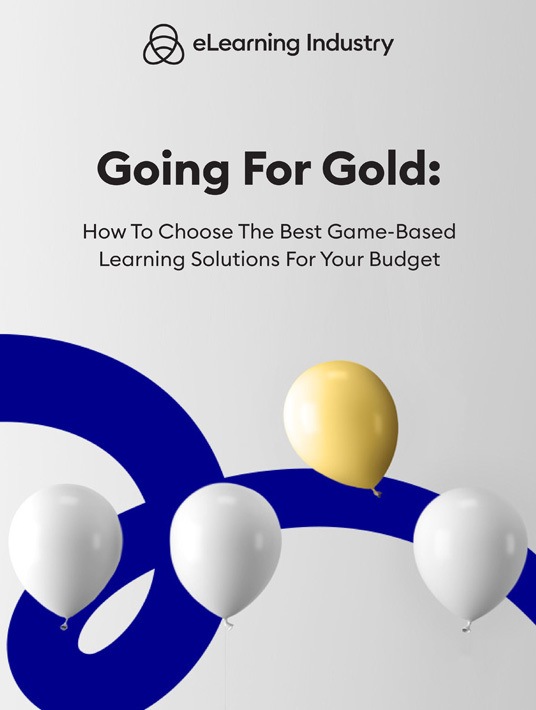 eBook Release
Going For Gold: How To Choose The Best Game-Based Learning Solutions For Your Budget
Discover insider secrets to maximize ROI and choose the best game-based learning solutions for your team!
7 Tips To Find The Ideal Games eLearning Content Provider For Your Compliance Training
1. Identify Your Budget And Objectives
How much are you working with and what do you hope to achieve? It's a big question, but one that needs an answer before you outsource game-based learning. Create a realistic budget that includes all those pesky hidden fees. Clarify your objectives and desired outcomes so that you can find an eLearning content provider who aligns with your needs. How many training games do you require? What is your implementation timeline? Which gaps are you trying to fill with game-based learning? Lastly, determine what you'll tackle in-house so that you don't overspend.
2. Start With An Online Directory
Use an online directory to begin the hunt and narrow your list of potential eLearning content providers. Ideally, the directory should feature a good range of vendors in your price range and industry. For example, do they specialize in the hospitality niche? Are you looking for someone who understands the sales sector and its unique challenges? Filter results to find a company that already has experience in your field so that you don't have to deal with a steep learning curve. Finally, make sure the directory is unbiased. Is it packed with paid reviews or do users have to provide personal info to leave their comments?
3. Consider Reviews And Ratings
Before the internet boom, we used to have to rely on word-of-mouth recommendations. But now you have a wealth of information at your fingertips thanks to online reviews and ratings, which allow you to delve into everything from customer service to responsiveness. So, do your homework to see which vendors deliver superior CX and high-quality work. Verify that reviewers have a similar use case to evaluate vendors fairly. Are they involved in the same industry? Did they have a comparable budget?
4. Evaluate Their Compliance Know-How
The eLearning content provider may be familiar with your industry, but do they know the compliance rules and regulations? If not, are they willing to brush up on local laws and limitations to create effective training content for your team? Reach out to your shortlist of vendors to gauge their compliance know-how. Are they aware of recent changes? Can they briefly explain the unique compliance obstacles you face and how to address them with GBL?
5. Look For A Company That Specializes In GBL
One of the primary reasons why companies outsource GBL is that it requires a unique skill set, not to mention tools and expertise. Look for vendors that specialize in gamification design because they already have a proven track record. They've worked with other organizations to boost employee motivation and improve compliance stats. The eLearning content provider is also aware of which game mechanics or rewards to use based on the objectives. That said, you must also consider other solutions you require in the future. For instance, one vendor provides gamification design, microlearning, and VR design. Thus, you can start forming a partnership with them now that leads to a long-term collaboration.
6. Set Up A Sample Project
Saying they specialize in your industry and game-based learning is one thing. However, you may need further proof that they have what it takes to achieve the outcomes. Hire them for a sample project to evaluate their work firsthand. Make it something small and low-budget because you don't want to waste precious resources on a mismatch. This gives you the opportunity to make certain the eLearning content provider can deliver on their promise and fits into your training team.
7. Ask For Recommendations And References
Ask for suggestions on social media or inquire about vendors you already have on your shortlist. You should also ask the training games content provider for references if you want to verify their credentials. At the very least, request a portfolio that highlights their best work so you can see if they meet your standards. Set up a meeting if necessary to discuss concerns or address those pressing questions. For example, their portfolio lacks a GBL that deals with your specific compliance topic, or one of their reviewers mentioned lengthy communication delays. Now is the time to vet vendors one on one to avoid potential obstacles. Have a list of questions ready to respect everyone's time and don't forget to clarify the pricing options/hidden fees.
Conclusion
It takes an experienced, knowledgeable eLearning content provider to design game-based learning that doesn't feel forced. They must be aware of game mechanics, psychological principles, and motivational factors that underlie every activity. Furthermore, they need to know not only your industry but organizational values. What do you want to achieve and how can they accomplish the goals within the existing training framework? Their contributions might stick out like a sore thumb if they fail to do their homework. So, ensure that everyone's on the same page and that your outsourcing partner is committed to the cause.
Which eLearning content provider is the perfect fit for your gamification design project? Choose a vendor who understands your niche and budgetary limitations. Our online directory can help you find a vendor that specializes in compliance training and GBL. There are even reviews to give you the inside scoop on their qualifications and customer service.
Download the eBook Going For Gold: How To Choose The Best Game-Based Learning Solutions For Your Budget to improve employee engagement and cut costs.