Types Of Feedback To Boost Your eLearning Courses
According to John Hattie, Professor of Education and Director of the Melbourne Education Research Institute at the University of Melbourne, Australia, feedback must be timely, relevant, and action-oriented. Feedback can be as simple as adding a like-or-dislike button or creating a simple Q&A as part of a learner assessment. Feedback can also be obtained through a variety of other forums.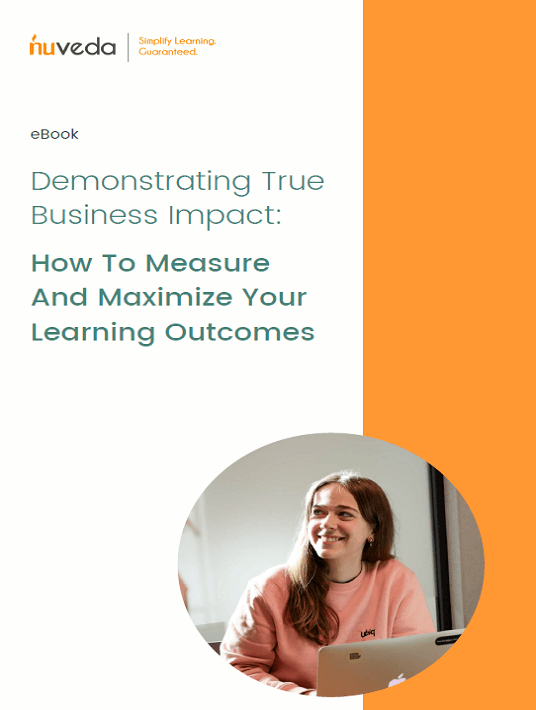 eBook Release
Demonstrating True Business Impact: How To Measure And Maximize Your Learning Outcomes
Discover how to measure learning outcomes and choose a learning platform that can help you demonstrate real business impact.
1. The Simple Q&A
The core competencies of learning programs are to provide employees with relevant skills to achieve certain tasks, upskill them for the future, and ensure they do not become redundant resources. This can be achieved only through a learning curriculum that helps them absorb. To know if you have a program that is learner-oriented, you can implement a Q&A after every module. It is a simple and time-efficient way of knowing how much essential knowledge from the module is being absorbed by the learner. Please be aware that it only measures cognitive retention of knowledge.
Learner assessments do not need to be lengthy or all-encompassing. In many cases, lengthy assessments turn off employees or participants. Learner assessments are important across the board, and especially critical in an online learning environment. In some functional or technical cases, it makes sense to have elaborate assessments that test the understanding of a subject. But more often than not, it is more effective to have simple and timely assessments that test learner progression and retention.
Pro tip: Rather than looking at the right or wrong answers, identify the gaps that the module has which makes it hard for the learner to retain their knowledge.
2. Polling And Surveys
"Was this program useful to you? Answer yes or no." "Is the curriculum relevant to your job profile? If not, explain in detail."
Polls and surveys are the top contenders when it comes to collecting feedback. They are quick to take and provide you access to a wider sample size. Polls and surveys can provide analytics across a group and give a window into how effective your learning programs are. Additionally, they can give you raw material for what works and what does not work in the learning program.
After tweaking your programs, you can rerun the same poll or survey and arrive at whether the learning program is working better for the participants.
3. Discussion Forums
Most learning platforms such as CALF™ come equipped with an array of technological tools to gather feedback. Discussion forums, when used properly, can serve as a powerful tool to solicit feedback from participants and improve your learning programs. A lively discussion forum is a sign of positive feedback, especially in a remote learning environment—this informs the L&D practitioners that participants are sharing their opinions and feedback with each other. A healthy discussion forum is often a good sign and must be constantly nurtured by a facilitator or a community coordinator. Of course, negative feedback may also happen, in which case it can be used to improve the learning program.
4. The Learning Application Post (LAP)
The Learning Application Post, or LAP for short, is a proprietary tool created by NuVeda for its clients in order to probe the application of learning, that can indicate a change in behavior of the participants in the learning program. In its basic form, a LAP is nothing more than an answer to an open-ended question on how the learner applied the learning on the job. The quality of the LAPs gives a window into whether the learning program is effective or not. Additionally, the quality of the manager or feedback to the LAPs gives a window into whether the managers are engaged or not, in their direct report's learning and development. When the managers and supervisors provide feedback on the LAPs, the learner tends to benefit from the feedback, helping the person grow. The converse is also true. When the manager or supervisor does not provide feedback on the LAPs, the learner is left to fend for themselves and is bereft of the developmental opportunity that the LAP provides.
In the CALF™ platform, the entire process of collecting LAPs and their feedback is streamlined for ease of use and effectiveness. Furthermore, the reports that are generated from the LAPs provide a quick overview of the application of learning. Facilitators and L&D professionals can easily gauge whether the learning programs are effective in driving behavior or not.
5. 360 Feedback For Management And Leadership Programs
Management and leadership programs are essential for the growth of any successful company, and L&D practitioners must use them effectively and in a timely manner for best results. In order to focus some of these efforts accurately, companies use various techniques to gather feedback on the developmental gaps for their managers and leaders. The 360 Feedback tool is one such tool and can provide a window into the various gaps in the manager or leader's profile that need to be addressed by learning programs. As the name suggests, the 360 Feedback tool is an excellent source of data, as it collects feedback from the participants, their managers, their direct reports, and their peers. In some cases, data is also collected from their customers or suppliers where appropriate. When used effectively, the outputs from the 360 Feedback reports can guide the course of the leadership program journey and deliver excellent results for any organization.
The nu360 Feedback tool from NuVeda is used by top firms across various industries to generate crucial feedback data on their learning curriculum. With its simple and smart analytical reports, managers and leaders can use the nu360 Feedback reports to get a better understanding of their strengths and weaknesses. The nu360 Feedback report automatically tabulates the results and presents them in a format that helps the feedback recipient create a personalized development plan. Clients using CALF™ can integrate the nu360 Feedback reports into their learning programs to provide participants a seamless experience from the 360 Feedback assessment to their learning journeys and get personalized reports of their leadership development.
Conclusion
It's important to collect feedback for your learning programs—understanding whether they are working or not. There are various ways of collecting feedback, depending on the context. Not only do they help you in identifying gaps in the learning modules; they may also point to needs and resources for your organization as a whole. L&D leaders can thus use this data to make resourceful decisions to accelerate learning.
Download the eBook Demonstrating True Business Impact: How To Measure And Maximize Your Learning Outcomes to drive L&D initiatives in the right direction and achieve your desired business outcomes. You can also join the webinar to learn whether your L&D initiatives really align with the organizational objectives. The webinar also explores how to leverage the full capabilities of CALF™️, the learning platform that measures the behavioral and business impact of your learning interventions.

CALF™
CALF™ is the only LMS with the Kirkpatrick Model of Training Effectiveness built right in with the platform. The user-friendly LMS can be used as a stand-alone LMS or one that coexists with other LMS-es. Integrates easily with other systems.