How Does An RFP For Compliance Training Solutions Improve Vendor Vetting?
Do you really need to submit an RFP for compliance training solutions these days? Or will online quotes and market research do the trick? The truth is that requests are still a crucial part of vendor qualification because they're personalized. Vendors know how much you have to spend and what you expect from your investment. As well as all the training solutions your organization needs to reduce compliance risks cost-effectively. Thus, you can develop a more realistic budget and implementation timeline based on their expertise. Let's look at some of the perks RFPs can bring to your next outsourcing project.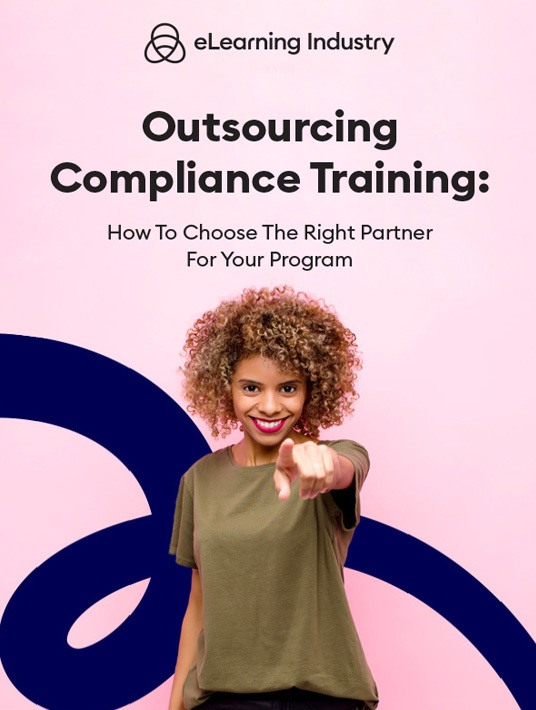 eBook Release
Outsourcing Compliance Training: How To Choose The Right Partner For Your Program
This guide will help you outsource with ease and choose the best partner for the job.
7 Reasons To Submit Compliance Training Solutions RFPs
1. Get Clear Cost Estimates
RFPs help you clarify costs and set a more accurate budget. Most organizations have a general idea of how much they can allocate for compliance training solutions. However, requests help you evaluate the current market rates and hidden fees. For example, your current budget is based on outdated info. So, you may need to increase your spending limit to get the solutions you need. Vendors can also point out aspects of your budget that may be inflated. For instance, you've set aside this much for task simulations, but they can design it for half that.
2. Verify Vendor Expertise
Request for proposals are ideal for vendor qualification because you can see how much they know about compliance training and related challenges. As an example, you outline all the risks your organization faces and they respond with targeted solutions. They should also understand industry requirements and suggest creative ways to bridge existing gaps. A tell-tale sign of inexperience is generic proposals. For instance, they send you a template response that just touches on the basics instead of addressing your niche training requirements.
3. Identify Your Top Training Solutions
One of the most important elements to include in your RFP is compliance training resources. As this allows you to identify the top training solutions for your team AND budget. The vendor can also work with you to narrow the list based on your pain points and desired outcomes. For instance, you might include 5 resources you need to kick off your compliance training program. However, they respond with an additional 10 solutions that might help you bridge gaps without breaking the bank.
4. Avoid Miscommunication
Everyone needs to be on the same wavelength before you start the project. An RFP gives you the chance to outline all your expectations and communication requirements. As an example, the vendor needs to collect feedback from your team after each phase of the project. You also expect a progress update every month to ensure the development process is on-schedule. Therefore, vendors know exactly what you need from them and the role you want to play in the outsourcing project. Just make sure to add this fine print to your contract.
5. Create A Back-Up Plan
An RFP for compliance training services doesn't just map out the best-case scenario. You can also ask vendors to identify risks of their own and create a backup plan. For example, what are the common challenges they've faced in the past and how did they resolve the issue? More importantly, what measures do they have in place to streamline the process and avoid delays or overspending? You can even use this information to create your own backup plan in case things go sideways. For instance, meet with the vendor to discuss potential roadblocks and how you'll overcome them collaboratively.
6. Outline Goals And Objectives
An RFP should include goals and objectives so that everyone is on the same page. Vendors can provide detailed estimates, schedules, and solutions to meet your needs. As well as support services that align with your team's experience level and skills. Maybe they need more one-on-one support because they lack tech expertise. Or they may want to be more involved in the creative design process. This also helps the vendor draw up the final contract if you choose to hire them, of course. As they have all the key elements in place. To illustrate, they already know your primary objectives, goals, budget, and desired results. Everything is in writing. So, there's no confusion later on when it's time to design the compliance training resources.
7. Stick To Your Launch Schedule
One of the most convincing reasons to submit RFPs to improve vendor vetting is to avoid delays. You may need the deliverable next month, but the vendor has another schedule in mind. As they're already booked up with other projects or simply can't develop the resources that quickly. Thus, requests help you re-evaluate your implementation timeline and ensure that the eLearning content provider can meet deadlines. They can always suggest another schedule in their proposal and explain why it might require more time. For instance, they need an extra week to design a VR serious game because it involves these tasks and several test rounds. Their experience allows you to rethink your rollout schedule based on realistic completion times.
Conclusion
While many organizations use an exclusive directory to compile a shortlist, it can also help you fine-tune your RFP. As you have the chance to learn more about compliance training solutions and specialization areas. Then incorporate this info into your requests. For example, you may decide to add microlearning or podcast development to your RFP. Or specify your industry for more accurate vendor proposals and cost estimates. Check out our free online directory to identify RFP-worthy companies AND craft results-driven requests.
Download the eBook Outsourcing Compliance Training: How To Choose The Right Partner For Your Program to find the best content provider for your needs.