Why You Need An eLearning Modernization Strategy
Due to the staggering amount the average company has invested in eLearning content and important changes in the last 5 years affecting how learners engage with content, every company needs to have an eLearning modernization strategy to keep content relevant and effective. Let's start with a number:
18,000,000
That staggering number is what the average large organization of 16,000 employees has spent developing their learning portfolio in the last five years. I know that a lot of companies are larger than that, and for those, the numbers only get larger.
That's roughly $1,100 per employee in learning. This includes money invested in subject matter experts, Learning and Development (L&D) professionals, instructors, and management.
(See our infographic to Track the Dollar Invested in L&D for more)
$18 Million Invested Over 5 Years, But What Has Changed In The Last 5 Years?
Apart from business and market realities (which also can drastically change over 5 years), there are several important changes that have occurred over the last five years when it comes to your learning and development portfolio.
Get the eBook Modernize For Engagement, by Infopro Learning
This eBook presents some of the best tips and strategies to modernize your content.
3 Changes In The Last 5 Years That Affect Your eLearning
1. Internet Speeds Have Tripled
The average internet speed in the United States has increased from 10 megabits per second (Mbps) in 2011, to 32 Mbps in 2016 per the Federal Communications Commission Measuring Broadband America Fixed Broadband Report.
Constraints that you had five years ago to reduce your internet footprint do not exist today. You may have chosen to use low-resolution graphics and videos to keep file sizes down five years ago, but today learners expect high-resolution media (Not to mention advancements in technology - what was high resolution five years ago is now the middle of the road).
And not just the resolution of graphics, but even the entire design of your courses may have been constricted by size issues. Without these constrictions, could your eLearning be even more effective in a more intensive comprehensive format?
2. Daily Digital (Non-TV) Video Consumption Has Tripled
A major contributing factor to the increase of internet speeds provided is video streaming services. 60% of internet traffic comes from video traffic per the FCC, and they expect that may rise to 80% by 2019.
A clear example of the prominence of video is Facebook, who's daily video views has grown from a 1 million several years ago to 100 million today. Or YouTube, the third most accessed website in the world (Surpassed only by its parent, google.com, and Facebook), where 3 billion hours of video are watched a month by 800 million unique users.
Your learners are consuming increasing amounts of video content and are moving away from static content, do they have access to videos for learning?
3. Mobile Usage Has Surpassed Desktop Usage
In 2014, mobile usage surpassed desktop usage in the United States per comScore. 71% of total digital minutes is spent on mobile in the United States the statistics are similar in most of the world (over 90% in Indonesia), and more people in the US have access and use a smartphone (68%) than a desktop computer (61%).
More people have access and prefer to access content using their mobile devices. We have become a mobile-first society, is your learning portfolio mobile-first?
The very mode of engagement with content has dramatically changed in the last five years.
(See our post The depreciation of Training Value Over Time for more)
Does that mean your learning content has become stale?
The answer is most likely yes.
Does that mean you should throw your learning portfolio out the window?
No. While some content may need to be removed, some can be reused and modernized.
Modernize Programs Increase ROI And Engagement
With significant investments in content development, companies need to search for ways to repurpose content across various learning programs. Not only will this increase the ROI, but it will also help increase engagement by modernizing the look and feel of courses to match changes in technology, business, and learner demographics.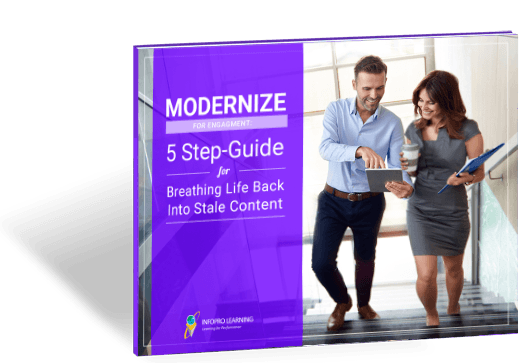 Download our eBook Modernize for Engagement eBook to see how in 5 steps we modernize content for better engagement and breathe life back into stale content.
This eBook is filled with practical advice that we have used to revitalize old content and drastically increase content ROI. Please use this guide to develop your own strategy for defining modernization projects, performing a content audit, analyzing your content, developing a modernizing project, and deploying content modernization to increase content engagement.
Related articles:
1. How To Modernize eLearning For Mobile Adoption
2. The First Step To Modernizing Your eLearning Content
3. The 2 Parts Of A Successful Content Modernization Strategy
4. eBook - Modernize For Engagement: 5-Step Guide For Breathing Life Back Into Stale Content