Why Modernizing Your eLearning Content Is Important?
If you're not sure if you need to modernize your content, I'd suggest reading my article on why every company needs a modernization strategy. If you are considering modernizing your eLearning content, but you are not quite sure it's right for you, then I also suggest reading 5 Questions to Ask Before Modernizing eLearning.
After you're done with those (don't worry, I'll wait!), read on for the first step in modernizing eLearning Content.
Get the eBook Modernize For Engagement, by Infopro Learning
This eBook presents some of the best tips and strategies to modernize your content.
Step 1: Define
The first step in modernizing your eLearning content for engagement is to define your modernization project. The key components to defining your project are defining scope, speed, and success.

1. Scope
Defining scope is asking the question "How much content do I need to modernize?". To answer this question, consider your content in 3 categories:
Content that is not applicable anymore.
This type of content has genuinely lived its life and needs to be formally dated, retired, and archived. They should not show up in your inventory at all. This is what we call, the reduce phase. Reduce the scope of the project itself.
Content that may be partially usable.
In parts this type of content is fine, but in other parts, there is dated content that needs to be removed or minor updates that need to be done. This is what we call the reuse phase. This content provides quick wins to help you prove modernization to management.
Content that needs heavy updates.
This type of content needs updates from new content created from scratch but also has parts that can be reused. This is what we call, the recycle phase. These pieces of content are typically done in long-term projects, and if you are tackling them, we suggest not taking them all in one go.
2. Speed
For your modernization project, it is imperative that you set a quick and strict pace for delivery. Nothing kills a modernization project more than long delays.
Complete your first path as soon as possible and show benefits to stakeholders. To accomplish this, we recommended that you modernize category one and two content first (From the previous step). This will help you make your inventory smaller and reach modernization goals, in turn leading to management buy-in and more budget for category three content.
3. Success
Defining what success means for your project is very important. This is the most critical phase in the first step. There are three important considerations when defining your modernization success:
Budget Constraints.
It is very important to understand the budget you have today, and what can be approved in the short term for the first phase of your project. Although modernization efforts save money in the long-term, there is an initial capital expenditure required. The amount of money you can secure today directly determines the amount of content you can modernize immediately.
Skill gaps.
Skill gaps is the number one challenge of clients that I have spoken to, and should not be overlooked when considering a modernization project. If you are going to modernize content, you need employees with modern skills. Many companies simply do not have this, which is why they choose to outsource. The team that you have might need different skill types for modernizing content, such as reading, writing, newer technology, and newer designs. It's important that you consider the skills of your team at this stage before you have committed to deadlines.
Technology Limitations.
Technological limitations can be especially difficult because for a modernization project they are typically dictated by IT policies. Bring your IT team and any L&D product owners into the conversation early to define any limitations created by tools, security, or devices well ahead of time.
Apart from these, there are many other smaller considerations you may need to keep in mind, such as legal, compliance, or marketing. Make sure you are aware of the limitations of your modernization project ahead of time before they become an issue.
Modernize Programs Increase ROI Αnd Engagement
With significant investments in content development, companies need to search for ways to repurpose content across various learning programs. Not only will this increase the ROI, but it will also help increase engagement by modernizing the look and feel of courses to match the changes in learner demographics.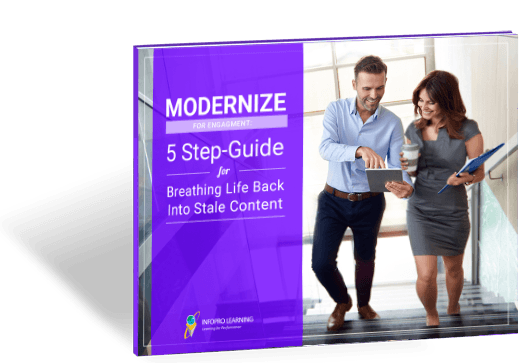 Download our eBook Modernize for Engagement to see how in 5 steps (starting with this step, Define) we modernize content for better engagement and breathe life back into stale content.
Related articles:
1. "Do I Need eLearning Modernization?" 5 Questions To Ask
2. eLearning Modernization In Higher Education: Case Study
3. 3 Reasons Why You Need An eLearning Modernization Strategy
4. eBook - Modernize For Engagement: 5-Step Guide For Breathing Life Back Into Stale Content