Key Drivers For Modernization In eLearning Content
With the emergence of the future workplace, and considering the unique needs of modern-day learners, organizations are now looking at redefining the way their workforce gets trained in regards to their eLearning content. A combination of such factors is driving organizations toward modernizing their legacy content. Let's look at some of these factors in detail.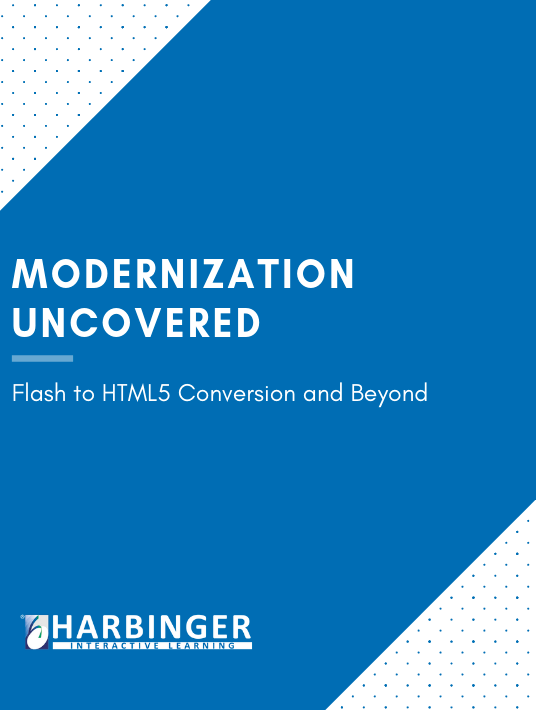 eBook Release
Modernization Uncovered: Flash To HTML5 And Beyond
Uncover all the nuances of content modernization.
Newer Technologies
In 1991, Sir Tim Berners-Lee created HTML5. One of the key objectives of developing HTML5 was to have a better alternative to Flash. More than two and a half decades, a plethora of devices, operating systems, and multiple browser combinations later, we have now come to a point wherein Adobe is officially closing the curtains on Flash. By December 2020, Adobe will stop supporting Flash; in fact, many browsers have already stopped supporting it. This is just one example of technology disruption, there are multiple disruptions happening around us. A modernization strategy that could handle the evolution of new technologies and also account for future-proofing is the need of the hour.
Maintenance
As eLearning content owners, one of the key things is to ensure that you are regularly able to maintain the content being developed. The other aspect of maintenance is the technology infrastructure that is being used to deliver content. Today you might have a SCORM LMS in place and you design and develop content for it, but tomorrow, if an xAPI compliant LMS comes into the picture, the requirement would be to pass data into the Learning Record Store (LRS). The modernization strategy should account for such technology changes and make content available in a format which could be transitioned easily.
Skills Gap In eLearning Content
The "skills gap" across the globe, including the United States, is pretty serious. As per McKinsey's reports, almost 40% of American employers say they cannot find people with the skills they need, even for entry-level jobs. L&D stakeholders are tasked with the responsibility of making learning available for the modern-day learner to close this gap. We also have to account for new skill areas popping up frequently, like blockchain, workplace diversity, and more. The modernization strategy needs to account for all such needs.
Compliance With Regulations And Industry Standards
With the enforcement of new regulations that demand support for accessibility and standards-compliance, accessible eLearning content is now a must-have, rather than a value-add. To ensure that differently-abled learners can fully make use of your legacy courses, it is important to modernize these courses completely and not just focus on getting the compliance checkboxes ticked.
Changing Learner Preferences
Different learners have different learning styles. Some like to learn at their desk, some on-the-go, some prefer short nuggets, while others would be fine sitting through a relatively longer course.
Here are some research findings and statistics that give some insight into the expectations of modern-day learners:
According to Statistics Brain, the average human attention span in 2015 was estimated to be 8.25 seconds—that's shorter than the attention span of a goldfish, which is believed to be nine seconds. Statistics Brain also reports that the average length watched of a single online video is only 2.7 minutes.
As per Bersin, we give mobile content just five to ten seconds to grab us before moving on. Another Bersin report suggests that 27% of people do their learning while they commute to and from work.
A Towards Maturity report reveals that almost 47% of people learn for professional development outside of work during evenings and weekends rather than at their work desks. It also states that 81% of people use mobile devices for learning, and 70% use their own mobile device to do so. 80% of modern-day workers feel that learning can help further their careers. Meeting all these expectations through multiple learning formats is quite difficult. It implies much more production of eLearning content. A modernization strategy could make the same content available in various formats using Artificial Intelligence, natural language processing, and voice-enabled technologies.
Meeting all these expectations through multiple learning formats is quite difficult. It implies much more production of content. A modernization strategy could make the same content available in various formats using Artificial Intelligence, natural language processing, and voice-enabled technologies.
Need For Standardized And Future-Proof Digital Content
Content is your organization's most valuable asset. Stakeholders consistently need to ensure that the digital content which gets developed today is future proof, or in simpler terms, has a long shelf life. If you have a large volume of legacy content sitting idle, or if your employees or customers are facing issues in courses because of the content being stuck in old formats, then it definitely indicates the need to modernize. Modernization can help you convert your legacy content to a standardized format which is widely accessible and brings efficiencies for the future.
New Tool Adoption
An organization, when it uses a tool for a long period of time, develops a significant level of comfort with it, and it becomes difficult to get out of that zone. But with the rapid advancements in technology, many new tools have come up that offer better capabilities than the ones already being used. If you, as the eLearning content owner, are contemplating the use of any such new tool, but cannot take the plunge due to comfort issues, it is time to consider modernization. Modernization can smoothly facilitate a new tool adoption process.
Impact On Bottom Line With eLearning Content
Digital eLearning content which has been developed using legacy tools can impact a business's bottom line. If you are an off-the-shelf course provider and a major source of your revenue is through sales or subscriptions of these courses, then it is imperative to modernize legacy content to ensure your subscribers stay with you. Modernization can minimize the impact on your bottom line and help you stay ahead of the competition.
Accelerated Time-to-Market with New Product Offerings and Upgrades
If you are looking to do something new for your customers with a faster time-to-market, there are two things you could consider—launch newer products or take old products and refurbish them with newer design and experience. At the speed with which technology is changing, it is critical that your product (course) design is resilient, yet flexible. Modernization can help achieve the same and strengthen your course catalog portfolio. So here you have 9 fundamental incentives to modernize eLearning content. Download the eBook Modernization Uncovered: Flash To HTML5 And Beyond to take some serious steps in regard to the modernization of content.