Step By Step Overview Of A Best Practice Methodology
The first step is to identify the eLearning content courses that need modernization. Your organization may have a huge library of legacy courses and not every course needs to be modernized. The decision on whether to retire or retain a course needs to be framed on the basis of the following factors:
The relevance of course eLearning content today
The current market requirement for each course
User enrollment analysis for each course
Recent feedback (last 6-12 months) given by users after taking the course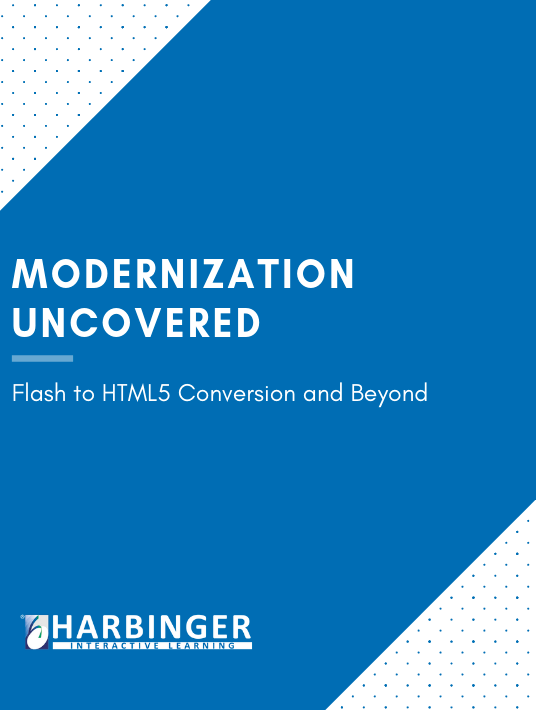 eBook Release
Modernization Uncovered: Flash To HTML5 And Beyond
Uncover all the nuances of content modernization.
Most of these factors will eventually boil down to adding to the bottom line. If a course performs adversely on the above parameters, consider retiring it. Once the course inventory is shortlisted, the next piece of the puzzle is to decide who is going to do this job. Is it your internal development team, should you bring in a third-party vendor or should it be a combination of both?
Some guiding factors that can help you make this decision are:
What is more important for your internal team, working on new product development and servicing customers or modernizing legacy courses?
Does your in-house team have the relevant skillset for this task?
Are you willing to ramp up your internal team temporarily?
Should you bring in a third-party expert with an appropriate skillset to help you with modernization? If you intend to bring in a third-party expert, what should be criteria to bring them on board? The right technical skillset is, of course, non-negotiable; however, should you also consider the values that this expert brings to the table? Do you want to onboard just a vendor or do you need a partner who is with you in this important business decision?
Once you have decided on the courses to be modernized and doing the activity in-house or partnering with a third-party expert, this is what your modernization journey would look like:
1. Define eLearning Content
This phase is the foundation of any modernization project and kicks in as soon as project scoping begins. It ensures that short and long term business objectives are tied with the outcomes of the project. Some basic questions that L&D stakeholders need to answer during this phase are listed below:
What are the business objectives that you want to achieve at the end of this project?
Are you looking for as-is conversion or is there a scope for enhancements, instructionally and visually?
Would you require SME support during the modernization process?
Should the modernized eLearning content courses be accessibility compliant?
Do you want to consider microlearning as one of the key-value propositions?
Is there any preference for any specific tool or technology for modernization?
In this phase, you would essentially list down:
High-level objectives to be achieved from the project
Features that need to be implemented at the course level
High-level design plan
User-acceptance plan
Device, OS, and browser support requirements
Additional provisions of communication required between the courses and LMS
2. Design
The define phase sets you up for designing a solution that is geared toward meeting specific business needs. During this phase, you would ideally design:
Changelog format for communicating edits
Templates for consistency across courses
Naming convention
Quality checklist for various combinations
Compliance standards selection
3. Develop eLearning Content
It is time to get the production wheel rolling in this phase. Below is a gist of what would happen during this phase:
Automation to extract media assets
Instructional Design support to create changelogs
Review and approve changelog
Automation to develop course while reusing media assets
Quality testing with eLearning content mapping automation
Development of courses in rapid mode
4. Deliver
This is the final phase where course delivery happens. Essentially, this is what happens through the deliver(y) phase:
Course testing and LMS deployment
White-labeling and customization of courses
Fixing of quality issues and delivery of the final version
Deploying courses on live systems
We hope this guide has been useful to you. We have tried to set up a methodology that grants great insight into how to determine modernization elements. If you want to dig deep into the possibilities, then download the eBook Modernization Uncovered: Flash To HTML5 And Beyond to take some serious steps in regard to the modernization of content.