The Best eLearning Content Development Companies For 2022
Even though there are plenty of eLearning content providers, choosing a partner is a hurdle. Some deliver online course libraries, others offer virtual training labs, or even create either approach for individuals and enterprises. Sure, one can find course libraries around common subjects, for example, leadership or compliance training topics. Yet, there comes a time when your organization needs custom eLearning content.
These eLearning experts can identify your employees' training and development needs so that your efforts are indeed effective. They can give a complete analysis of your training needs by analyzing all levels of each organization. That's when you have to team up with one of the elite to bring the best results for your teams.
So if you care to find out which are the best eLearning content providers, you've come to the right place. Every year, eLearning Industry evaluates hundreds of eLearning content development companies to determine which ones stand out for their long-standing, enterprise-wide commitment to eLearning content development excellence.
For several months, we scoured the eLearning landscape for innovative companies that deliver real value to their customers, continually improving their experience.
Which Criteria Determined The Top eLearning Content Development Companies
We chose and ranked the best content development companies in the industry based on the following 8 criteria:
Company's economic growth potential
Company's social responsibility
Customer retention
Customer reviews
Employee turnover
Innovation in the learning industry
Quality of eLearning Content delivery
Expertise in learning solutions
Globally recognized LMS experts, including C. Pappas, and our editorial team did a thorough review of each vendor's eligibility. By checking each eLearning company's website and relevant published content—articles, eBooks, webinars—we've reached a conclusion.
Best eLearning Content Providers: Award Winners, Top Companies, Watchlist
As you may have guessed, sustaining a consistently high level of performance requires unique capabilities. This is why this year we've decided to create a triad of special awards for these leading firms whose presence has an imposing impact on the eLearning landscape: the 2022 Platinum, Gold, Silver, and Bronze eLearning Industry awards.
Of course, our list of Top eLearning Development Companies For 2022 is here as well. It is clear that these companies are motivated not only by financial success but by something deeper: customer trust and loyalty. These businesses have a strong, purpose-driven company culture and they truly take care of their customers. Plus, they provide superb eLearning products and services.
So, without further ado, *big drumroll sound* allow us to present you our Top eLearning Content Development Companies For 2022!
Find The Ideal Content Provider For Your Corporate Training
Save time and money. Compare top eLearning companies by solutions, expertise, reviews, and rating!
Platinum Winner: Top eLearning Content Development Companies For 2022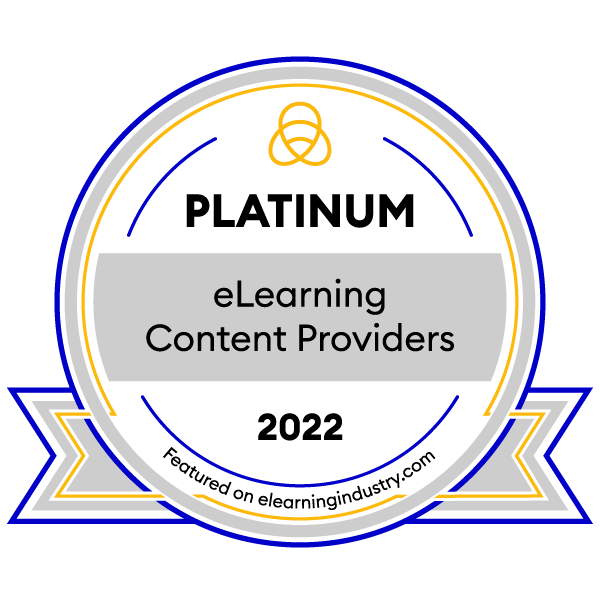 The AllenComm team partners with clients to build impactful, scalable learning experiences. Their human-centered solutions meet business objectives, motivate performance, and win awards for excellence. They bring a full team of experts in instructional design, performance consulting, agency-quality creative and multimedia design, and training technology to create complete, transformative solutions.
With 40+ years of experience, they have the ability to develop multiple content types based on the latest advances in learning - including ILT, VILT, Videos, Simulations, Game-Based Learning, Social Learning, Infographics, Motion Graphics, Podcasts, Train the Trainer materials, and Microlearning - to make their solutions engaging and effective.
Empower and engage your employees with Custom Content from AllenComm.
Explore reviews for AllenComm on eLearning Industry's directory.
Highlights
Their complete learning solutions are tailored, designed, and developed to meet performance needs and business objectives using their highly effective collaborative process. That includes performance mapping, design workshops, scripts, and mockups and visual prototypes. They work together in a four-step process to Define, Design, Create, and Drive your transformative solution to a successful outcome. All the above ensure their ability to meet standards for schedule, budget, and quality.
The AllenComm team has developed a cloud-based learning content management platform for creating, maintaining, translating, and publishing learning assets across modalities and platforms. Built on a collaborative design system, Designlab allows multiple users to work simultaneously within the program on content development to significantly decrease traditional project timelines. They provide consulting, customized training asset templates and instructional design expertise to ensure that clients are able to get the greatest value from their content authoring technology.
Their thoughtfully designed custom content is developed by best-in-class instructional designers using the latest learning technologies; including ILT, VILT, Videos, Simulations, Game-Based Learning, Social Learning, Infographics, Motion Graphics, Podcasts, Train the Trainer materials, and Microlearning. They work with the client's team of subject matter experts to ensure quality and efficacy.
Achievements/Case Studies
AllenComm has won more than 300 client awards, including recent awards for immersive digital learning and training solutions during the pandemic. In addition, they've won nine Horizon Interactive awards for the use of world-class media and UX in their learning solutions. Their solutions work for clients across industries and get results by earning industry-wide recognitions. They are proud to have repeat clients in industries including the nonprofit, travel, financial services, healthcare, hospitality, and public service sectors.
Gold Winner: Top eLearning Content Development Companies For 2022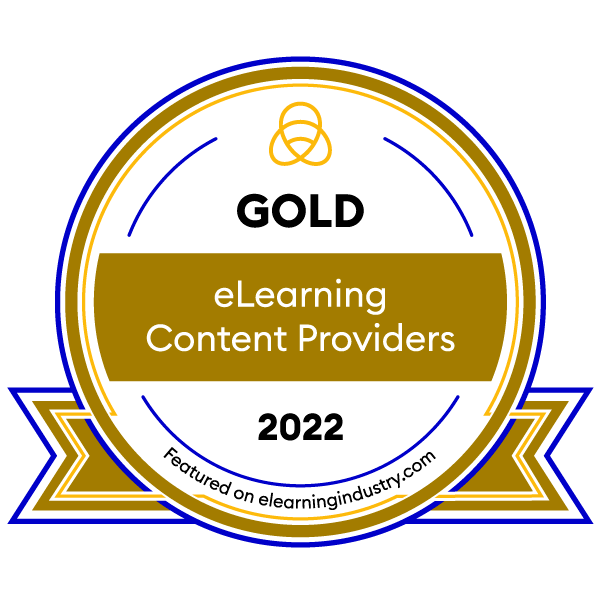 EI Design is one of the leading learning experience design companies. It partners up with customers to help them in their Digital Transformation journey. Their team delivers high-impact Learning and Performance Support solutions that deliver high ROI for the Learner, Business, and Organization.
They use a Learning and Performance Ecosystem-based approach to create learner motivation, engagement, sticky learning experiences, and effective application of acquired learning.
Their strategies ensure improved learner retention and accelerate new ways of thinking and behavior for learners. They help their customers drive learning culture transformation and leverage their unique framework to demonstrate the business impact of learning programs.
Explore how EI Design can help you transform and build high-impact learning programs for your organization.
Read reviews for EI Design on our directory.
Highlights
EI Design is one of the few companies to offer Predictive Learnability that leads to sticky learning experiences. They do ground-breaking work in Mobile Learning, Immersive Learning Strategies, and Behavioral Transformation.
Upskilling/Reskilling in the Hybrid Workplace
They help their customers transform their approach from traditional training models to effectively upskill and reskill a geographically dispersed workforce. They will help you identify the right learning strategies, content, and technology to support this transformation and create a culture of continuous learning.
Matching Modern Learner Needs
They understand modern learner expectations and help their customers integrate learner needs and deliver the right learning experiences. Their learning programs are engaging and are designed to prevent learning overload and burnout. Accessibility and Inclusivity in training are key strength areas for EI Design. They strongly believe in the value of inclusion and are constantly finding ways to build an inclusive workplace.
Driving Learning Culture Transformation
They build strategic partnerships with their customers to drive innovation within L&D and create a stronger link between learning and business performance. They work alongside their customers to drive learning culture transformation and leverage their unique framework to maximize and measure the business impact of training.
Achievements/Case Studies
EI Design has serviced many Fortune 500 companies and large enterprises over the last 19 years from 26+ industry verticals in 24 countries across 5 continents. They have developed 11,500+ hours of eLearning with 4,000+ hours of Mobile Learning and delivered 800+ hours of Localization in 35 global languages.
EI Design's content development practice is one of the strongest in the world. They won 10 coveted Brandon Hall Group HCM Excellence Awards in 2021. Over the last 5 years, they have achieved recognition in 29 global ranking lists as a top eLearning content provider by eLearning Industry.
They were also ranked as the #1 Content Provider for Custom eLearning this year by eLearning Industry.
Silver Winner: Top eLearning Content Development Companies For 2022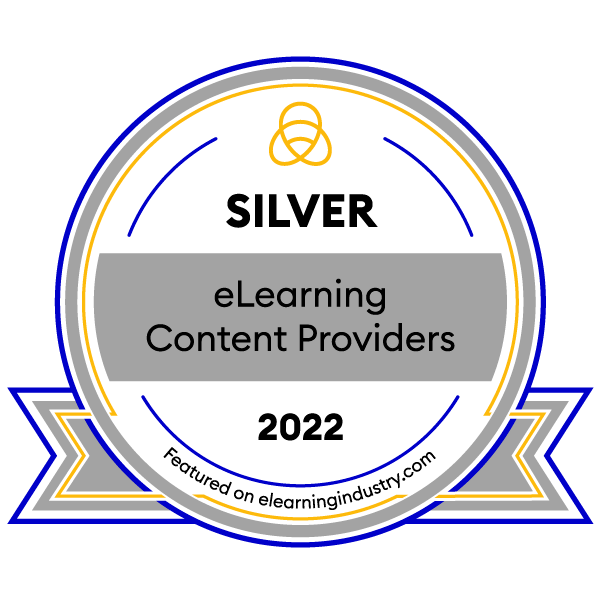 For 20 years, the world's most successful organizations have chosen SweetRush to create custom learning experiences that connect with and motivate learners. Why? With a culture of respect, caring, and commitment, SweetRush is all about long-term relationships, earning your trust, and becoming your strategic partner.
Their collaborative approach to creativity and innovation, whether it's a little something extra or a complete reimagining of learning, attracts and motivates learners. And SweetRush's focus on effectiveness and Project Management means you get the results you want while working with a team that has your back.
Get in touch with SweetRush and discover a team with heart creating exceptional custom content!
Visit our directory to read reviews for Sweetrush.
Highlights
Consultative, strategic partner
From your first interaction with SweetRush, you'll be in the hands of an expert learning consultant. And from day one, SweetRush is on your team as a strategic partner, not an order-taker. SweetRush's breadth and depth of capabilities mean you'll have options to craft the best solution for you, including blended learning, virtual training, or immersive tech (VR/AR), that fits your business and learners. SweetRush will meet you where you are, understand your constraints, and take on your challenges.
Industry-leading, talented, collaborative, remote team
As a 100% remote company for 11 years, SweetRush excels at virtual collaboration. The best part of your day will be working with SweetRush's cross-discipline, award-winning team that cares about you and your success. In 2020, SweetRush launched a virtual design thinking workshop (CoDesign℠) that saves time and reduces risk. Remote teamwork makes the dream happen!
High-quality, high-impact, learner-centric programs
To achieve the desired ROI and impact performance, you need to change behavior, attitudes, and mental models. SweetRush creates training that speaks authentically to learners, while also addressing organizational drivers and delighting stakeholders.
Achievements/Case Studies
27 Brandon Hall Group awards
SweetRush won 27 Brandon Hall Group awards in 2021 in 14 categories, including 22 Golds.
Learning Provider of the Year
SweetRush was named 2020 Learning Provider of the Year by the Learning & Performance Institute.
Highly successful client collaborations

Bridgestone
They collaborated to completely revamp sales training, including a gamified learning portal, 3D animation, humor, storytelling, game-based learning, VR, and AR.
Wells Fargo
Together they created a series of custom simulations that help banking professionals empathize with customers at different life stages.
Mondelēz International
A new hire onboarding that delights new hires and creates a meaningful introduction to the company culture, using humor, storytelling, and fun interactions.
Bronze Winner: Top eLearning Content Development Companies For 2022
CommLab India is a global leader in offering rapid eLearning and blended learning solutions. It has 2 decades of experience in designing, delivering, and deploying online solutions (eLearning, microlearning, and mobile learning).
Their team also provides Flash to HTML5 conversion, eLearning translations, and the conversion of classroom training material to virtual classrooms. In addition, they offer Effectus, a new-age LMS that's rapid to deploy, easy to use, and flexible for customization.
With eLearning translators in 35 languages—who are also domain experts—they are a one-stop-shop for technology-enhanced learning solutions. They also consult clients on designing holistic blended learning solutions and can leverage authoring tools to offer eLearning solutions at scale, speed, and quality.
Ready to take a closer look at their eLearning development services?
Care to see what collaborating with them looks like? Read reviews for Commlab on our directory.
Highlights
Background in teaching, eLearning, and corporate training
CommLab India has a strong background in teaching, eLearning, and corporate training which makes it the ideal choice to not just design eLearning solutions but to also help organizations understand how eLearning solutions should fit in their overall training strategy. This background also ensures that all designed learning assets are rooted in adult learning and Instructional Design principles.
Customer-first DNA
Customer satisfaction is the guiding light of CommLab India, and they ensure customers get all they want and more from each project. The team is available round the clock, ensuring projects get completed well within timelines. Clear, constant communication ensures there's no room for scope creeps. Customers also get to work with the same team over the years, building rapport and a seamless relationship, due to CommLab India's low attrition rates.
A partner in the learning journey
CommLab India has always been at the forefront of technological evolutions in the field of training. They were among the first to recognize the utility, convenience, and longevity of authoring tools and develop online courses using them. Their team helps customers progress along their learning journey by continually educating them about the latest learning strategies and technologies. It helps organizations implement microlearning, blended learning, Virtual Instructor-Led Training, learning analytics, Flash to HTML5 convertions, and more.
Achievements/Case Studies
An eLearning guide to a blended journey
One of their clients had a blended program for their manager-coaches. CommLab India developed an eLearning course to guide learners through the program. The course used scenarios to help learners understand the progression, relevance, and applicability of each level.
An eLearning curriculum for customer training
For a customer from the food manufacturing industry, CommLab India developed a curriculum of eLearning modules on their products for customer education. Text-heavy content was converted to highly interactive eLearning courses in Articulate Storyline 360.
An eLearning course for software training
A customer from the pharmaceutical industry wanted to train employees on using an app that would help them along the workflow. CommLab India developed a responsive eLearning course to help learners use the app without any errors or delays.
Top eLearning Content Development Companies For 2022
Next Steps After Checking Out eLearning Industry's Top eLearning Content Development Companies
Just finding a reputable eLearning company to partner up with is not enough. There's a lot more in order to identify the eLearning vendor who meets all your needs. By now, you must have gotten a better idea of what each of the above content providers can do. Undoubtedly, you've got plenty of details on their expertise as well as highlights when it comes to training delivery. Why not head to our directory and compare the best eLearning providers to see who matches your criteria?
If you are interested in earning a place in one of our eLearning solutions top lists, simply register on eLearning Industry's Top eLearning Companies page. Our committee will make sure to review your work and expertise. Who knows, maybe your brand is one of the top eLearning providers for next year!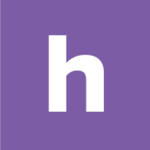 Homebase
Make work easier. Running a small business has never been harder. Homebase helps with free tools to track time and manage your team.