How To Effectively Transfer Courses Online
If you are among them you may feel overwhelmed at first, but rest assured there are simple and proven methods for transitioning face-to-face courses online—even in a pinch.
1. Discover Your Technology Options
First, contact your school to identify all technology and software available to you and your students. Identify if any of the following are available:
Learning Management Systems (LMS) (for example, Canvas®, Blackboard®)
Content Management Systems (CMS) (for example, Google Docs™)
Web conferencing software (for example, Zoom, WebEx®)
Learning apps and software
Hardware for both you and your students (for example, laptops, tablets)
Teacher and student login information for all of the above
If you identify technology gaps, discover additional free or affordable technologies that can be implemented quickly (for example, Google Docs, Zoom). Your school's technology capabilities will impact the delivery format options you will be able to use.
For instance, low-tech schools could offer conference call classes or tutoring sessions, independent study programs, and worksheet packets that can be delivered via email or mail, if necessary. Mid-to-high-tech schools could create live virtual classroom sessions (for example, through Zoom), YouTube-style learning videos, asynchronous discussions via an LMS, and access to third-party curriculums and practice opportunities (for example, Khan Academy®, i-Ready®).
2. Convert Curriculum For Online Delivery
As you convert your curriculum online, your primary goal is to adapt your content to fit the medium and tools available to you. To do so, complete the following:
Streamline content to give students what is essential. Avoid "info-dumping," which causes cognitive overload, creates busy work and interferes with learning.
Select instructional methods that motivate remote learners. Design opportunities to capture their attention, illustrate how the content is relevant to them, build their confidence and provide satisfying learning experiences. (Refer to John Keller's ARCS Model of Motivation.)
Create opportunities for learners to ask questions, practice key skills, receive timely feedback, and determine how assessments will be delivered.
Most likely, your course's learning objectives were created in alignment with Bloom's Taxonomy of the Cognitive Domain, which defines knowledge across four dimensions—factual, conceptual, procedural and metacognitive. Refer to this infographic to identify where on the taxonomy your learning objectives fall.
Then, find or create the online learning treatments outlined hereafter based on your objectives. The treatments shared here are geared toward Virtual Instructor-Led Training (for example, webinars) and are merely a starting point; you may come up with many other treatments that work well for your situation.
Sample Online Learning Treatments Based On Objectives
Remember And Understand
If your objective starts with Remember- and Understand-level verbs, like: identify, relate, list, define, recall, memorize, repeat, record, name, recognize, acquire, classify, describe, discuss, explain, illustrate, give examples, review, paraphrase, interpret
Then find or create online treatments, like:
Short videos (preferably three minutes or less)
Interactive multimedia and visual presentations
Infographics
Live or recorded demonstrations
Whiteboard discussions
Breakout sessions for small group discussions
Knowledge checks (for example, multiple-choice/multiple-select/true-or-false questions, discussion questions)
Online scavenger hunts
Screen sharing to observe learners practice key skills or to allow them to share their work
Guest speakers and panel interviews
Storytelling and illustrations
FAQ resources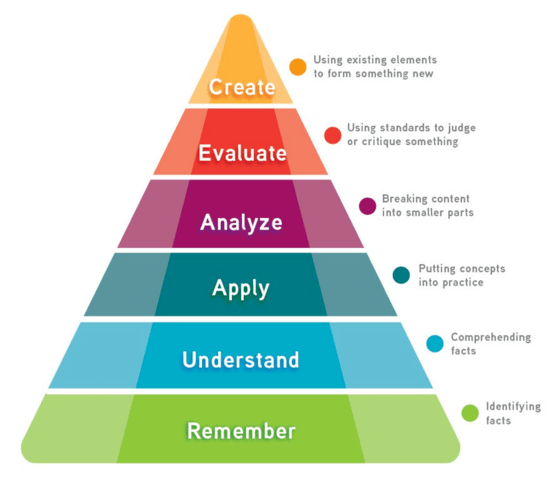 Apply, Analyze, Evaluate, And Create
If your objective starts with: apply, Analyze, Evaluate and Create-level verbs, like: assess, chart, construct, demonstrate, develop, produce, report, select, use, show, solve, characterize, classify, compare, contrast, correlate, distinguish, differentiate, examine, categorize, compose, construct, design, formulate, integrate, invent, produce, rewrite, evaluate, critique, predict, form, reorganize, produce, plan, structure
Then find or create online treatments, like:
Live or recorded demonstrations
Virtual group or individual reports and presentations
Remote observation and feedback
Try-it simulations
Case study discussions
Small-group projects and whiteboard discussions
Problem-solving exercises and puzzles
Polling interactions
Action planning
Virtual debates
Online surveys
Peer reviews
3. Facilitate With Remote Learners In Mind
The good news is best practices for face-to-face facilitation transfer well online, so after a brief learning curve, you should do well in a remote environment. Consider the following tips, and modify them to meet your needs:
Encourage learners to use their webcams.
Use available technology to foster participation (for example, polling, raise-hand tools, chat boxes, whiteboarding, and sharing screens).
Determine how to accept and answer questions during live sessions and whether another resource should be available to field these questions in real time.
Record and share web sessions for other learners and future use.
Include breaks for sessions that last longer than an hour.
Incorporate knowledge checks and randomly call on people to answer questions or share their thoughts.
Avoid information overload.
4. Implement And Improve
Treat your online course conversion as an iterative endeavor. Once it is implemented, evaluate how well your technology and design decisions are meeting your needs and make incremental adjustments until your goals are met.
During this evaluation, seek answers to the following questions:
What is working well for me and other teachers at my school?
Am I achieving the same level of success with my students online as I did in class? If not, what is causing the problem and how can I address it?
In terms of capability, reliability, and access, does my current technology setup meet my class' needs?
How much time are students spending on classwork? If it feels like too much, does the content need to be streamlined further?
What level of student participation has been achieved?
Are students and their parents satisfied with this online experience?
How well are students mastering the objectives?
What additional support do students need?
Success Is Only 4 Tips Away
If online learning is new territory for you or your school, moving courses online may feel like a journey into the unknown. Just remember, success is only 4 tips away.
Above all, remember that when you are in a pinch, you are simply looking for progress—not perfection. Depending on the complexity of your situation, you may need to adjust your expectations and aim to meet the most immediate needs for your students. As more time or resources allow, you can enhance the learning experience for your students. Over time, you should feel more comfortable with online learning, and you will achieve great learning success for your school.