Social Learning Activities To Include In Your App
When we build apps, we don't always look into the whys and whethers. Instead, we build apps because we can. For example, there are apps that help you walk your dog when you could really just…walk your dog. Some people think a social learning app falls into the same category. Why have one when you already have social media? Well, native apps offer tighter security measures, so they're good for corporate confidentiality. Also, they might work better because their exclusive function is workplace learning. No distractions from last-minute grocery lists and memes. What employee-driven social learning activities can you load into the app?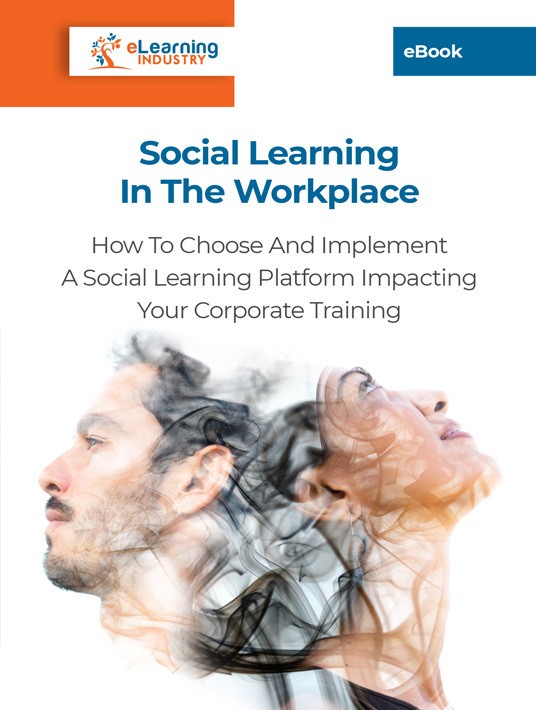 eBook Release
Social Learning In The Workplace
Discover everything you need to implement a social learning strategy today.
1. Podcasts
This medium has been around for decades, as far back as the eighties. They were called audio blogs. Online journals were called weblogs, later shortened to blogs. Video logs, now known as vlogs, weren't a thing yet. In 2004, audio blogs were rebranded as podcasts and popularized by Apple. Today, a podcast can be fancy and sponsored, or it can be recorded on your phone and uploaded to SoundCloud. Give your staff an elevated experience by equipping the app with sound editing tools. The sound booth could also have eLearning templates, ambient sound beds, and sound effects built-in. This will motivate employee training participants to produce and upload their own podcasts. As part of the toolkit, have some lessons on podcast basics. This way, they don't have to google it. Everything they need is right inside their app.
2. Live Event Recordings
For visual learners, audio messaging just won't cut it. You can, therefore, invite staff members to host and stream live events. It can be a kind of desktop concert, except they'll shoot and send using their tablets or smartphones. If they need more screen real estate—especially for editing—they can use a laptop. Equip your app with WYSIWYG video editing tools. Some options allow multiple channels and split-screen feeds so the host can intersperse footage of themselves with video links, screengrabs, and more. This sounds complex, but there are basic systems that are immensely easy to use. They're deliberately designed for users without a video editing background. And just like the sound booth, the app offers multiple social learning activities, eLearning templates, and effects. For management, #AMA videos could be a popular choice to live stream.
3. Bite-Sized Task Demos
A live-streamed event could be a demo, but it's a grander production. It may include Q&A sessions, toggling channels, and guest panels. A simpler version for the employee who's over the fuss is to focus on a single task. The employee can record themselves creating a quotation. Or elaborating the role of gestures in public speaking. Or sketching mind maps as a brainstorming tool. These social learning tutorials focus on a single task and typically last less than a minute. Staff members can send suggestions on the demos they need. Then their colleagues can pick a task they're good at, shoot the demo, and upload it for everyone else.
4. Jigsaw Hunt
Yes, it's a mix between a jigsaw puzzle and a treasure hunt. You could make it complex, in the form of a simulated mobile game. Characters can move through the game scape to solve their quest. Or you could give them a challenge in the form of a customer complaint or office task. They have to find pieces from different parts of the app to complete the puzzle or complete the challenge. For example, the quest may be a customer sizing complaint. The employee training participant must use in-app resources to fix it. They can "call" the customer and interview them about their size. They can offer sizing shortcuts. Also, they can recommend driving to the customer's house with multiple sizes the customer can try out. The goal is to teach creative problem-solving while getting employee training participants familiar with the depth of the online training resources available to them. It's good for product knowledge, too.
5. Troubleshooting Tips
Another must-have social learning activity for your LMS app is troubleshooting tips contributed by experienced employees. For example, they might create a 5-minute online training tutorial or walkthrough for how to address a COI breach. Or how to wear the proper attire to a business meeting. These online training resources can help coworkers quickly overcome challenges using the social learning app. They're also able to leave eLearning feedback, such as commenting that the creator missed a step in the task or that they have a better problem-solving approach.
6. Dos And Don'ts Examples
Invite employees to focus on a work-related problem and explore the right/wrong way to tackle it. Then develop an online training tutorial or video clip that shows the dos and don'ts so that their peers can avoid common mistakes. Not to mention, improve performance behaviors by seeing how it's done. They can also explore the negative consequences associated with the task to stress the importance of following company protocols. Another approach is personal anecdotes that allow your staff members to share their experiences and learn from each other's mistakes.
Centering your social learning strategy around employees gets them more deeply invested. It also pushes knowledge deeper into their memory banks. Take the process even further by inviting employee training participants to take turns creating and uploading their own online training content to the social learning app. These uploads should share knowledge or teach a skill. And in the process, the uploader learns a new skill as well. Examples include podcasts, live-streamed events, video tutorials, puzzle-based quests, troubleshooting tips, and real-world examples. The latter can deeply improve the product/service knowledge of both the uploader and their colleagues.
Interested in finding out more about implementing a sound social learning strategy in your organization? Download the eBook Social Learning In The Workplace and discover how to improve workplace performance with an LMS for social learning. Encourage peer-based support and create a workplace environment of trust and mentorship by choosing the right social learning software.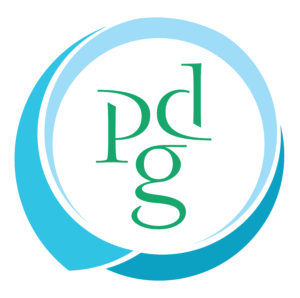 Performance Development Group
We make people better at making their business better.