Writing An Online Training Press Release: 5 Unexpected Benefits
Introducing your new product to the eLearning Industry, building the buzz about a newsworthy eLearning event, and putting the spotlight on an interesting trend or study are some of the most notable advantages of writing an online training press release. However, there are a variety of other benefits rather unexpected, especially if you've never had the opportunity to publish an online training press release in the past. Here are 5 lesser-known perks that you may want to keep in mind when writing your online training press release.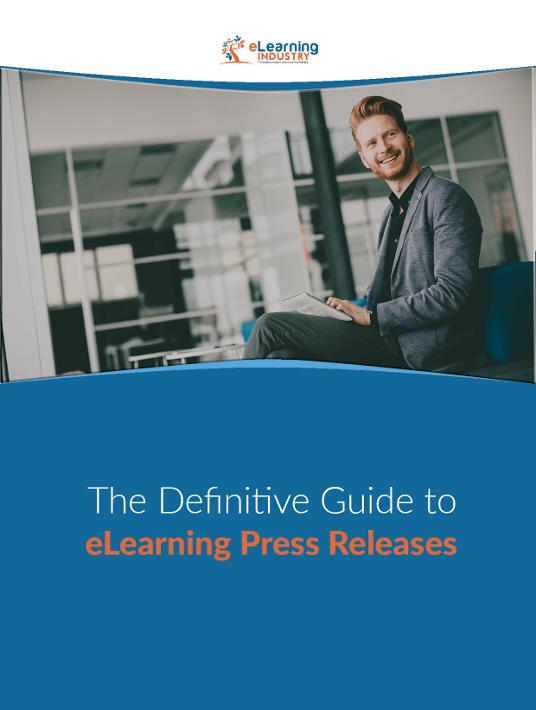 eBook Release
The Definitive Guide to eLearning Press Releases
Download our free eBook and start optimizing your eLearning Press Releases.
1. Drives Traffic To Your eLearning Site. 
This is one of the most significant benefits of publishing an online training press release, as well as one of the most overlooked. Most people do not automatically associate news releases with improved SEO, but it can actually work wonders for your online marketing efforts. This is particularly true if you include hyperlinks and keywords. In fact, you may even rise to the top of the search engine rankings if you choose your keywords carefully and don't oversaturate your press release with backlinks. The goal is to make it easy for your readers to visit your website or sales page by simply clicking on the link, instead of having to scour the web for more information. Just make sure that you integrate organic SEO, such as placing keywords where they would appear naturally in a sentence. Also, do some research beforehand to see which words or phrases are commonly used.
2. Builds Credibility For Your Brand. 
A well written online training press release has the power to establish you or your brand as an expert in your field. There is a caveat to this, however. In order to build credibility you must offer your readers real value, such as tips or advice that can help them in their everyday lives. Otherwise, your online training press release may end up having the opposite effect and actually hindering your reputation. Make sure that you research your target audience to determine what information they're looking for. In addition, how your product, service, event, or story can help them solve a problem or fill a need. If necessary, conduct focus groups or surveys before you write your online training press release to learn as much as possible about your target readers. This will also help you to choose the right tone and language for your online training press release.
3. May Lead To Extended News Coverage. 
This is one of the primary reasons why you should find a newsworthy angle instead of making your online training press release a lengthy sales pitch. If your story is interesting, news outlets are more likely to pick it up and give you extensive coverage. There aren't any geographic location restrictions either, as any journalist around the globe can view your press release online and share it with their readership. However, if you do want it to be covered in a specific area, such as if you are hosting an event at a physical location, you can aim your online training press release at niche markets. The possibilities are limitless when it comes to the amount of exposure you might receive after publishing your online training press release online.
4. Generates Interest Among Your Target Audience. 
Many people naturally associate online training press releases with the press. However, thanks to online distribution, your target audience can now directly read online training press releases. In many cases, there is no middle man. Your audience can now read news via their RSS feeds, social media pages, and a variety of other online platforms. They can then share your story with their network, which means free publicity for your organization. A carefully crafted online training press release even has the potential to get your readers excited about an upcoming product launch or the new service you are offering, particularly if it gives them all the essential information. This includes the benefits, specs, and sales page details that they can use to make an informed buying decision.
5. Clarifies Your eLearning Company's Message. 
This benefit applies to both established and start up eLearning firms, companies, and freelancing professionals. Those who are new to the eLearning Industry can build their brand image by publishing an online training press release, while experienced professionals can maintain and improve their online reputation. This is all due to the fact that an online training press release gives you the opportunity to deliver and clarify your eLearning company's message. If customers or clients are still unsure about your mission and what you bring to the table, an online training press release can clear up any issues. This is particularly the case if you include important facts, stats, and quotes about your organization. Every journalist, news outlet, and blogger will have a shared vision of your brand image, and there won't be any question about how you fit into the eLearning market.
These are just a few of the advantages of writing an online training press release for your newsworthy product, service, or eLearning event. Bear in mind that all of these benefits hinge on the quality and content of your online training press release. So, be sure to download our Free eBook "The Definitive Guide to eLearning Press Releases" and start optimizing your Press Releases.
Last but not least, is your eLearning press release ready for distribution? The eLearning Industry offers eLearning press release marketing services that can help you maximize your exposure for your eLearning product, service, or event.