Analyst Relations Is A Critical LMS Marketing Strategy
The best marketers I know spend a lot of time measuring what works and what converts leads into sales. Unfortunately, you can only measure so much. You may have already learned that sometimes you have to go with your gut. There are reasons why your sales are slumping or why you are growing rapidly, that you may never discover. If you are able to find those reasons, it's usually one of three things:
The economy, which you will never be able to control.
How much competition you have (or don't have), which you won't be able to control.
The last one, and most important one, is word of mouth. This you can affect!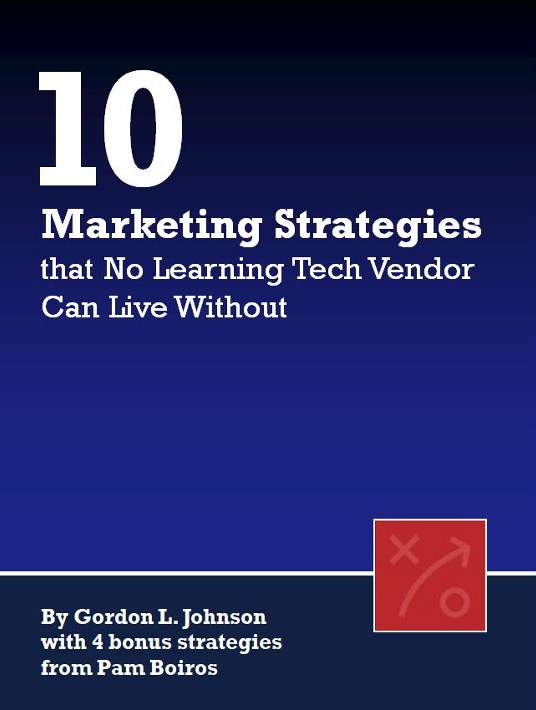 eBook Release
10 Marketing Strategies That No Learning Tech Vendor Can Live Without
Learn the 10 proven strategies that successful learning tech companies have used to survive and thrive in this highly competitive market.
There are many different types of word of mouth, but the most important (behind customers) are generated by industry analysts and LMS selection consultants.
In this crowded, noisy, and confusing market, the big buyers rely on analysts for direction. Especially the big companies, because there is just too much at stake if they make a bad purchase decision. Also, big companies tend to have accounts with analysts like Gartner, so they use them to find the right vendors.
Here are some insider secrets to benefit the most from industry analysts.
Take Α Ηybrid Approach
We don't all have $40,000 to spend on Gartner to get their time, input, and research. I recommend a hybrid approach for working with analysts.
Pick a couple of analysts who you think will help the most and invest your time and budget with them. These will be your go-to firms that appreciate what you do and are more likely to say nice things about you.
Do briefings with all industry analysts on a consistent basis. If you're not meeting at least once a year with 10-15 analysts, then you're leaving money on the table.
At the end of this article is a list of the top learning industry analysis and selection consultants that you should talk to.
Schedule A Marketing Meet-And-Greet
The one or two analysts or consultants who get the bulk of your time deserve a formal introduction. Schedule a briefing where they can get to know your product and company. This also gives them the opportunity to ask questions about your software and positioning. Likewise, you can ask them about their industry experience and who they're focused on.
Always Have A Point Of Contact On Both Sides
There must be someone at the firm who can reach directly via email or phone. In turn, you should assign a point of contact within your own organization who can quickly respond to calls or requests from analysts. That way, the lines of communication are open and there isn't any confusion about who to contact when clients have a question or concern. Even more important, there is no delay in getting back to them. Analysts are extremely busy, so they're not going to track you down and they will appreciate rapid response.
Map Out Your Briefings Beforehand
A briefing is your chance to meet with industry analysts and selection consultants who cater to your product category. The key is to plan ahead and familiarize yourself with each firm before the meeting and identify what their client base is looking for and how your product fits into the market. Provide them reference materials that summarize your key USPs and specs. Which makes it easier for them to recommend relevant tech platforms to their clients.
The reason most learning technology vendors fail with analysts is because it's time-consuming and requires a lot of planning. However, when you understand the importance of the analysts' word of mouth to your business, then it makes it a lot easier to justify this valuable investment.
Important Learning Industry Analysts And Selection Consultants
If you want to learn more best practices for LMS marketing, download the eBook 10 Marketing Strategies That No Learning Tech Vendor Can Live Without.