Knowing Who's Visiting Your Website And Following Up Accordingly Is A Top Best Practice For LMS Marketing
People are more likely to purchase your Learning Management System if they trust the name behind it. Which is why you must build a rapport with your prospects after you make your first impression. Leads must be nurtured if you want them to find value in working with you and include you when they release their LMS RFP. Here are some tips to help you closely monitor site traffic, generate more leads, and turn casual visitors into customers.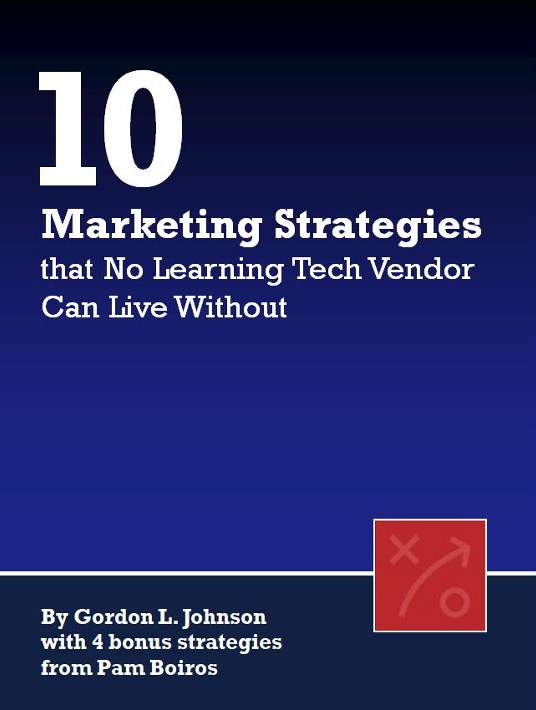 eBook Release
10 Marketing Strategies That No Learning Tech Vendor Can Live Without
A must-read for any marketer who wants a serious edge in the learning tech marketplace.
Qualifying Your Leads
Knowing who lands on your website, and following up with the most promising visitors, is something that needs to be done every day. Some examples of promising traffic are:
When more than one person from the same company hits your website on the same day, you need to investigate.
When former prospects turn up on your site, that probably means they are having second thoughts about the system they picked over yours.
Unfortunately, it's hard to automate this type of monitoring, so it has to be done by a live human being. There are apps that help you do this, but I've found that smart people who know your business are much better.
Compiling A 'Hot Lead' List
After you recognize the tell-tale signs of promising traffic, what do you do next? First, you'll need a good "buyer database" so that you're not constantly digging to find names and contact information. My favorite for corporate training and HR buyers is the MentorTech list. It's very comprehensive, well maintained, from a high-integrity company that has been around for a long time. ZoomInfo is also excellent for HR and training buyers and DiscoverOrg for visibility into corporate org charts. There are many, many others, but the vast majority of them have relatively low quality information.
Targeting Different Stages Of The 'Buyer's Journey'
Visitors come to your site for a variety of reasons. Perhaps they are your customers looking for more information on your latest release or brand new people who've heard about you and want to learn more about your product. Or they are in the market for a new LMS and want to see if you're the right fit. Then there are those who are on the fence about including you in their RFP and simply need a little nudge. These are all different stages of the buyer's journey and sales funnel. You can learn a lot by analyzing which pages they visited, for how long, and how often.
For example, visitors who read your "top 10 reasons why you should invest in a LMS" article are probably in the market for a new tool, but in an early stage. They still need some convincing. This is your opportunity to include an opt-in form to add them to your mailing list and follow-up with more info, such as emails that highlight the benefits of a modern LMS and/or product, in particular, and how it can improve their ROI.
Factoring Referrals Into The Equation
Clicks that come from external site links are generally from referrals. For example, a blogger mentions your product and speaks highly of its robust reporting features. Or you published an article on a popular eLearning site that generates more traffic to your site, courtesy of the embedded links. These stats help you focus your efforts, in that you can see where your marketing investments are paying off, as well as which allows you to reach your target audience most effectively.
Using PPC (Pay Per Click) Marketing To Track Targeted Traffic
PPC ads allow you to determine exactly where your traffic is originating and how you can perfect your approach moving forward. Visitors click on the embedded link in the ad to get more info or sign up for a free trial. As such, you're able to see which keywords and calls to action have the most impact, in addition to which marketing venues offer the best ROI. And then, after the visitor hits your site, you will see which PPC sources converted into leads at the highest and which leads became sales qualified leads (SQL) and eventually real opportunities.
Including Links In Your Email Marketing Materials
Add links to all email marketing content to monitor their success rates and pinpoint where your traffic is coming from. For example, the email newsletter you sent last week contained valuable information regarding your new built-in asset library. As a result, your site has seen a surge in visitors who are looking for more details. Giving you the ability to determine which features/topics generate the most interest, in addition to who actually opens up your email marketing messages and why.
Going Beyond Site Stats With Social Media Engagement
Social media stats are also a crucial part of your marketing campaign, especially when it comes to generating and nurturing leads. Not only do they enable you to track visitor engagement and gather feedback, but you also have the opportunity to interact with your audience directly and build a rapport. You can see which posts are most popular in order to offer readers more of the same and gradually improve conversion rates. Social media is not something you want to spend a lot of time on, but it is a very important component in content marketing campaigns.
Invest In A Marketing Automation System
Lastly, if you don't have a good marketing automation platform to see who's hitting your site and to automate lead nurturing, then you need one. I have a love-hate relationship with Adobe Marketo, having used it for many years, but I do recognize that they may be the best at monitoring website traffic. I'm sure there are other systems that do an okay job at this, but Adobe Marketo is the best I've seen. In my recent head-to-head comparison between Hubspot and Adobe Marketo, I found that Hubspot consistently missed much of the traffic that Adobe Marketo picked up. However, I'm told that they're getting better in this area.
Some other marketing automation systems that I like are Act-on, which can be a little pricey, and Active Campaign, which is much more reasonable for smaller vendors.
You'll uncover some of your hottest leads by paying close attention to who hits your site. However, the analytics are just raw data until you dig into them and detect patterns that can help you nurture leads. Use this article as a guide to go beyond the charts and percentages to sort promising hits from marketing misses, which gives you the focus to concentrate on hot leads instead of time wasters.
If you want to learn more best practices for LMS marketing, download the eBook 10 Marketing Strategies That No Learning Tech Vendor Can Live Without.
Related articles:
1. 6 Ways To Succeed With A Customer-Centric LMS Marketing Strategy
2. 4 LMS Marketing Strategies That Really Work
3. LMS Marketing: Lead Generation – One Great Lead Is All It Takes
4. eBook: 10 Marketing Strategies That No Learning Tech Vendor Can Live Without