Leaders In Learning Management System…Websites
As people spend more time in front of their computers, it reinforces why the website for your learning management platform is more important than ever. Finding answers and being able to research solutions remains the foundational goal of websites focused on the corporate learning industry. In addition, the priority of having web visitors share that information with others in their organizations has grown.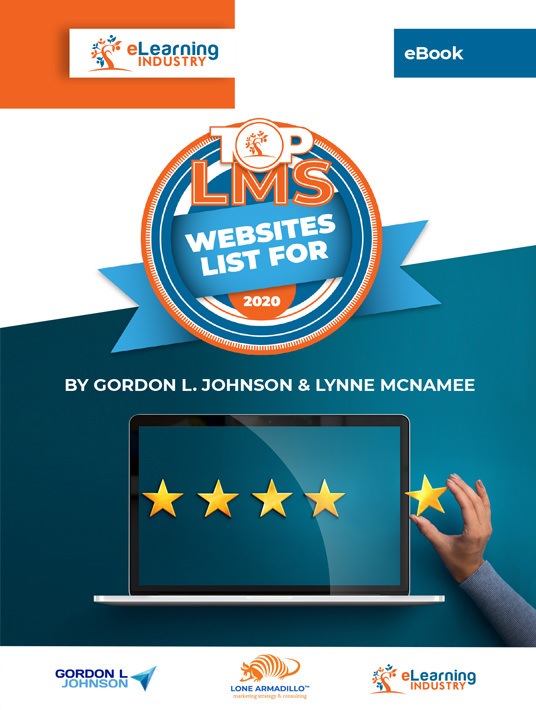 eBook Release
Top LMS Websites For 2020
Discover website SEO, content, and design best practices. Drive traffic, generate leads, and engage prospects by following the example of top LMS websites.
As many companies transition away from trade shows as a primary lead generation source, having websites that function in an efficient and effective manner to capture and process leads, that is, inbound marketing and marketing automation, is an absolute must and clearly employed by those sites recognized this year as our top LMS websites.
But what characteristics mark these sites out over the others?
What Makes You Stand Out
There are fundamentals, such as on-page SEO, domain authority, and the like. But there is also the User Experience (UX) of having useful, helpful, relevant content that attracts quality leads and provides content for each stage of the buyer's journey. By providing this content up front for search engines to read and, better, for humans to read, the website of a Learning Management System can introduce someone to a new solution for particular problems and accelerate the sales process.
In addition, the best sites recognize that there are multiple buyers for any LMS purchase. Thus, content isn't written for just, say, the CEO or the LMS administrator. Nor is the content on the site aimed at everyone. Rather, personas and industries are both addressed.
The search engine's goal is to deliver the page that best answers the question someone asks. Your goal is to have your website page be what is shown first and most often.
What has emerged during this year's review of the top Learning Management System websites is that while attention has been given to the UX, appearance, and personas, some basics about on-page and off-page SEO have suffered. Sites have slipped, as more competition from sites within the broader education and learning universe, let alone outside, have put pressure on the LMS websites to compete in their rise to the top.
So how did your company do? And what did the top sites do that you didn't? Please read on to find out. You can also download the eBook Top LMS Websites For 2020 for more insights into how you can make your website excel and stand out from the competition.
The Judging
Experts in marketing for the corporate learning industry, Gordon Johnson and Lynne McNamee, evaluated over 300 websites of suppliers in this space. It's a competitive market, so first impressions matter. Their experience and expertise working in the learning space qualify them to evaluate the websites and rank the top ones.
Companies that prioritize their online presence expect their website to fill a range of needs. It serves the marketing, sales and service departments, with content, forms, workflows and sometimes chat functions, supporting each group. These websites help process and qualify interest, track industry trends, provide personalized experiences and lead visitors through a defined or self-directed path to get the answers desired, before requiring human intervention—sounds a lot like the LMSs being promoted, right?
Yet some organizations are still treating their website as a glorified business card. For years, that was fine, a destination for people to validate the legitimacy of your business, get contact information, see who worked in senior leadership, etc.
However, in 2020, this is no longer enough. In addition to having information that will help your site get found, and presenting it in a way that is easy and intuitive for a visitor to consume, websites need to help a potential client—or existing client—quickly understand where in the learning ecosystem your solution resides and how it will help them solve their challenges. Sites strive to balance absolute statements about their own technology and competitive ones vis-à-vis other solutions.
As with all marketing efforts, what is the unique selling point of your solution?
Why should someone spend time researching your tool versus going on to the next option or simply keeping an existing technology?
Key Selling Points
Making your value proposition, presenting information in a clear and compelling way, and providing ongoing resources to help clients and potential clients self-educate make the top sites stand out.
The judging was broken down into 3 main categories:
SEO (Search Engine Optimization): 40%
Overall impression: 30%
Value proposition and resources: 30%
While SEO remains the most heavily weighted—if no one can find your site, what does the rest matter—we have shifted some priority more toward on-page content and resources. These heavily influence the site's SEO and are the crux of attracting and converting higher quality leads. So as SEO should not be about attracting more leads but rather the right leads, the content one has on their site is how this refinement takes place.
So we invite you to review these top sites. Congratulations if you are on this list! If you aren't, see what your competitors are doing and be inspired. Download the eBook Top LMS Websites For 2020 and find out how to build an effective marketing strategy by following the insider tips and know-how it has to offer. And if you want to stay fully updated, join the webinar How To Build A Powerful LMS Website: Lessons From The Top 10 LMS Websites In Content, Design, And SEO where we share our expertise in website marketing. Make your LMS solution stand out and become one of the leaders in your niche.