Launch A Scalable Compliance Training Program For Your Team
Compliance training is often perceived as a "necessary evil" in the corporate world. Every organization must maintain compliance to avoid costly fines and keep their staffers safe. However, these training programs are usually dread worthy for employees who already have a lot on their proverbial plates. They may not have time to complete everyday tasks, let alone participate in hour-long courses that bore them to tears. That's where this eBook comes into play. It can help you create scalable compliance training programs that provide a seamless experience for your team and equip you with the insights you need. Not to mention, empower and engage your remote workforce.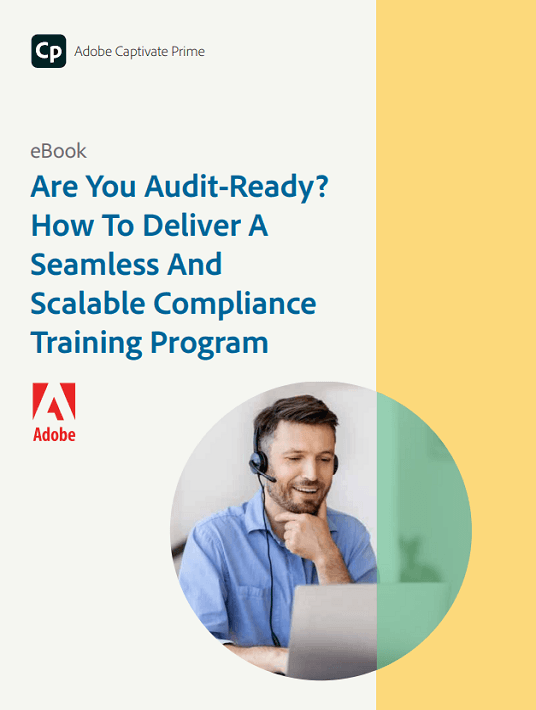 eBook Release
Are You Audit-Ready? How To Deliver A Seamless And Scalable Compliance Training Program
This scalable compliance training program guide can help you prep your team for every eventuality!
6 Reasons Why A Scalable Compliance Training Program Should Go Beyond "Mandatory"
1. Mitigate Safety Risks
Safety training has taken on a whole new meaning due to the global pandemic. Social distancing is the new norm, and safety masks are part of the uniform. Online compliance training mitigates risks because staffers get all the information they need remotely. In short, they learn how to avoid contagion and all the other injuries associated with the job duties. But they don't have to attend on-site training courses to do so, which keeps them out of harm's way.
2. Build Brand Credibility
Nobody wants to work for a business that treats its employees as disposable assets, like a company that doesn't care about the well-being of its staffers and chooses to break the rules. An effective regulatory compliance training program helps you build brand credibility. Employees are well trained and know how to follow protocols, which reduces the risk of injury for them and consumers. Not to mention, more top performers want to work for you because you value their personal safety. Finally, online compliance training enhances your industry reputation. Other companies can see that you adhere to standards and don't try to cut corners.
3. Improve Work Practices
A significant problem facing many organizations is that employees are simply unaware of how policies relate to their job roles. Thus, another reason to implement compliance training for your remote staffers is to improve performance behaviors and work practices. Employees learn about your brand values and task procedures. They're all on the same page, and no one has to pick up the slack or try to clean up after a co-worker's error. They also understand the negative impact of non-compliance. For example, they skip a step, which leads to customer service issues down the line. This could have been avoided if they had followed company protocol and did everything by the book.
4. Retain Top Performers
Healthy and happy employees are more likely to stay with your organization. It's a fact. And compliance courses meet both of these requirements because it gives staffers the skills and knowledge they need. To illustrate, a warehouse employee knows which safety gear to wear and how to operate equipment, thanks to the online compliance certification. As a result, they steer clear of potential hazards and get all their tasks done before the end of the workday. They don't have to stay after to take care of the overflow and risk burnout. Retaining top performers maximizes your L&D investment and reduces new hire training costs, which directly impact your bottom line.
5. Put Theory Into Practice
A common issue with online compliance training is that it's all theory. Sometimes even technical or legal terminology enters the picture. Employees need to know all the company policies and laws, but how do these tie into their work duties? Online training puts everything into a contextual setting. For instance, they can participate in simulations, serious games, and branching scenarios to put their knowledge into practice. Or explore real-world examples to see how it's done and why it's so important to play by the rules.
6. Improve Work Productivity
In many ways, compliance training solutions simplify processes. Employees know what's expected of them and which mistakes to avoid. As such, they do their jobs more efficiently and improve productivity. A related benefit is preventing accidents that might take them out of work for long periods of time. For example, hand or wrist strain that slows staffers down and leads to physical therapy. In fact, that's one of the main reasons to include an ergonomics course in your online compliance training program.
About This eBook
Here's a sneak preview of what you'll find inside this scalable compliance training eBook:
5 notable reasons to deploy Compliance Online Training in times of uncertainty
Compliance Risks: 5 warning signs that your organization is NOT Audit-Ready
8 key features to look for in your Compliance Training LMS (and why)
Top tips to track VILT Compliance Training and achieve desired outcomes
How to empower managers to enact meaningful change and support Compliance Training advocacy
Secrets to select the right Compliance Training platform that scales as you grow
Conclusion
Download the eBook Are You Audit-Ready? How To Deliver A Seamless And Scalable Compliance Training Program to learn how to launch a compliance training strategy that gets results and boosts remote employee engagement.