Self-Directed Learning That Gets Attention
The Golden Rule is one of the guiding principles of customer service: Treat others as you want to be treated. To picture how that looks in action, think about the nicest hotel you've stayed in as a guest.
How did the staff anticipate your needs?
How did they help you accomplish what you were there to do?
What "treats" did they offer to make your stay enjoyable?
From the online reservation experience to fresh cookies at check-in, every element of your stay was intentionally designed in careful consideration of how you wanted to be treated. That careful consideration is part of service design, or "the craft of tying together human, digital, and physical interactions over time" to create an amazing guest experience.[1]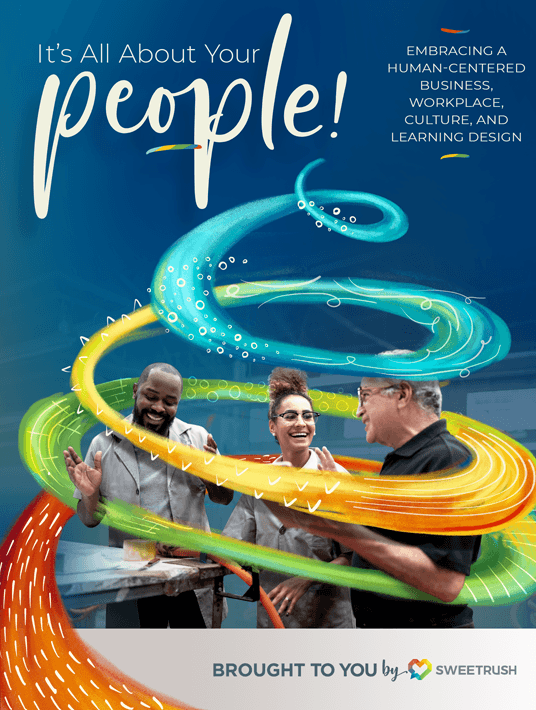 eBook Release
It's All About Your People! Embracing Human-Centered Business, Workplace Culture, And Learning Design
Get inspired by these lessons from SweetRush's 20-year adventure as a human-centered organization!
Learner Experience Design Is Service Design
Service design isn't just for hotels. We can also apply this approach (and the Golden Rule!) to learning. And that starts with viewing our learners as our guests, not our captives.
Creating a great guest experience—or in this case, learner experience (LX) —involves anticipating our learners' needs, helping them accomplish their purpose, and even surprising them with some treats.
Though we usually can't bake them cookies, we can help them spend their time and attention on the good stuff—just-in-time learning content—while removing the foreseeable frustration, boredom, and guesswork that prevents them from doing so. These four simple principles will help you be a great host every time.
Four Guiding Principles to Improve LX

#1. Index Your Learning
Can you imagine staying in a hotel with key cards that don't work? Or with a nonsensical floor plan that makes finding your room impossible?
We'd only make that mistake once, and the same is true of our learners. That's why we need to make a great impression on our learners with self-directed learning content that's easy to find and navigate.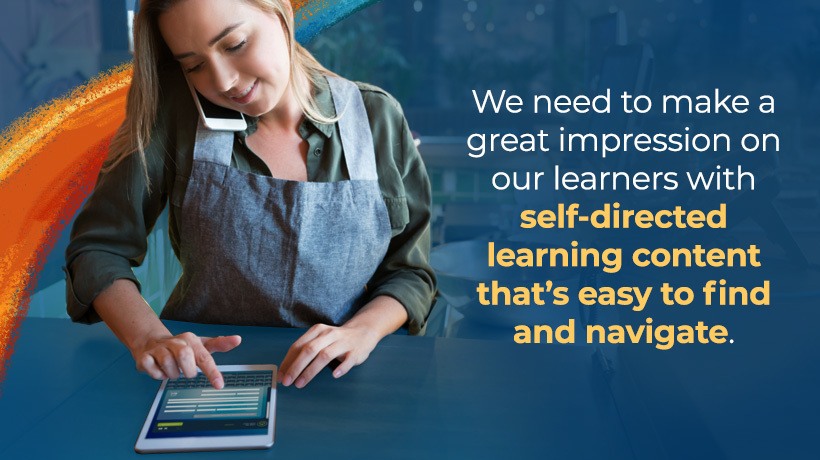 We can start by labeling resources clearly. General titles like Sales 101 or Information Security Basics don't tell learners anything about the topics in the course. Instead of obscuring topics with opaque course names, title your resources so that your learners can search the way they speak, e.g., How do I make a cold call? and How shady are zip files from unknown senders?
Great indexing also requires right-sized content (known as nano- or microlearning[2]) that answers their immediate, just-in-time learning needs—and then lets them go. After all, a gracious goodbye is part of being a great host.

#2. Incorporate Choice In The Learning Experience
Spring breakers, spa-goers, and business travelers all want a guest experience that matches their needs, personalities, and preferences. And guess what? Our learners are no different.
Hosting a great self-directed learning experience means offering a choice of resources and modalities. That might sound expensive, but it's possible to incorporate choice into learning without breaking the budget!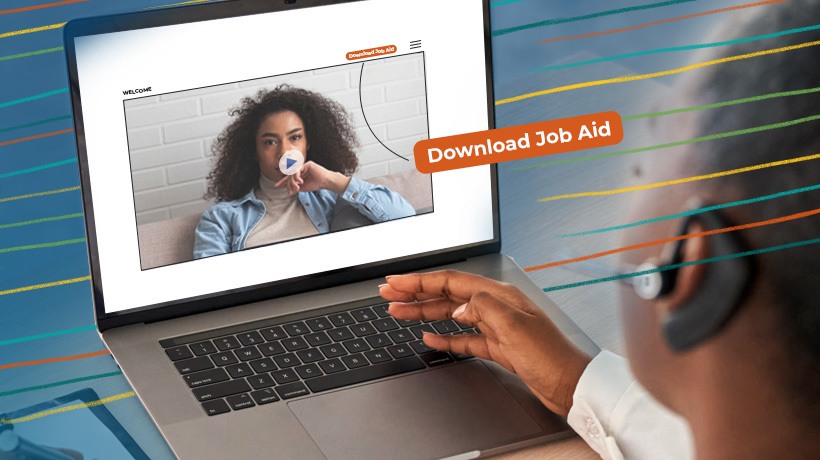 Consider this: If you've ever made a training video, you've got a script. With some formatting, you can turn your script into a job aid and offer it as a PDF download. If, on the other hand, most of your resources are already in text format, try enlisting a well-spoken co-worker or two to record them in a listenable format.
Offering choice of just-in-time learning modalities helps us share our message with every learner who visits us—and makes them more likely to return.

#3. Make Your Learning Easy On The Eyes 
Good design can make the difference between a guest experience that is literally easy on the eye—rather than an eyesore. And though beauty is in the eye of the beholder, cleanliness, legibility, and a cheery color scheme are almost universally appealing.
These best practices will help you remodel your just-in-time learning content:
Keep it legible. Skip the serifs—sans serif fonts (think Arial, Calibri, and Helvetica) are the friendlier choice for visibility and comprehension.
Consider accessibility. You can avert headaches by incorporating contrast between text and background. The WCAG guidelines[3] can help you ensure that your color scheme has the right level of contrast for your learners.
Leave white space. Clutter and crowding are sources of stress, both on- and off-screen. Give your just-in-time learning content room to breathe by leaving white (or whatever color) space in the margins, between paragraphs and lines, and around images.
Leverage line drawings. A full-color photo may be worth a thousand words, but the level of detail it provides can be distracting. Focus learners' attention on what's important with simple, accurate line drawings.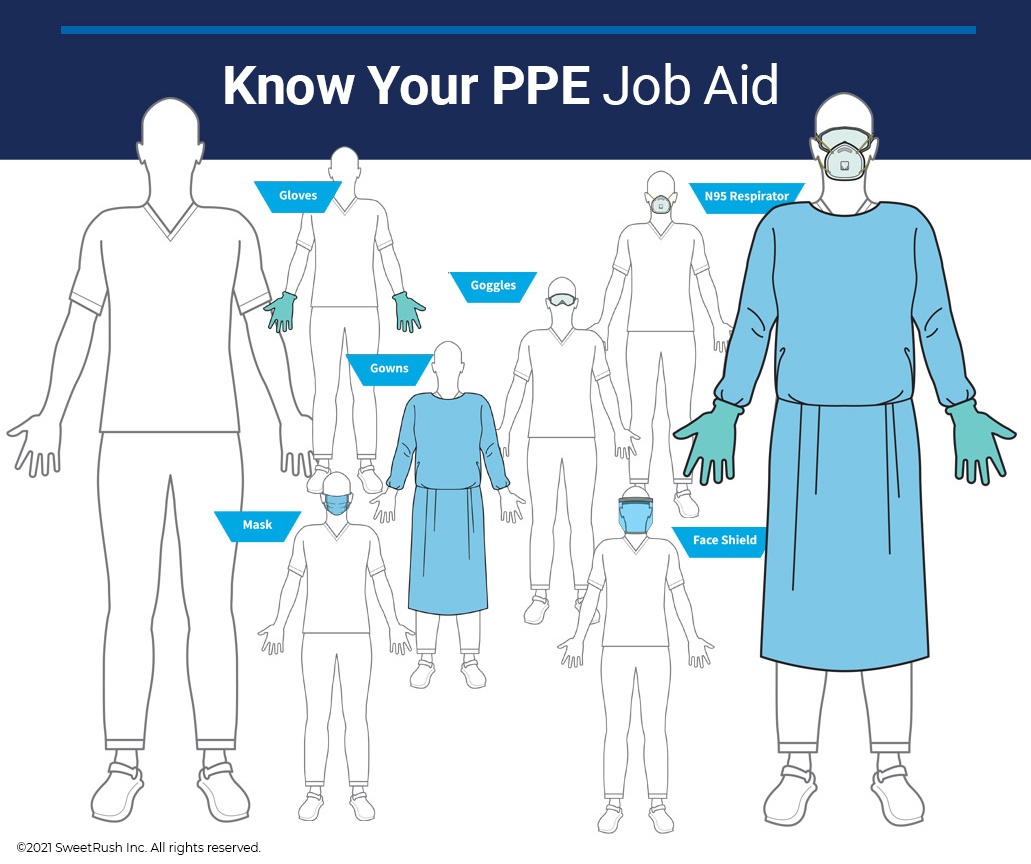 This just-in-time job aid on personal protective equipment (PPE) use—created in partnership with a U.S. government-funded training and education organization for an audience of health-care workers—is a great example. The focus here is on correct use of gloves, gowns, masks, and other critical PPE—not on extraneous detail or color.

#4. Offer A Visual Map Of The Learning Experience
You know that in-room TV channel that's about the hotel? Being a great host to our learners means getting meta by sharing our learning program and floor plan.
We can accomplish that by creating a visual map of our self-directed learning content that previews the topics and resources available to them during their stay with us.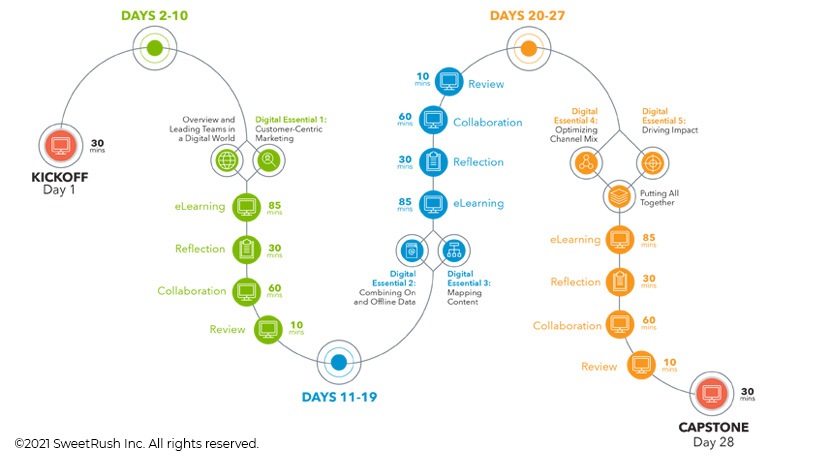 By offering a high-level view of terminology and related topics, we help learners feel more in control of their self-directed learning. Nothing dissolves the fear of the unknown quite like knowing what to expect!
Extend Your Service Design Practice
Love what service design can do for LX? Try extending your practice to the way you lead, collaborate, and communicate with your fellow humans.
Our eBook, It's All About Your People!: Embracing Human-Centered Business, Workplace Culture, and Learning Design will show you how to recreate work as a source of resilience and apply the Golden Rule to your business from the ground up.
It's a curated collection of the best mindsets, practices, and lessons from our two decades together as a human-centered organization—and decade-plus as a fully remote team. Whether you're a leader, manager, or individual contributor, you'll find plenty of proven steps you can take today (or anytime!) to be happier and healthier at work.
References

SweetRush
Our job is to help you achieve your objectives and be successful. Engage us at any point, from analysis to custom development (including e-learning, mobile, gamification, and ILT) to evaluation.