Trying To Simplify Modern Learning
Trying to define and simplify modern learning can be a particularly challenging matter because "modern" can mean different things to different people. It is only natural to make a connection between the latest trends and the idea of modern. It is important, however, to be able to distinguish between actual trends that have proven their worth and won their place as part of a professional's repertoire and mere buzzwords that try to create hype without necessarily bringing something new to the table. Buzzwords can be incredibly dangerous as they can confuse and disorient professionals, create a climate of distrust, and even alienate learners.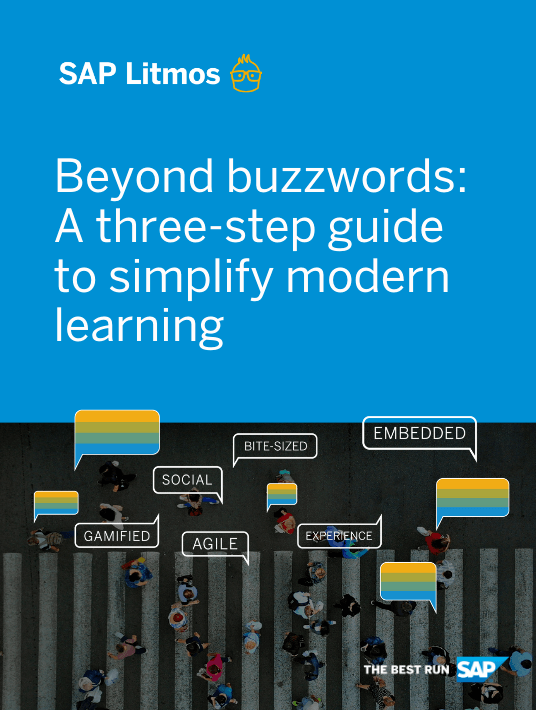 eBook Release
Beyond Buzzwords: A Three-Step Guide To Simplify Modern Learning
Grab this eBook for real-world advice on how to simplify learning to achieve the outcomes that matter.
SAP Litmos' latest eBook Beyond Buzzwords: A Three-Step Guide To Simplify Modern Learning addresses this issue in a terrific way. It doesn't just analyze the harm that buzzwords can cause, but rather describes a 3-step plan that explains how and why modern learning should be simplified in order to increase its efficiency.
About The eBook Beyond Buzzwords: A Three-Step Guide To Simplify Modern Learning
The structure of the eBook is pretty straightforward. It is divided into 3 chapters.
Examine Your Beliefs As A Learning Professional
The first chapter of the eBook, which is also the first step of the plan, discusses how an eLearning professional should question their own professional beliefs before growth can take place. It is natural for everyone to sometimes insist on ways of thinking that are now obsolete or have been proven wrong. The best way to deal with this is by always trying to look at things with new thinking and from a refreshed perspective.
There are many beliefs that can be proven to be problematic and/or false. For example, many organizations have the mentality that a good learning product sells itself, which couldn't be further from the truth. Some think of their LMS as a training vending machine, while others severely underestimate the amount of engagement the L&D team should keep after the launch.
Assess Who Your Learners Are And What They Expect
The next step is all about understanding learner identity and managing expectations. This chapter focuses on being on the same page with your audience. Here is some of the advice offered about being able to communicate the value of your eLearning:
Have a "sales" mentality when it comes to championing the value of your own programs
Meet often with the managers and explain your vision
Get leaders from your organization involved to enhance your company's learning culture and budget
Promote the value to individuals
Build The 3 Pillars Of Modern Learning
The final step of the simplification process is understanding and utilizing the 3 pillars of modern learning. These pillars are as follows:
Continuous learning
Modern learning needs to be continuous. Training is not a one-off task that happens at one specific point in someone's life, but rather a continuous process. Modern learning should be a gift that keeps giving. The demands of today's work environment never stop shifting, and neither should training.
Content-rich learning
Modern learning should also be rich in content. Technology offers an amazing opportunity: the ability to enhance your training program with content that you didn't develop yourself. This is a great way to keep things interesting and your learners engaged.
Immediate learning
The last pillar of modern learning is the ability to learn immediately. Information should always be available as soon as the need for it appears, in pretty much the same way modern search engines operate.
In Conclusion
The eBook Beyond Buzzwords: A Three-Step Guide To Simplify Modern Learning gets straight to the point about being true to the principles of modern learning. Its aim is to help organizations grow by focusing on what's necessary for their L&D schemes and avoiding some of the most common mistakes in the industry. Learning professionals will appreciate the eBook's clear structure, while the efficiency of the 3-step plan is truly commendable. With these 3 steps, you've got an outline for building a powerful modern learning program that has a measurable impact on your organization. In the end, following these steps can help you manifest many of the results you seek, not the least of which is empowering modern learners to thrive in the face of the unmatched demands of the modern workplace.