Exploring New Learning Technologies: The #1 Priority   
What else does the report say, and why might investing in learning technologies be out on top? Read our digested report.
Forty-eight percent of organizations surveyed by the Brandon Hall Group placed the exploration of new learning technologies as their top Learning and Development priority for the next 12 months. Here are the full results: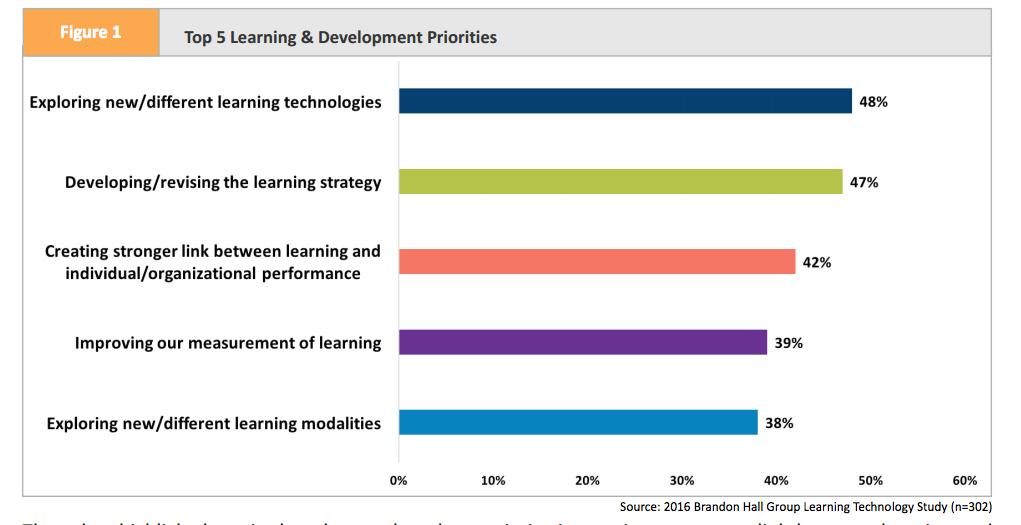 What learning technology?
With so many technological options open to Learning and Development teams, what exactly are they intending on investing in?
The top targets for technology exploration are social/collaborative tools and mobile delivery.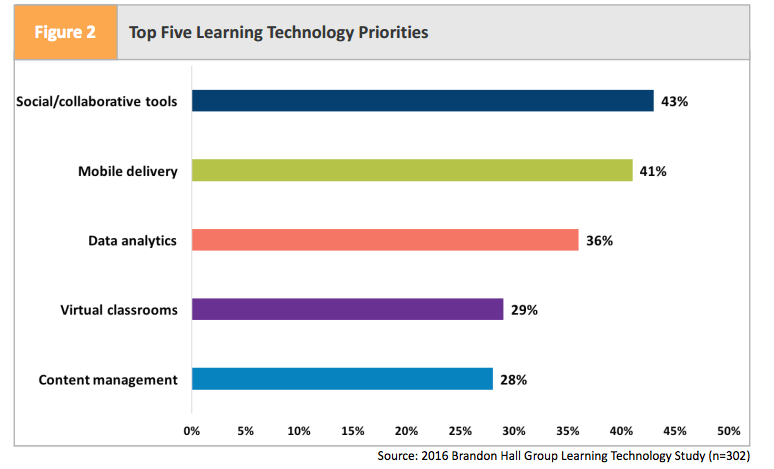 These top two areas for investment echo findings from Towards Maturity in their "Preparing for the Future of Learning" report. Coverage on it can be read in our post here. Towards Maturity's research has online (including mobile), collaborative learning and coaching (a form of social learning) tipped to be priority areas for Learning and Development investment. Thus, it seems that Learning and Development teams are backing the same digital horses.
This makes sense when you read up on what modern learners want and how they naturally learn.
Related: Profile of the modern learner (infographic)
Business Benefits Of Investing In Learning Technology
Is there more to investing in learning technologies than keeping up with learners' needs and trends? Well, yes.
Organizations that invest in learning technologies see improvements in business KPIs.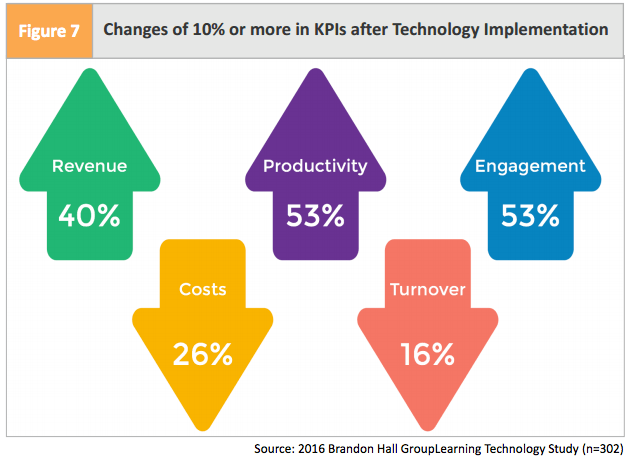 Why might this be?
Investing in learning technologies with well-thought-out strategies can not only enhance performance (which has a knock-on effect to productivity and profit) but also, when done right, can help engage employees and reduce staff turnover.
Providing development opportunities and investing in individuals' growth can help increase their sense of work well-being. Doing this in a way that is in sync with their natural learning and technology habits maximizes this - i.e., multi-device, needs-based, personalized, and modern content. Providing self-paced, easily accessible content empowers employees to take charge of their own development.
If you then add tech platforms that support social learning by connecting people and encouraging sharing, support, collaboration, and engagement, and that enable you to evaluate what works and what employees' needs are so you can adapt your content strategies, then you are on to a bit of a winner. Enhancing productivity and engagement tends to benefit the other KPIs.
So, you can start to see how learning technologies can improve the bottom line.
Other Key Findings: 44% Intend To Replace Their Learning Management System
The Brandon Hall Group also reports that 44% of organizations are actively intending to replace their Learning Management Systems (LMSs), a huge leap from just 16% in 2015. The main reasons for this are to improve user experience through better UX design and learner journeys and to make administration and learning management easier at the back end.
We would argue that before jumping ship and buying a different Learning Management System, it is worth exploring if you are getting the most out of your current one. There is a useful report from Docebo on why many people ignore so many features of their Learning Management System.
Final Thoughts
It is great to hear yet another story of Learning and Development teams backing technology and investing for the future.
Modern learners are accessing performance and development content on multiple devices at points of need and often outside of working hours and work-based platforms. It is time for training providers and Learning and Development teams to close the gap and provide the kind of learning people expect, but within a work context.
What technologies are you backing this year?
If you would like to give mobile learning a spin or are keen to using a content authoring tool that enables non-techie experts to collaborate and share their tips and insights with others, evaluate Elucidat with a free trial today.
Related: