Building A Digital Culture In Your Organization: Best Practices To Implement
What are the foundations of company culture? Not vague, sweeping declarations that are often re-used by multiple companies. Corporate culture is not based on words and statements of intent; it is not some magical thought or ideal. On the contrary, it is based on concrete results directly linked to daily practices embraced by the entire workforce. So, what knowledge needs to be implemented and shared in your workplace? Following are 4 best practices for building a digital culture within your organization.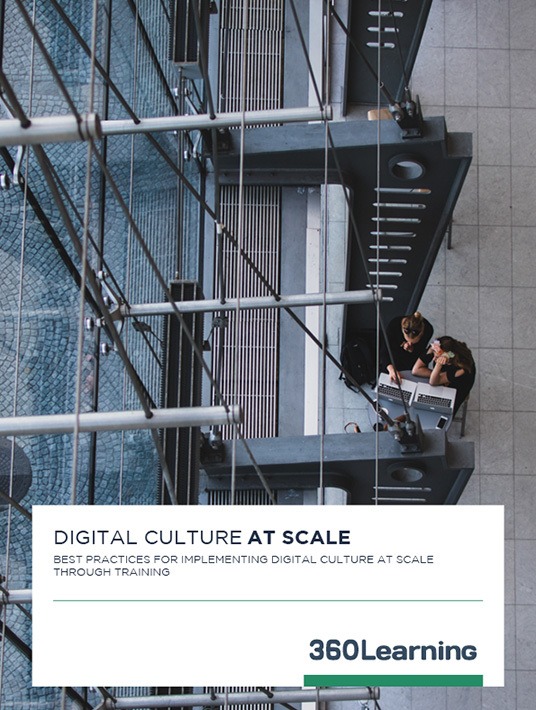 eBook Release
Digital Culture At Scale
Discover key best practices for implementing digital culture at scale through training in your organization.
1. Realize That Our Relationship To Knowledge Has Evolved
The democratization of learning, related to the emergence of digital technology, is more prevalent than ever. MOOCs, tutorials, online courses, YouTube videos… Think of any activity you would like to do: in less than 5 minutes, with a good Google search, you can find ample information on the topic. With information being widely available, our relationship to knowledge has changed. Unlike centuries past, you cannot simply learn something once and build your entire career on this skill set. Today, you need to learn how to continuously learn and update your skill sets throughout life.
This is even more important given our current context where we are seeing an acceleration of skill obsolescence. 50% of tomorrow's skills and professions do not exist today. Each day, new tools and languages see the day; we do not create a website the same way today as we did a year ago. The same goes for "growth hacking", hardly anyone was talking about it a few months ago and now everyone is looking to recruit a top growth hacker.
Never has it been so important to be able to update skills in real time, in order to perceive, understand, and adapt to changes in your market or profession. The paradigm shift is even present in the vocabulary we use: we have gone from the idea of qualifications (objective, verifiable, defines a profession or trade) to that of skills (personal, harder to measure, cross-functional) in the 1990s, to move on to the idea of talent, where soft skills are more valued than hard skills. Then came the challenge of digital technology: to deploy internally, and at scale, a set of soft skills and work methodologies capable of accelerating this change by creating a true digital culture within the organization.
2. Identify What Skills Employees Need To Develop
One of the first things to do is focus on raising awareness about the challenges posed by the acceleration of technology. This implies that technical literacy, whatever your profession, is necessary in order to acquire certain technical skills without having to systematically go through the IT department. Understanding the tech ecosystem, major trends, and disruptive technology in your market and profession is vital. Mastering the use of tools is also an essential skill. Beyond simply learning how to use the tools correctly, it is important to understand their purpose and how different tools can be used together and the benefits one can derive from them. Training employees on digital practices is also imperative. Somewhere between soft skills and work methodologies, several key skills can be identified, including:
The ability to regularly monitor the competitive landscape of your market.
Sourcing innovative initiatives or people within your ecosystem.
Customer knowledge.
Failure management.
Risk-taking abilities.
Independence.
Responsiveness and adaptability to an unstable environment.
Everyone can acquire these skills, but they are not enough to transform an organization as a whole. Let's use the example of competitive intelligence: it is relatively simple to ask teams to monitor major market trends, or to source partners or innovative service providers. It is simply a matter of having minimal training and the right tools. On the other hand, it is much harder to create a culture of collective intelligence, to set up test and learn initiatives (even if they ultimately fail), in short, to actually capitalize on these skills. This is above all a question of managerial culture.
3. Understand There's No Digital Culture Without Managerial Transformation
Without reviewing your managerial culture, the chances of transforming an organization are extremely slim. Recent enthusiasm for freedom-form companies and holacracy clearly illustrates this point: traditional organizational methods need to be re-examined. By definition vertical and based on a hierarchical structure, these practices are no longer in line with methodologies inherited from the Internet which are characterized by their decentralized and horizontal nature. Without going as far as saying that all digital transformation initiatives require organizations to switch to a freedom-form company model, it is true that it does involve rethinking and reviewing various internal mechanics including individual evaluations and decision-making processes.
How can you ask employees to mobilize these skills without providing them with the necessary managerial framework, without allowing them to work independently and giving them access to information? How can the organization be flexible and capable of continuously adapting to external factors and even anticipating them while simultaneously adjusting internal processes?
The industrialization of digital skills requires questioning current managerial models and creating a common culture by training employees on best practices resulting from experience and by implementing a strong digital culture inherited from the Internet.
4. Promote New Habits And Methodologies
Culture is concrete, resulting from everyday practices. Influencing these daily practices while also reviewing your managerial model is the best way to accelerate digital transformation since it involves implementing new work habits among employees.
Let's look at an example: email management using the Inbox Zero policy. The goal: have simple rules for email management that make it possible to always have an inbox with 0 emails. At 360Learning, this is a widespread practice and the results have been simply incredible. Team performance (both actual and perceived) has skyrocketed and Inbox Zero has paved the way for a rational, targeted, and efficient way of processing information. No more unnecessarily long sentences; simple, clear phrases, smart filter management; our daily relationship to information has changed. This has impacted other aspects of our work. In 360Learning's case, Inbox Zero has allowed us to get rid of internal meetings and log all information about project management in digital interfaces – which, in turn, has created new use cases. Transparency at 360Learning therefore has tangible results, not some vague mission statement.
Formalizing and promoting these practices internally is essential. This is where eLearning is useful. A good eLearning platform should allow anyone, without requiring technical skills, to create and promote their own training programs – imagine the impact of circulating best practices internally! Better yet, the platform should permit you to create skill-based programs and to pilot them both granularly and at scale while monitoring employee usage and progress. At 360Learning, many of our clients are already working this way and the results are impressive: employee engagement rates have exploded, the word "collaboration" has never been more meaningful.
If you want to learn more about how to implement digital culture at scale through training in your organization, download the eBook Digital Culture At Scale.
360Learning
360Learning is the LMS for collaborative learning. We enable companies to upskill from within by turning their experts into champions for employee, customer, and partner growth.