A Guide To Selecting The Right LMS
Choosing a good corporate LMS is a good problem nowadays, as we have a lot to choose from. That means we have options. But the flipside is confusion. Let us look at the most important aspects to consider while choosing a corporate LMS.
eBook Release
The Complete LMS Implementation Guide To Ensure Employee Training Success
Learn how to successfully implement an LMS for greater effectiveness.
Key Success Factors
Every company is unique and has a unique learning environment and plan. Some companies are more formal in their approach and have a defined number of training hours mandated for each individual while some companies have training delivered in an ad-hoc and/or informal manner. Some like eLearning, while some choose face to face. But to address all kinds of organizational needs well, we can take an approach that caters to all kinds of situations. The following parameters will always come in handy to make an informed decision.
Blended Learning: Face-To-Face And eLearning
There is no one correct way of delivering training. Some topics will always need a face to face interaction and that face-to-face can also be virtual. Some topics are rudimentary in nature while some could be around difficult concepts. Some could also be around safety and hazardous places. In such cases, companies have to rely on animated or video-based eLearning courses. But you need to still manage both face-to-face and online under one umbrella. So, an organization needs to find a corporate LMS that supports the management of both its eLearning and face-to-face training functions. Something that allows VILT and blended learning to be offered.
Easy And Cheap Content Acquisition
The LMS you choose will need to help the organization with both Creation and Curation of content. So, it needs to provide an interface that allows you to quickly create content with templates. A feature that allows you to use content from open sources like Blogs, YouTube, Vimeo, SlideShare and still makes it trackable. The last one is the ability to upload and track existing pool of presentations, documents. This way the organizational time and cost on content acquisition reduces drastically.
Third-Party Integrations
Because corporate learning data interacts with other systems for departments, hierarchy, performance, incentives, etc. one needs to choose a system that allows easy integrations with LDAP, SAML2, Active directory or OAuth2 to provide a Single Sign On (SSO) experience. The LMS should work with various platforms like Okta, Onelogin, Google G Suite login, and Microsoft ADFS.
User Experience
The most important thing about the successful implementation of any software is for the software to be used. The enterprise software gets popular with users ONLY when the experience of using it is simple and quick. Even if the LMS is not loaded with all the features in the market, it must offer a superlative User Experience for the features it has. Large and robust software have failed due to poor UX and many times that has been the singular differentiator in the history of enterprise product implementation success.
Customizations
One size never fits all and the same is the case with an LMS. While the organization chooses wisely and gets on board the LMS that is the closest match to its requirements, the requirements are always changing. The changes could be in organizational structure, technology, methodology, types of content, workflow, reporting and so on. So, the LMS you choose has to be the one that is configurable and customizable.
Content
While the organization will produce and acquire and curate some content, it is impossible to do it in time. The corporate LMS you choose should offer off-the-shelf content on certain topics under business skills and soft skills. This reduces your launch time and employees can begin on day one with a few hundred titles.
Gamification
It is important to incentivize employees for the success of the training function. The LMS should be able to:
Award badges of achievement to motivate your learners to achieve more.
Integrate with social media tools to enable learners to share their badges and compete with their peers.
Have leader boards.
Security
The LMS should conform to industry-standard needs on securing data and access. Data encryption, robust access control, TLS/SSL to name a few. It must have stringent code checks to ensure your learners' information is protected. In the case of video content, the LMS should offer an additional Digital Rights Management (DRM) system to protect your video content with Hollywood grade security so that content downloads are prevented.
On-Premise And Cloud-Based
You should look at a solution that gives you both On-Premise and Cloud delivery options. Although most companies choose cloud, if you belong to some industries like financial services, defense, etc. you must be able to host the LMS application on your own infrastructure if your IT policy demands it. All the same, if your IT policy allows, you must avail cloud delivery to leverage the biggest advantage of pay per use, quick implementation, scalability, and updates.
Support
You offer the users the best system and it will fail if the support function is not up to the mark. The LMS you choose should have a set procedure to handle support for low, medium and high priority issues. Solid documentation and a ticket system is the beginning of a good support function. But to make sure the support function of your vendor is up to the mark, ensure the vendor has defined:
Communication protocol
Escalation matrix
Emergency procedures
Regular updates and upgrades
Support hours and time zone
The support must outdo procedures and protocol and transform itself into a customer success function. Support case studies must be sought and studied while choosing a good LMS vendor. Download the eBook The Complete LMS Implementation Guide To Ensure Employee Training Success to discover more about the successful implementation of an LMS for achieving better effects in your organization. Join the webinar to delve into the secrets behind a victorious LMS implementation.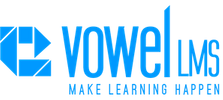 Vowel LMS
Vowel LMS is a flexible learning management tool that allows you the freedom to manage every form of learning within your organization – be it online, or in the classroom.