How To Find The Best Corporate LMS For Your Remote Workforce Using Online Reviews
Reviews are just one element of LMS selection. You need to test it for yourself, so pick software with free trials. You can also see if your developer has any industry awards or check their update policy. Price is a factor and so is usability. For example, is their mobile platform native or responsive? Does their package cut across devices and OS or will they throw in free tablets for your remote team? Is their technology compliant and/or will it help you maintain your own eligibility? For now, let's focus on making the most of reviews to find the best corporate LMS for your remote workforce.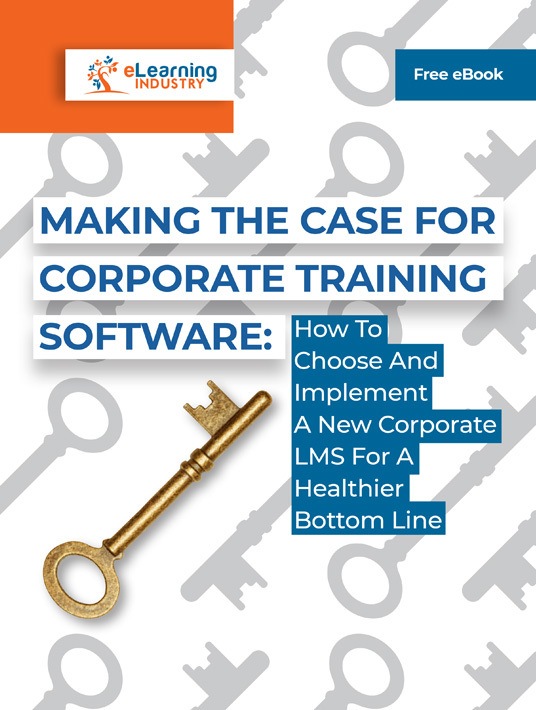 eBook Release
Making The Case For Corporate Training Software: How To Choose And Implement A New Corporate LMS For A Healthier Bottom Line
Explore and discover all you need to know so you can choose and implement a new corporate LMS.
1. Use A Trusted Review Site
Right now, there are hundreds of product review 'scams.' There are freelancers, social media groups, and vendors who pay as little as 50 cents for testimonials. Some are paid to write a negative review of their own product, creating a false sense of balance. 9 good reviews and, one bad, one provides credence. Others are paid to under-rate competitors. Some companies prevent this by insisting only verified purchasers can write reviews. To counter that, vendors ask reviewers to actually purchase the product, then they refund the cash. So, don't just trust any review. Ensure the site is objectively verified and that reviewers are too. Look for reviewing platforms that are well established and have a loyal following.
2. Distinguish Organic And Paid Reviews
How can you tell someone has been paid? It needs some legwork or rather finger work, but it can be done. Check the reviewer's name or email and search the rest of the review site. You can also put their details into a search engine. If they've reviewed lots of unrelated products the chances are likely that they are a paid reviewer. You can also check their names and emails, many mass reviewers use fake addresses. Ideally, the review site you use should require some background info. For example, the reviewer must sign in with a social media account to provide their feedback.
3. Ensure The Reviewer Has A Similar Use Case
You're not just looking for any corporate LMS. You're looking to train external partners and remote workers. Search for reviews that specifically address those areas. Does it work offline? Is it compatible with a mobile OS? What are its feedback tools like? Does it have tools for blended learning? What about pacing and assessment? Are there micro-modules for busy field-workers, or JIT resources when co-workers are far away? Don't be fooled by high praise and flowery but generic language. Be on the lookout for specifics and relevance. The reviewer should be in a similar industry or niche. Or at least have objectives and goals that align with your yours.
4. Sniff Out The Bots
AI has become pretty good at passing for human, but the really good ones are pricy. The type of bot used for trolling, spamming or writing up fake reviews is unlikely to be advanced. Check if the language sounds human, or if the wording is related to the product. If the review is too generic or if it's talking about LAN instead of mobile data, it's probably a false review. Another tell-tale sign of false reviews is bad grammar. It hints at testimonials outsourced to countries where English, or whichever tongue the review is in, isn't the first language. Of course, you can bypass all this by following tip #1 and using a trusted site. Then, you can rest assured that the reviewer has to provide some personal details before submitting their opinions and ratings about the best corporate LMS.
5. Focus On The Pros And Cons
Some LMS review sites even give users the opportunity to provide a more detailed explanation about what they liked/disliked about the tool. Thus, you can find the best corporate LMS for your remote workforce based on the pros and cons that align with your needs. For example, one of the reviewers mentions that the platform fell short when it came to offline accessibility. Or noted that the built-in app was flawed. Thus, you might think twice about investing in the platform for your global sales team that needs access to training tools, independent of location and time.
6. Don't Just Rely On The Overall Score
The review is paired with an overall satisfaction score. But don't just rely on that when you're weighing your options. The best corporate LMS for your organization is going to offer the total package. For instance, it will rank high on the usability scale and the vendor will value the Customer Experience. These individual scores should come into play because they give you a more comprehensive picture of the platform's features and functionality. Also, if the platform does have a low overall score, dig deeper by reading the written review to determine its validity.
Reviews are largely opinions, which are sometimes biased. These biases might be deliberate, especially when there's a vested interest. So how can you tell which testimonials are objective, and how can you use them to make the right choice? Use a credible review site, and check that the reviewer has similar needs to yours. This is a remote product, so look for the review aspects that focus on external employees. Finally, look into the reviewer themselves. Which industry are they in? How long have they used the product? What is their role in their respective organization? This helps you to sift out the irrelevant reviews and focus on the ones that carry the most weight.
Getting new hires into the flow of your work-place is an essential corporate undertaking. How can you be sure you get it right? Download our eBook Making The Case For Corporate Training Software: How To Choose And Implement A New Corporate LMS For A Healthier Bottom Line and discover all you need to know so you can choose and implement a new corporate LMS.