Top-Notch Extended Enterprise LMS Software For Superb Training Delivery
Are you looking for a smart eLearning solution to help train your extended enterprise? Interconnection plays a big part in today's market. Most companies have built up an extended network of customers, vendors, suppliers, investors, external partners, and local communities. If this also applies to you, you already know that training this extended enterprise network is hard. However, your company's products, services, and values need to evolve in today's competitive environment. In the years to come, extended enterprise online training is expected to become a common practice. And that stands for all companies that want to reinforce their brand image. After all, it gives a competitive advantage to pioneer organizations that enter this field.
To make your extended enterprise LMS software selection process easier, eLearning Industry took matters in its own hands. In fact, we decided to determine the best LMS software on this topic. The procedure was not simple. Our team of experts had to do a lot of research and testing. Now that we did all the work, you can get a better picture of which top-notch solutions are. Most importantly, you can find the best fit for your organization.
In the following list, we've gathered the top LMS choices for extended enterprise training. For other use cases, you can check out our full LMS directory.
The Best Extended Enterprise LMS Vendors
---
Discover The Ideal Extended Enterprise LMS Solution For Your Needs
Save time and money. Compare top LMS tools by features, reviews, and rating!
What Were The Criteria That Determined Which Companies Made The List?
Global recognized LMS experts, including C. Pappas and our editorial team, did a thorough review of each vendor's eligibility and relevant published content (articles, eBooks, webinars). Our committee ranked the best Extended Enterprise Learning Management Systems based on the following 9 criteria:
Customer support
Customer experience
Software features
Software innovation
Customer reviews
Economic growth potential
Company's customer retention
Employee turnover
Company's social responsibility
After checking who made our top LMS list, make sure to delve into our insights on which steps you need to take to find your ideal Extended Enterprise LMS solution.
Where You Need To Focus Before Choosing An Enterprise LMS
Make sure to check the compatibility between your extended enterprise LMS and the online training resources you already own. There are several extended enterprise LMS options that support certain file formats. If you do good research, you will be able to integrate existing data easily. Think carefully about which pricing plan would work best for your SMB or startup. You might choose an LMS vendor that charges by the user. Or you might opt for a flat fee to cover your entire team. Request cost breakdowns, and ask for extra information. It'll help  see if there might be any extra fees for upgrades later on.
Test driving the top 3 to 6 LMS vendors that meet your needs is important to make the right choice. So, it is imperative that you find the time to meet up with a vendor's sales team for an LMS demo or even start your LMS free trial. Without further ado, let's present you with the 10 Best Extended Enterprise LMS Vendors!
Next Steps After Reading Our Top Extended Enterprise LMS List
Want a quick way to qualify LMS vendors in order to find the ones that best match your needs? Follow 5 easy steps to get free LMS consulting from the Top 5 LMS Vendors that qualify for your business case.
Want to learn more about the possibilities of an extended enterprise LMS? Download our eBook External Training LMS Selection Guide.  You will discover everything you need to know about how to launch a successful external partner online training program. We'll also share tips on how to find the perfect extended enterprise LMS for your organization; regardless of your size or online training budget. Plus, you'll get insider secrets to choosing the right pricing model and deployment options. Keep reading to find out how to maximize the full potential of an extended enterprise LMS.
Find Your Ideal LMS Fast And Easy
Save time and money. Follow 5 simple steps and find out which LMS vendors match your training needs!
Benefits Of Extended Enterprise LMS Software
An extended enterprise might include your customers, suppliers, business partners, salesforce or freelancers in various fields. An LMS focused on such organizations can surely assist your business in several ways; including all these branches. When researching an extended enterprise, you might stumble upon some misconceptions. For example, some eLearning professionals consider it costly or even impersonal.
However, this is not the case when you opt for external partner success. If you want to be on top of the competition, as a company, you need to reach out. And, of course, educate your extended network efficiently. Your business can use an LMS to deliver business objectives. For example, you can design online certification programs and provide support resources. Also, you can use analytics to track and evaluate your training goals. As a result, you can improve customer service, or even reduce compliance risks.
When it comes to customer-centric organizations, extended enterprise LMS software are the future. More and more businesses choose to dedicate a great part of their training resources to educate their customers.
Extended Enterprise LMS Software Are Ideal If You Need Customization
Any business looking to create customized learning experiences across its workforce should opt for extended enterprise LMS software. As a corporation, you need to provide engaging learning experiences to customers, partners, and all your channel networks. The same goes for your organization's supply and distribution network.
Choosing an extended enterprise LMS will solve several issues that your L&D team faces when trying to create customizable training courses. Who wouldn't want to deliver an engaging compliance training that has a positive effect on your whole value chain? An extended enterprise LMS is your go-to tool. Especially if you need to obtain consistent compliance reporting. No matter where the training is taking place. You see, an LMS for extended enterprises helps distribute training courses to participants all over the world. And, it takes into consideration the need for localization.
Customization is key to the design and implementation of the right content for each and every department of your well-structured business. An extended enterprise LMS software will make it easier to deliver quality training across all channels of your extended network. In addition, such a tool will assist you not only in tracking compliance but also in checking that those operating procedures run smoothly.
That's exactly why we compiled this list of the Best Extended Enterprise Learning Management Systems. After reading this, you can find out which one best matches your needs. Even if you need extreme customization, there are many solutions. Ready to increase the potential of your extended enterprise network?
How Extended Enterprise LMS Software Improve Customer Experience
Using the right LMS for your business network will make things even easier when it comes to Customer Experience. By choosing the ideal LMS solution for your business, you can reach your entire network. Using a tailored online training that aligns with your goals will also help to show your brand value. You can create a better Customer Experience by giving customers the chance to learn through your organization.
Extended enterprise LMS software can assist you in creating a better experience by offering great service, in addition to establishing a clear brand connection. In this way, you'll manage to create a positive outcome, where customers will have the opportunity to share their views within their networks. In case you have a complex product that demands intensive training, you can use an extended enterprise LMS to create your customer training. By taking such a step, you can not only save money but also improve the Customer Experience.
An LMS Ideal For Product Knowledge And Customer Training
Getting deeper into product knowledge will help customers digest the appropriate information. Creating a customer training experience, on a personal level, will keep your consumers' engagement. Apart from improving your product usability, you also improve your customer service. This will certainly increase brand loyalty as well.
Don't forget that by providing customer training with an LMS, you are offering a better ROI on your products. By choosing an extended enterprise LMS software, you can deliver training anytime, anywhere. Last but not least, this approach empowers consumers. It might also result in the creation of an active online support community. Increased customer loyalty is the key to getting better feedback. More importantly, this will help keep your customers happy.
Retaining Top Talent In Your Extended Network
All is well when creating training programs for your in-house staff; but, what happens to your extended network superstars? Obviously, employees who work in your main headquarters can get all the training resources they need. Now you need to do something about your extended enterprise assets as well.
In order to retain and help your external workforce to advance, you need to assist them in getting the same benefits. Either it is a remote sales team or franchise, an extended enterprise LMS can help you retain top external talent. Extended enterprise LMS software might be the solution you are looking for. Especially if your organization needs to train multiple audiences under one Learning Management System. What's great about extended enterprise systems is the fact that users can create profiles within defined portals. This makes it easier for employees to take any courses they have selected.
Creating Unique Learner Portals
Most LMSs use a setup based on hierarchy regarding their portals. You can create sub-portals from your parent portal, according to your employee training plan. Such a setup is also helpful when delegating the management of each sub-portal. This makes it easier to move from one level to the other.
The way you organize and design your portals is up to you. You could use a top-level portal to train your in-house employees. Anything that has to do with compliance training, employee onboarding, etc. can be included here. Then, you can use a sub-portal to train learners who are part of your extended enterprise.
Partner training can be handled perfectly with extended enterprise LMS software. From contractors to resellers, dealers or any other type of partner, you can use such a tool to effectively train each person. There is no better way to strengthen and grow your business than by training your extended workforce.
SMBs And Startups Can Benefit From Extended Enterprise LMS Software
An extended enterprise LMS might be the ideal tool to structure your online training even if you don't own a large organization. Such a solution will help you share online training resources with your external sales teams, according to requirements. There are certain criteria to help you choose the ideal extended enterprise LMS for your small- to medium-sized organization.
The two basic factors you need to pay attention to are:
Finding an extended enterprise LMS that meets your price range while managing to deliver desired results
Figuring out ways to measure the performance of an extended enterprise LMS software in the most accurate way
Obviously, you'll need to spend some quality-time-researching LMS vendors. The key is to determine which LMS features will align with your training analysis. You'll also want to unravel which pain points you can solve by making the right LMS decision. In order to get the right extended enterprise LMS fit for your SMB or startup, you need to do your homework. You have to streamline the overall process in order to make your decision in the least time-consuming way possible.
First of all, you have to know your limits. Yes, you got that right. The budget is the main issue here. You have to decide how much you are going to spend on your extended enterprise LMS software. Make sure to check online resources and see how you can cut your online training costs. The LMS platform that you choose should address your goals and business needs. Make sure you take note of all the advantages and downsides of the platform you're going to invest in. LMS vendors who focus on extended enterprise offer unique services regarding customer support. So, choose your LMS wisely.
How To Get The Most Out Of Your Extended Enterprise LMS: 8 Questions To Ask
Obviously, all these extended enterprise LMS insights will take time to digest. Until you make your decision on which extended enterprise LMS can solve your L&D issues, I encourage you to question several aspects. On the quest to finding the ideal LMS software for your workforce, you'll need to be knowledgeable and clear on what you want to achieve with such a tool.
Here is a list of 8 crucial questions to ask before you decide to proceed with extended enterprise online training and with your search for the most suitable extended enterprise LMS for your organization.
1. What Are The Benefits Of Training My Extended Enterprise Network?
You can only have minor expectations from an external network unless you establish a crystal clear relationship between you and them. Extended enterprise online training helps you get on solid ground with your company and your external partners by clarifying goals and expectations and giving both parties the opportunity to get to know each other. This way, you'll build a relationship of loyalty and trust. This can only be achieved in open communication settings, where your external partners are aware of the core values and procedures followed within your organization so that both external partners and customers can avoid false expectations.
In addition, through extended enterprise online training, your organization gets measurable indications of the actual behavior and performance of external partners. Such information helps them make plans and predictions for the future, enabling them to adjust their marketing and communication strategy for each group accordingly.
2. Is Extended Enterprise Online Training Affordable?
Extended enterprise online training isn't free. It's an investment and must be viewed as such, as there are extended enterprise Learning Management Systems that may seem somewhat expensive. However, when you are training external partners and customers, there is always revenue to be had. There are two basic reasons for this: (1) synergy across the network is achieved more easily and (2) your brand awareness spreads widely, giving added value to your products and having a positive effect on your ROI.
3. How Much Customization Does An Extended Enterprise LMS Need?
Knowledge attained from an extended enterprise online training program must always be connected with your brand's name. Your colors, slogans, logo, and company name should be all over the extended enterprise LMS you use. Remember, there is a dual purpose for this: First, to provide knowledge and skills to your external partners and customers. Second, to make them partakers of your corporate identity. Thereby, an extended enterprise LMS software that can be easily customized is always a must.
4. Should The LMS Vendor Provide Security And Support Services?
Given that an extended enterprise LMS is, by default, supposed to grant access to multiple users from all around the globe, security is of utmost importance. Due to the very nature of extended enterprise Learning Management Systems, it is necessary that the LMS vendor is able to guarantee "security valves" and support services that will provide on-the-spot help as soon as possible. If not, this may put at risk the credibility of your extended enterprise online training program, creating negative implications for your brand.
It is always a good idea to test the support services offered by the LMS vendor during the LMS trial period. Come up with inquiries matching the training requirements of your organization and make sure that the services offered are those you need. Last but not least, try to foresee not only potential requirements of your remote learners, such as offline access, localization issues, etc., but also the limitations your remote learners are likely to face, such as authentication issues, secure access, etc.
5. What Type Of Reporting Should I Expect From Extended Enterprise LMS Software?
LMS reports are a must-have when attempting to train such a diverse group of remote learners. They offer insight as to whether your online training course and your external partners are heading in the right direction, and they provide information about what your audience has learned from the extended enterprise online training. In the case that faults are detected, you will have sufficient feedback to analyze what went wrong and be able to take corrective actions. Some indicative LMS reports your extended enterprise LMS may provide range from simple LMS reports, such as learner participation, performance scores, course completion, and user satisfaction rates to more advanced, such as certification tracking.
6. Do I Need To Have IT And Programming Knowledge To Successfully Implement An Extensive Enterprise LMS?
Over the past years, Learning Management Systems have come a long way, offering features that people with little or no programming knowledge at all can manage. Given the increasing demand for extended enterprise Learning Management Systems, LMS vendors have realized that most companies lack specialized personnel to successfully implement an extended enterprise LMS platform. Therefore, they identified the need to not only facilitate the implementation process for their clients but also to provide IT staff and online support services for every step of the implementation process. Depending on their pricing policy, this service may be charged for an extra fee or may be included in the package.
7. How Do I Achieve Learner Engagement With An Extended Enterprise LMS?
Smart design and witty branding are essential to start with. This is why you must search for an extended enterprise LMS that is easily customizable, user-friendly, and device-responsive. Your external partners should be able to familiarize themselves with the learning environment and engage with your online training content without any technical obstacles in their way.
8. Do I Need An Extended Enterprise LMS With eCommerce Features?
This depends on whether you plan to offer extended enterprise online training for free or for a fee. Think about who your target audience is and if there is a chance that the online training content you include could be of interest to wider audiences. Unless you have decided to offer extended enterprise online training only to your external partners for free, you should select an extended enterprise LMS with eCommerce features, such as a shopping cart, an online payment gateway for credit card payments, etc.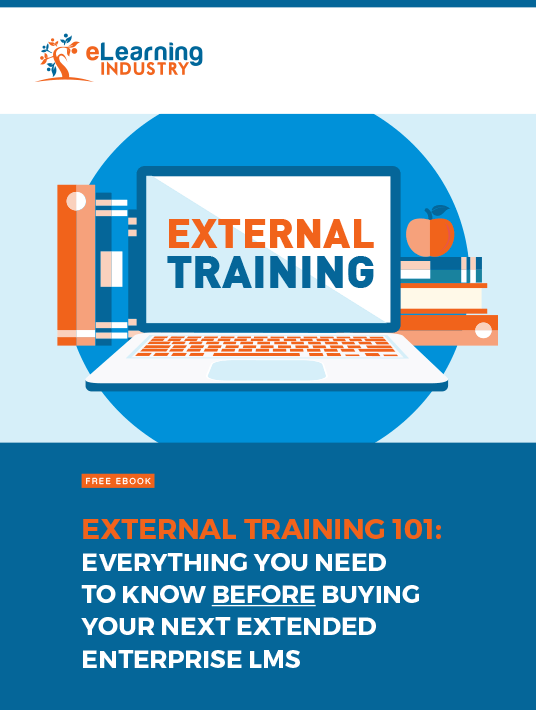 eBook Release
External Training 101: Everything You Need To Know BEFORE Buying Your Next Extended Enterprise LMS
Learn how external partner training can improve your profit margins and discover how to find the perfect extended enterprise LMS platform and create a more accurate budget.
The List Of Lists In Retrospect
All in all, we hope you have enjoyed this ride with us. Please let us know your thoughts about those who have made this list. All featured vendors continue to strive to be an industry leader in the eLearning field. While gathering information to make a list is valuable, it is also highly important for us to hear from our users.
Feel free to leave a review regarding the above-mentioned participants.