Bringing You The Very Best In The eLearning Field
It's always important to know what you are buying. In the best cases, you have been able to test the product to become fully acclimatized to it and feel committed towards it. The same goes for LMSs. Who doesn't love a list? A list which creates an immense amount of value for those in need of a new LMS who simultaneously require to make use of a free demo before they decide to make the final purchase. We have assembled a list for you, containing the very best LMS Vendors in the eLearning business. A list of those vendors who realize the value of showcasing their product by offering a free LMS demo. To eventually help prospects become buyers. What better asset to have as an LMS vendor than making the user feel confident through a playful introduction to your product. Before presenting you with the list, we would like to take a deep dive into the best consecutive steps to take when looking for an LMS demo.
Best Steps To Take When Looking For An LMS Demo
When you are trying to reach a decision about which LMS to select, you'll be able to take part in live LMS demos from several different vendors. Each vendor competes for your attention with unique features and attempts to get you engaged with the LMS demo in order to convert you to a buyer (and believer) of the product.
The Timing Of An LMS Demo Is Important
To benefit from your LMS demo you'll need to be prepared. There is no reason to schedule a demo early on, in a rush, if you haven't done your research first. You need to investigate and be thorough so as not to risk wasting time for a platform that is not ideal for your company.
Ask For Extra Material From Qualified Vendors
Ask for printed material or an eBook regarding each LMS program to get more detailed information and decide which LMS fits your company's needs. Smart buyers define their requirements professionally. They only evaluate qualified vendors and opt to choose the ones who can truly persuade when it comes to functionality and price. Choose a value-for-money LMS that poses a true competitive distinction.
Be Clear On Your LMS Needs
Make sure to determine very clearly what your LMS needs are and see what solution each LMS vendor proposes. It is always smart to do research on each company. By becoming accustomed to their main products, current learning environment, and desired future roadmap, you can formulate questions in advance to ask throughout the LMS demo. If you are thinking of investing considerably in your new LMS, you'll definitely want to "meet" senior executives.
Shortlist Which LMS Demos You Want To Check
There are so many vendors out there, making it hard to figure out which LMS to choose. You can reach to a conclusion more easily if you create a shortlist. I recommend that you research 5-10 LMS software by taking specific features into account. After your research, you could request a demo with the top 3 to 5 competitors that match your requirements. Creating a list is always a good way to make the selection process more manageable and overall more insightful.
Read LMS Reviews Before Deciding To Invest In An LMS
Before deciding to schedule an LMS demo it is a great idea to read LMS reviews by other customers. You can find reviews from actual key stakeholders, such as users and decision-makers, that have directly interacted with LMSs on eLearning Industry's LMS directory, or you can visit each vendor's listing individually.
If you feel you could make a useful contribution for the community, please do leave a review of your LMS Software Experience. We love being able to create the Top 20 Learning Management Systems for 2019 together with our community members.
Find Out Who Your Decision Makers Will Be
Decide carefully who will be making final purchasing decisions. Also, consider having an influencer or general audience to get extra opinions on the LMS demo. Having an administrator, for a more in-depth approach might work great on deciding which is the best LMS for your needs. However, your executives' responses are clearly the ones that are going to influence the result.
Preparations Before A Demo
It's a good idea to prepare a spreadsheet for your observations before the LMS demo presentation takes place. This way you can keep track and compare details about each LMS. By pointing out the pros and cons, you can, later on, decide if the product you're interested in lives up to the expectations. You might like to score each feature, depending on its importance.
Choose Tactfully Which LMS Features You Actually Need
Relying on generic company differentiation should be avoided. Be accurate in regard to your LMS features needs. Whether it entails social learning, text notifications, ad-hoc reports or even a possibility for webinar integration. Choose the right LMS vendor for your requirements. There is no reason to go for an LMS demo if the vendor's product doesn't meet all your expectations. Don't take the presentation lightly. This is your opportunity to ask for customer retention rates and maybe even request substantial context from the vendor. A personalized (one-on-one) consultation about how an LMS could meet your needs, will be of more value to you in the long run.
Share Your Common LMS Challenges
If it is the first time you are investing in an LMS, make sure to inform each vendor what you hope to gain by taking this step. Are there any current issues you need to fix? In case you want to replace your LMS with a new one, state the exact reasons for your current dissatisfaction. As you provide each LMS vendor with more information, you grant them a significant image of the matters you are looking to resolve. In this way, they can further assist you with detailed information, case studies and other context-specific data which highlights why their LMS software might be ideal for your business.
Find Out What Types Of LMS Demo Exist
Some vendors might offer a very elaborate pre-recorded overview video. Others create generic presentations or very short tours showcasing their LMS. Depending on the time you want to invest, you can choose your LMS demo accordingly. An effective LMS selection process is hard. Consider factors that matter most to your employee training needs when choosing a learning management system. Avoiding common LMS selection missteps is key. Saves time and ultimately money!
Evaluate The Quality Of An LMS Demo
Since you're spending your time on an LMS demo, the quality of the LMS presentation is important. As soon as you express your interest to a specific vendor, you should receive a detailed consultation related to the pain points that this LMS can remove from your business. A demo with an LMS version has to be of great value to be worthy of your time. The content of the demo is going to determine how useful it is. Hopefully, the LMS demo does not merely consist of a sales pitch. A quality LMS demo should do the following at the very least: give you a preview of the features, help you get a feel for the learning platform, show in an extremely clear manner that it is user-friendly. Take advantage of the opportunity and speak with the vendor's expert in depth. This will help you decide if the LMS meets specific requirements for your business.
Now that you have armed yourself with best practice for choosing an LMS and taking part in an LMS demo, it's time to take a look at this top-notch list of Best LMS Vendors Offering An LMS Demo. We'll take you on an extensive trip along some of the most excellent providers of Learning Management Systems. Find out who offers the possibility of a demo, so you make the perfect decision; one which fits your company's needs.
The 20 Best LMS Vendors Offering An LMS Demo
You are on the verge of purchasing an LMS, and all you need is a little convincing. Or you may be ready to finally take the leap and replace the LMS which you have been using for years. However, you need to be sure that the new one will be 'righting all the wrongs' that you were experiencing up until now. No matter which category you fall into, an LMS demo can help you make an excellent choice for your online training program. The list below features the best 20 LMS vendors that offer a free LMS demo, giving you the opportunity to simulate the learning solution each one has to offer. You can also read about which forms you will be filling in, what it takes to book an LMS demo, and how each company guides you through the process.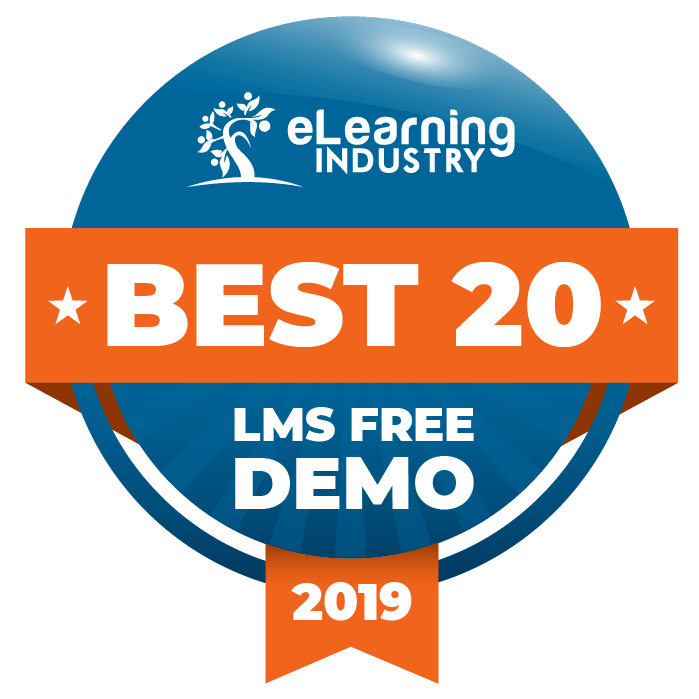 If you are among the Top 20 Learning Management Systems Offering An LMS Demo, feel free to add this badge to your website!
You can send your free LMS demo request to their email or fill out a simple form for an Adobe representative to contact directly. This popular LMS software features a Fluidic Player, intuitive User Interface, one-click publishing, and offline learning support for easy access. You can also keep your external partners in the know, and migrate data from your existing LMS without a headache.
Plans And Pricing
Various premium options are available. Captivate Prime utilizes a per-registered user pricing model. The price is $4 a month for every registered learner with a minimum number of 10 users in order to get the license. For more pricing information check their website.
Achievements
Adobe Captivate Prime lands on the 2nd position among the best Learning Management Systems based on User Experience. You will find them leading in top 20 Extended Enterprise LMS (1st), best 20 Customer Training LMS (1st), and best 20 LMS offering trial (1st).
Read Adobe Captivate Prime reviews and discover how other eLearning Industry community members have experienced the software.
LearnUpon helps businesses get more out of corporate learning. LearnUpon's LMS is purpose-built to be powerful, scalable, and simple to use. It's learning as it should be. LearnUpon ensures you can deliver training that adds real value to your business. Built to scale, LearnUpon helps you train every learner and every audience so you can meet your specific learning needs.
Plans And Pricing
LearnUpon offers LMS Pricing that scales with you. No hidden fees, no credit card required. Pricing plans that work for growing businesses. All of their plans start with a free trial. There is no risk, no obligation, and no credit card required. At any time during your trial, you can upgrade to one of their paid plans and retain all of your branding, settings, and information. All of their packages are billed annually; starting at the "Basic €499/mo", going onto the "Essential €799/mo", you can then upscale to "Premium €1,499/mo" and Enterprise which offers a variety of premium features.
Achievements
LearnUpon is doing really well so far, ranking 7th best for Learning Management Systems based on User Experience and 4th when it comes to best Value for Money Learning Management Systems for Small Businesses (SMBs)
Check LearnUpon's customer reviews!
When Docebo states it can supercharge your corporate eLearning programs offering a personalized LMS demo, few organizations will be able to resist it. Get started by filling in your name, company name, its size, business email, phone, and country. Plus, a few details about your intention of buying or replacing an LMS in the next 12 months. Docebo offers the complete package, including gamification support, white labeling, certifications, and even a content marketplace.
Plans And Pricing
Pricing plans are designed to be scalable and accommodate the growing learning needs of Enterprise companies. "Growth" is ideal to quickly launch eLearning projects up to 300 users. The "Enterprise" plan is designed for high-performing organizations looking for an advanced eLearning solution, as it comes with regional cloud hosting, SSO, top-industry SLA and superior onboarding/implementation.
Achievements
Docebo ranks 20th on the list with the best Learning Management Systems based on Customer Experience. It is also high in the lists of top 20 Extended Enterprise LMS (2nd), best 20 Customer Training LMS (3rd), and best 20 LMS offering trial (2nd). Of course, it is included in the ultimate list of Cloud-Based LMS.
Check Docebo LMS customer reviews!
Provide your basic info to sign up for a personalized tour of the LMS software, which also grants you access to a free trial afterward. You are able to ask questions and explore the features firsthand, such as their built-in event scheduler or report generator. Looop also makes it easy to create online training resources with the help of their drag-and-drop interface.
Plans And Pricing
There are pricing plans for small business ($299/month), mid-size ($699/month), and enterprise ($1199/month)
Achievements
Looop LMS is acing it so far, holding the top position in both the Top 20 of the best Learning Management Systems based on User Experience, and the Top 20 of the best Learning Management Systems based on Customer Experience.
Read Looop's reviews to discover how other eLearning Industry community members have experienced the software.
Redefine corporate training and what you should expect in a modern LMS. Inquisiq's new innovative concepts in user experience engages users, reduces administration and cost, and allows your organization to ascend to new levels of performance. Let them show you around their Inquisiq LMS and explore how it solves your specific training challenges by booking a demo with them.
Plans And Pricing
Forget the "one-size-fits-all" pricing model, take advantage of LMS pricing tailored specifically to your organization. Inquisiq offers multiple product configurations and billing options to meet your specific business (and your budget). Inquisiq LMS is offered exclusively on a Software-as-a-Service (SaaS) basis, billing cycle options include month-to-month, quarterly pre-pay, and annual pre-pay – with discount incentives for pre-payment.
Achievements
Inquisiq ranks 6th best for Learning Management Systems based on User Experience and 16th when it comes to best Value for Money Learning Management Systems for Small Businesses (SMBs)
Check Inquisiq's customer reviews!
Mindflash is an industry-leading, cloud-based learning management solution for the extended enterprise, enabling large and fast-growing companies to deliver frequent training on business-critical topics to thousands of contractors and channel partners. They deliver breakthrough innovations in the areas of content creation, business analytics, program management, and enterprise integration. Schedule a live demo and talk to a Mindflash product expert for 15 minutes. Determine whether Mindflash is a good fit for your needs.
Plans And Pricing
For teams launching initial programs, they have a "standard" plan. Offering a core functionality to create, manage and track training effortlessly. For a "Premium" price you will get access to advanced functionality for organizations with global, blended training and distinct content needs. Lastly, there is a complete "enterprise" solution for large programs requiring automated management and a 100% branded experience. Different pricing for different businesses.
Read what Mindflash LMS customers are saying.
360Learning is a pioneering platform that delivers Collaborative Learning in a unique way and helps L&D teams embed collaboration into the flow of work. Enough with top-down learning. Enter the new world of Collaborative Learning. Check their demo to discover al of your options.
Plans And Pricing
You can choose from numerous pricing models adjusted by user, training program, or public MOOC, with declining rates as the number of users increases.
Achievements
360Learning holds places in top 20 Extended Enterprise LMS (7th), and best 20 LMS offering trial (4th).
If you want to find out what customers say about 360Learning, take a look at the reviews here.
iSpring Learn is an award-winning corporate training platform, perfectly integrated with a powerful authoring tool. Start your eLearning with no experts and training required. Schedule free demo to earn everything you want to know about iSpring Learn in a 30-minute webinar.
Plans And Pricing
The plans available start from $167/month ($1,670/year, or $3.4/user/month). This pricing applies for up to 50 active users. Apart from the fixed packages, there are also tailor-made solutions to be agreed with the vendor.
Achievements
iSpring Learn has made it to the 3rd position of the best Learning Management Systems based on User Experience, and equally 3rd on the top 20 of the best Learning Management Systems based on Customer Experience. You'll find their name in top 20 Extended Enterprise LMS (3rd), best 20 Customer Training LMS (2nd), best 20 LMS offering trial (8th), and the ultimate list of Cloud-Based LMS.
This is where you can look up reviews on iSpring Learn
Go Beyond Microlearning with this disruptive new platform that delivers personalized training, amazing analytics and rapid course authoring all wrapped in a stunning user experience. Check out their on-demand videos and whitepapers that detail the ins and outs of how to use OttoLearn and how to efficiently create your content.
Plans And Pricing
Their user-based plans based on your number of learners all come with unlimited usage. Their plans are ideal for organizations with a fixed number of small users who are serious about knowledge retention. From a free plan, to $100 /month to $500 /month to $1,000 /month.
For more information on OttoLearn Microlearning, reviews can be found here.
Northpass lets you make online training become your competitive advantage again. Their cloud-based LMS provides the tools you need to create online courses and optimize your training operations, no matter how small or large your learner base. Use their Northpass Bot to book a demo and see if it's a great fit for you!
Plans And Pricing
Νorthpass pricing supports the unique needs of your training program and helps to deliver a positive ROI on your learning initiatives. Whether you're training thousands of external learners, or onboarding a steady number of employees, they have a plan that aligns with your goals.
Check Northpass reviews to discover how other eLearning Industry community members have experienced the software.
Identify skill & compliance gaps, deliver consistent training, & build a stronger workforce with Convergence LMS. Import eLearning courses, documents, videos, or create custom content. Easy integration with HRIS, eCommerce, & other LMS software. A demo is available for anyone interested in using their services
Plans And Pricing
Pricing details for Industrial & Manufacturing LMS are not publicly available. Interested buyers can request for their enterprise pricing details using a contact form on the product's official website.
Check Convergence LMS's customer reviews!
Inquisiq R4 is a Learning Management System with a higher level of features, advanced reporting, and powerful automation. They focus on exceptional LMS functionality and ease of use to fit any budget. Request a Free eLearning Consultation with them!
Plans And Pricing
Inquisiq is available as a monthly user-based SaaS account or an unlimited user perpetual license. You can select a pricing model that best fits your needs, varying from $200 to $1200!
This is where you can look up for reviews on Inquisiq R4.
CoreAchieve is an intuitive, cloud LMS that has been developed to maximize usability and affordability for wide-spread distribution. You can use CoreAchieve to train internal employees, external customers or both! With CoreAchieve you have an option to subscribe to their e-Learning SaaS solution and start using it simply as is. With an unlimited number of end users and learning objects, CoreAchieve can support an entire organization - large or small. They have tested it for up to 5,000 concurrent users with no delays.
Plans And Pricing
Various pricing options are available. From the basic which is $299/mo for up to 100 ACTIVE users to the premium which costs $1219 / mo and facilitates up to 500 ACTIVE users
This is where you can find reviews for CoreAchieve
Need to deliver compliance or soft skills training for 500 - 10,000+ learners? SmarterU can supply what you need in an LMS - backed by their responsive Customer Care team for coaching, training, support. Providing both a Learning Management System (LMS) and Online Training Course Design. Ask for a demo. Let them introduce you to their beautiful, powerful LMS through their pre-recorded explainer videos. Learn how SmarterU can reduce your training pain!
Plans And Pricing
Choose an 'Enterprise Plan' which is ideal for large organizations with room to grow from 500–5,000+ learners. Choose a "Corporate Plan"for organizations with up to 300 learners.
Read what other members in the eLearning Industry community say about SmarterU LMS
30 seconds is all it will take to schedule an LMS demo with eFront. Simply provide your basic contact info, select a username and password, then choose your industry. According to customer testimonials, eFront Learning Management System is best described as a complete solution, offering effective management and full support. It has an assessment engine, eLearning course marketplace, learning paths, and video conference support, just to name a few standout features.
Plans And Pricing
All plans are billed annually and prices apply to both on-premise and private cloud solutions.
For reviews on eFront, check here.
NetDimensions LMS provides secure, flexible, and practical enterprise LMS solutions to personalize learning, share knowledge, foster collaboration, and manage compliance for employees, clients, partners, and suppliers. See how PeopleFluent helps you hire, develop, and advance a skilled and motivated workforce by taking a demo.
Plans And Pricing
Pricing details vary from £6 to £16 per person per year.
If you are interested in what other eLearning Industry community members have to say about NetDimensions LMS, read the reviews here.
GnosisConnect with its intuitive dashboard is the most user-friendly LMS in the market. Built to manage a truly blended learning environment, and delivered on all devices to provide access to information, when, and how, you want it. GnosisConnect allows you to access multiple types of learning modalities from a simple and intuitive interface. Access E-Learning, Video, Simulation, Webpage, PDF, Document, Slide Deck, Podcast, and Webinar anytime and anywhere and through any device!
They offer digital learning experiences and a learning management system (LMS) for the knowledge economy.
Plans And Pricing
Direct contact with the vendor is required. Pricing packages start from $300 and vary according to the plan purchased.
Achievements
GnosisConnect features in the best 20 LMS offering trial (7th).
Wondering how others are experiencing the software? Read GnosisConnect reviews here.
Agylia works with enterprise, public sector, not-for-profit and membership organizations worldwide. The Agylia LMS is a powerful learning platform with mobile, social and microlearning features that delivers today's modern learning experiences. Fully mobile, Agylia makes digital learning accessible anywhere - even offline.
Plans And Pricing
Agylia LMS pricing is based on the number of active users that will be accessing the LMS. They operate a sliding pricing scale. As the number of users on the platform increases, the price per user decreases.
Achievements
Agylia features in the best Value for Money Learning Management Systems for Small Businesses (SMBs) (18th)
Check for Agylia LMS's customer reviews!
With a primary focus on Training, Engagement and Analytics, the LatitudeLearning LMS delivers effective training programs for the employees and associates of enterprises, channel networks, franchises, dealerships and other affiliates. They can enable you to take your training program to the next level! Schedule a live demo tailored to your training program's needs.
Plans And Pricing
Their monthly user-based model provides you with a maximum number of active-users that can have an unlimited number of course enrollments. Active-users are users with active login credentials that allow them to log into the LMS. Inactive-users are users that cannot log into the LMS. There is no cost for inactive-users. All LMS user data for inactive-users is retained for reporting and analysis. Inactive-users can be reactivated at any time.
Check the latest reviews about LatitudeLearning!
Knowledge Anywhere LMS help you build and scale a powerful online training program. Powering training for over 2 million learners worldwide. "They do their job so you have more time to do yours." And in doing so offer a training platform that allows you to quickly and easily organize, manage and assign all of your in-person and online training in one place. Their LMS is quick to set up, grows with your training needs, and customizes to match your brand. Sign up for a demo today!
Plans And Pricing
There are three packages available consisting of three variations, starting from $800/month.
For a broader perspective on Knowledge Anywhere LMS, check reviews here.
Want to learn even more of what an LMS has to offer before purchasing one? Read the article The Best 20 Learning Management Systems Offering LMS Free Trials to find out how you can make the most out of an LMS test drive.
How To Get The Most Out Of Your LMS Demo: 10 Questions To Ask
There's so little time and so much ground to cover. A Learning Management System demo offers you the rare chance to see the tool in action and discover the benefits it brings to your organization. However, LMS vendors usually don't have enough room in their schedule to set aside an entire day to show you around. As such, you need to come fully prepared so that you get all the information you need to make a wise investment.
Sometimes it might take three or more LMS demos for you to reach a decision. When making a purchase it is best to be 100% sure about your LMS investment. If you are wondering 'How to Choose the best LMS' an LMS demo is the way to go. Here are 10 questions that you should ask during your next LMS demo:
1. Is The Tool Intuitive For My L&D Team?
Your L&D team should also be involved in the LMS demo. Particularly, those who will use the tool on a regular basis. You can also request to record the LMS demo if your group isn't able to attend the live session. This is primarily due to the fact that they need to test out the user-friendliness of the LMS software. They must ensure it aligns with their abilities and skills, as well as their experience levels.
2. Does It Fill A Void In My Current L&D Toolbox?
Something is missing from your L&D toolbox. But is this LMS the solution to your problem? Does it have everything you need to fill the void and provide the most effective eLearning experiences to your audience? Furthermore, you must ensure that it is compatible with your existing software to avoid replacement costs.
3. Will My Data Be Safe And Sound?
Most LMS software has advanced encryption and data safety protocols in place. However, you should still check out the LMS vendor's security measures to verify that they meet your standards. Especially if you're dealing with sensitive data that cannot fall into the wrong hands. Also, ensure that the login procedures help deter "password guessers" by limiting the number of attempts.
4. Does The LMS Support Multiple Languages?
If you're catering to a multinational workforce, you need an LMS that can support multiple languages. The LMS may also include a geolocation feature that may automatically translate the language based on the user's location. For example, online learners in France are greeted with a login and welcome page in French while US-based users receive the standard English version of the LMS interface.
5. Which Support Services Are Included In The Package?
Different LMS software comes with different support packages. While some have active online user communities and email contact forms, others feature 24/7 phone support so that you can reach a qualified LMS expert round the clock. Ask the LMS vendor which support services come standard with your subscription/license, as well as which updates and upgrades are included in the price.
6. Can I Deploy Multiplatform-Friendly Content?
Modern learners expect their eLearning resources to be accessible on virtually any device, including the latest smartphones. To achieve this, the LMS should be fully responsive so that you don't have to create entirely new content for each platform. The LMS automatically detects the online learners' device and displays the appropriate version. You must also be able to preview every breakpoint to ensure that everything is as it should be.
7. Are The Reporting Features Up To The Task?
An essential perk of using a Learning Management System is that you can monitor user performance and progress, in addition to the overall effectiveness of the online training content so that you can identify areas for improvement. Therefore, the reporting features of a Learning Management System must meet your requirements and, preferably, offer customizable reports. Another feature to look for during the LMS demo is report delivery. Are you able to automatically generate reports every week that are automatically delivered via email? Does the metric dashboard have data visualizations to make the analysis less time-consuming?
8. Does It Support Social/Informal Learning Experiences?
Another quintessential feature modern learners look for is social and informal learning opportunities that enrich the online training experience. Which is why you need to consider whether your prospective LMS can support and track impromptu learning activities. For instance, allow online learners to access an online forum or informal group activity. Then, the LMS gives them credit where credit is due and updates their user profile.
9. Will The LMS Scale To Meet My Evolving Needs?
Your organization may expand in the coming months or years. If the current LMS isn't able to scale with you, this requires another round of vetting to find a replacement. Not to mention, another sizable investment. For this reason, you must verify that the LMS can expand and evolve as your organization's goals change, as well as to keep up with emerging tech trends and advancements. Will it accommodate a growing number of users? Does the LMS vendor provide periodic updates to improve the functionality?
10. Are The Features Worth The Expense?
This is the ultimate question, as it has the power to negate all the previous answers. Even if the tool has everything you need, is it really worth the cost? Or can you find a similar product in a lower price bracket, without sacrificing any of the essentials? Keep in mind that there are some benefits which are more difficult to quantify. For instance, superior support services may push the LMS over the top by drastically improving the usability of the tool.
We hope these 10 questions are a useful supplement or addition to your journey as well as the best practices we recommended at the beginning of this article for when you are looking for an LMS demo. Some of the questions may have already been addressed during your initial evaluation with the LMS vendor. It's never a bad idea to have them on hand, just in case you need to filter out any ambiguities or if you're having trouble deciding between the top choices on your list.
Reflection On The Results Of The Best 20 Learning Management Systems Offering An LMS Demo
As you can tell, the choices for vendors who offer the possibility of an LMS demo are plentiful. This means that the amount of time you have available for going into the LMS demo procedure is a factor you have to take into consideration when planning. This way you will hold the power to simplify the LMS selection and implementation process. Always bear in mind that there is valuable information to be found and there are more options to be explored in eLearning Industry's Learning Management Systems directory.
Picking the right LMS demo for your organization doesn't have to be stressful nor resource-draining. eLearning Industry is here to help you get Free LMS consulting which is tailored to your needs. It's important to keep into consideration that exploring the platform before you make the investment is worth the energy. It ensures that you and your L&D team find a tool that has all the features you require and aligns with your experience level.
Picking the perfect LMS software can be determined by something as simple as an LMS vendor's concise response or one that was tailored to your needs perfectly. Scour the list for reference to obtain a very clear picture of the best fit LMS for you. We are sure it will be insightful!
In any case, I want to wish you good luck on your journey. Have fun while searching!