How To Achieve Customer Retention And Engagement With A Customer Training LMS
Communication is key to keeping your customer engagement high. Understanding your communication style and implementing it can have a great impact on your business. Your communication style must be effective, so you have to create a successful strategy on how to establish the use of such a channel with your clients. By using the right way to communicate with your customers, you can benefit from customer retention. Such a move can surely transform your business. Your company's customer-retention rate can give critical insight into how your customers value your business. Customer retention is a Key Performance Indicator to watch out, for sure. It will help you foresee warning signs of a problem that might occur in the near future. You might realize that a new product is not working well. Or maybe, you can find out that a new salesperson or customer service asset has caused customers to leave. Getting the right feedback is important. A customer-training LMS will assist you in delivering, collecting and tracking all of the above.
Reach Out To Your Prospects To Spread Brand Awareness
You can take advantage of a customer-training LMS to deliver training to clients and customers. Maybe, you can find a way to create training courses for prospective clients as well. In collaboration with your marketing team, your Learning and Development Department can design short online courses to educate prospects about your products and services. You can show off your company culture, by delivering something that would intrigue your prospects to learn more after their first contact. By developing something that gives a bigger idea about your organization, you can share more valuable information than just waiting for prospects to understand your brand only through your website. With a customer-training LMS, you can create compelling material. Afterward, you can use it to train prospects on what to expect from your products or services.
Use A Customer-Training LMS For Your External Customers
What's good about using a customer-training LMS for your external customers is that you can control how much access they have. You can also manage what types of access these audiences should have. For example, if a ten-minute training program about the new feature of your product is enough, this is the only access you will allow. If your customer managers need to export reports to track data and see who actually took the training, you can grant them access on that.
How A Customer Training LMS Impacts ROI
Measuring your external customer ROI regarding learning programs is not an easy task. Such measurements are very different from the ones of internal corporate learning. A standard LMS—most of the times—doesn't have customer learning on a high priority. If exceptional customer service is your main focus, a customer-training LMS can help you achieve your goals. A business should focus on customer training during the customer journey. This can have a significant impact on the relationship between the customer and the vendor. You can achieve increased customer retention by understanding the needs of your customers. Customer retention will lead to higher renewal rates as well. Creating engaging content that is in alignment with your business goals will drive customers to spend more. With a customer-training LMS, you can establish an infrastructure that enables the delivery of learning opportunities to your customers. Such a tool offers all the necessary features needed to measure customer training and helps evaluate how good your investment is.
Great customer training can impact several areas of your business. An effective training strategy can bring wins for you in the long run. By measuring your training ROI you can ensure you are getting the best results. A customer-training LMS can empower you to create an effective onboarding strategy for your customers. You can map out the best features of your product and make your customers see what the product can do for them. Providing continuous customer training to explain new features will increase engagement while showing that your product keeps delivering great value. Insufficient onboarding and product training might lead to losing customers. You can avoid this by improving customer engagement and retention with a customer-training LMS. You can help your customers to get familiar with your product by creating onboarding programs. Such an LMS can also reduce the strain on customer support. You can use customer training to provide answers to frequent questions. In this way, you automatically reduce the number of questions that get your customer support later on. This will save time when it comes to common issues. As a result, your support team can focus on resolving more serious customer queries.
Deliver Top-Notch Customer Service And Resolve Complaints
Delivering top-notch customer service is one of the most important tactics when it comes to customer retention. When your customers are satisfied with your company's services, products, and customer service, they are more likely to return. On the other hand, if your service was not able to please your customers, then they might not return to do business with you again. Exceeding your customers' expectations should be your main goal. Make sure that all your associates provide top customer service. In addition, aim at keeping customer satisfaction high. Requesting customer feedback will help increase trust between your business and your customers. Show your customers that their opinion really matters. You could use your customer service LMS to create courses or other material based on valuable customer feedback. Paying attention to customer feedback is really important.
Of course, it is impossible to please every single customer. Yet, resolving complaints quickly is equally essential. It is common that your teams might deal with the same complaints most of the time. Even if this is the case, some unsatisfied customers might choose to stop collaborating with your business. You should focus on resolving every complaint fast because this move will double customer loyalty rates. Sometimes, resolving issues quickly might not be enough. In this case, you might like to show generosity towards your clients. Always keep communication on high standards. If dissatisfaction is on a high level, you can offer them a discount or free material. Your main goal is to get your customers to come back to do business with you. Have in mind that getting a complaint from a client is not a bad thing. Consider complaints as helpful feedback that will help you improve your products and services. After all, every good business aims to deliver great quality of service.
So, do encourage your customers to share their feedback. If just encouraging them is not enough to get the feedback you need, consider rewarding them when they share their opinion. You might even manage to collect some new ideas for improvement if you give them the right incentive. This can be done by asking for reviews or giving them forms to fill out after they buy your product. You might also ask your customers to complete a satisfaction survey. Another good idea would be to encourage your customers to be part of an online community and contribute regularly to it. Imagine if you could bring your top clients together in an online community and allow them to influence your product development. If business growth is one of your future plans, an investment in a customer-training LMS will increase customer engagement and retention. When customers participate in client advisory panels and forums, things start getting a lot more interesting. By investing in a customer-training LMS, you can easily create such environments and benefit from them.
Invert Customer Dissatisfaction By Getting The Right Feedback
In some situations, customers might seem a bit disloyal towards a brand, despite the efforts to retain them. You have to deal carefully with such cases. A strategic customer retention strategy will help determine how and if you can win back your customer's trust. In the worst-case scenario, you'll get the feedback you need to make things better next time. We all have something to learn from such an experience. You have to figure out what customers you need to convince. You should consider if it is effective to keep doing business with them or not. Such customers cost a lot to maintain, so it's not always worth the effort. Feedback is the best way to get value from your customers. All you have to do is ask and listen to their opinion. You have to figure out which reasons caused customer dissatisfaction in the first place. Asking the right questions is key to make sure you grab related information. Then, you can share your customer feedback to product managers, sales team, or even your retention team—if you have one. By making good use of the information you obtain, you can create customer retention strategies that will empower your customer satisfaction recovery. You can benefit from all of the above by creating some material or training courses to prevent this from happening again. Through your customer-training LMS, your team can deliver the right retention or win-back offers.
The Top 20 Customer Training LMS Vendors
To make the selection process easier, we have compiled a list of the Best 20 Customer Training Learning Management Systems. This way, you can decide which one better matches your needs and increase the potential of your customer training.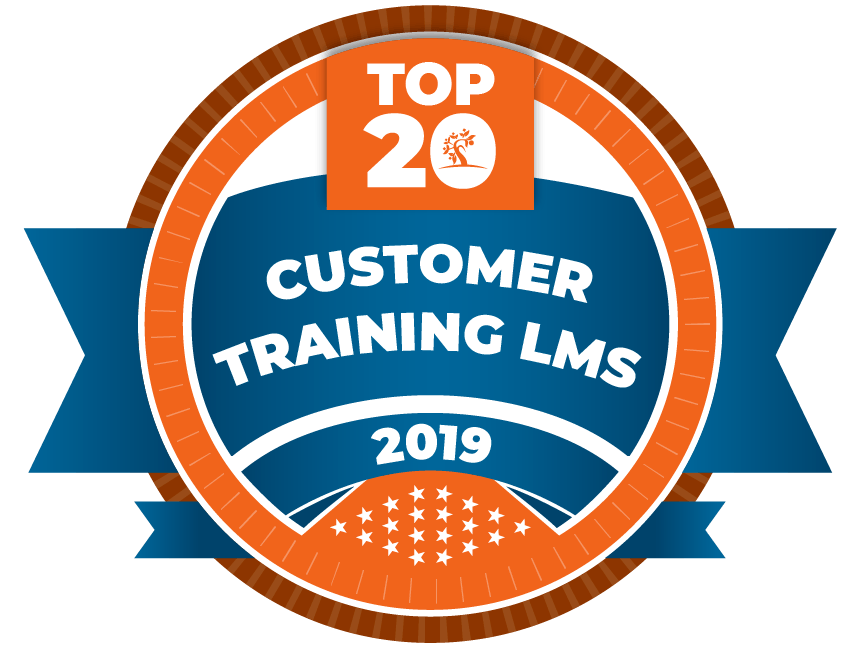 If you are among The Best 20 Customer Training Learning Management Systems 2019, feel free to add this badge to your website
This multilingual, award-winning, user-friendly LMS can confidently deliver customer training. The features at your disposal guarantee customer engagement as well as simple and secure access. This makes it an intuitive platform that not only delivers your content but tracks training and certifications, rewards learners and improves learning outcomes. Integration and skill assessments are among Docebo's strong points, while asynchronous learning will surely be of great use, too.
Achievements
Docebo ranks 20th on the list with the best Learning Management Systems based on Customer Experience. It is also high in the lists of top 20 Extended Enterprise LMS (2nd), and best 20 LMS offering trial (2nd). Of course, it is included in the ultimate list of Cloud-Based LMS.
Check Docebo LMS customer reviews!
Thanks to its learner-first approach, customers easily learn to use it. Easy to sign-on, allows self-enrollment, asynchronous, and offline learning. Certificates are included, personalization is feasible, while its mobile-friendliness, gamification features, and high-quality video streaming make Adobe Captivate Prime engaging. You, on the other side, will appreciate the ability to track learning history and the progress made on learning objectives, using its robust reporting framework that provides many options. Plus, it can be easily accessed, integrated, extended, and hosted on the cloud.
Achievements
Adobe Captivate Prime lands on the 2nd position among the best Learning Management Systems based on User Experience. You will find them leading in top 20 Extended Enterprise LMS (1st), and best 20 LMS offering trial (1st).
Read Adobe Captivate Prime reviews, and discover how other eLearning Industry community members have experienced the software.
When you need to educate your audience on a new product or service of yours, SAP Litmos can offer valuable help. Or when your customers need some training, they can get the most benefit from what you sell. Easily upload and manage content on a platform that respects the limited time and resources that participants may have. With that in mind, features for thorough tracking and eCommerce are included. Certifications and an overall personalization approach are present, too.
Achievements
They hold the 20th place in the 'Top 20 LMS User experience list' (2019), the 20th place in The Best Learning Management Systems based on Customer Experience list and are featured on the 'Ultimate List of cloud LMS.'
You can read reviews on the above features and the whole experience of using SAP Litmos LMS, here.
Mindflash is an industry-leading, cloud-based Learning Management solution for the extended enterprise, enabling large and fast-growing companies to deliver frequent training on business-critical topics to thousands of contractors and channel partners. Mindflash delivers breakthrough innovations in the areas of content creation, business analytics, program management, and enterprise integration.
Achievements
Mindflash LMS holds the 6th position on the Best 20 LMS Demos list and the 7th position on The Best 20 Learning Management Systems Offering LMS Free Trials.
You can read reviews on the above features and the whole experience of using Mindflash LMS, here.
Take a look at this modern, cloud-based LMS that allows organizations to swiftly and easily train their customers. Known for being quick to set up, simple to use, scalable and secure, LearnUpon LMS offers a fast, clean and modern User Interface which is responsive across all devices. This is a reliable solution, committed to continuously improve its platform so it will get better over the life of your relationship with it. Here, you will find almost any feature you could ask to implement your customer training, which makes LearnUpon a case of customer satisfaction guaranteed.
Achievements
LearnUpon is doing really well so far, ranking 1st on Best LMS based on Customer Experience ranking 7th best for Learning Management Systems based on User Experience, 4th when it comes to 'Best Value for Money Learning Management Systems for Small Businesses (SMBs') as well as 2nd on 'The Best 20 Learning Management Systems Offering An LMS Demo (2019 Update)'.
For a broader image of LearnUpon, check reviews here.
This is a case of a super-easy cloud LMS that makes effective usage of your time and maximizes the training output. Their motto is "An educated customer is a better customer." Therefore, they provide you with custom training software that will simplify and empower your training efforts so that your support costs will drop and customer retention will shoot up. Multilingual, with an easy-to-use content builder and a User-friendly Interface, TalentLMS is a reliable solution.
Achievements
TalentLMS is featured on many lists. Amongst which the 5th place on The Best 20 Learning Management Systems Offering LMS Free Trials (2019 Update) and the 9th place on The Best Learning Management Systems based on User Experience.
If you want to find out what customers say about TalentLMS, take a look at the reviews here.
This solution practices simplicity. And you get to reap the rewards by trusting it. With advanced reporting, you can track progress in real-time and receive several formats of reports. A variety of gamification and personalization elements are at your hand to engage your learners. They will also appreciate the option to take courses offline, enroll and sign-on whenever they wish. Note that iSpring Learn is responsibly supported and upgraded every month. Therefore, when you ask for advice, help, or improvement, you get it in no time.
Achievements
They rank 8th on The Best 20 Learning Management Systems Offering An LMS Demo (2019 Update) list and 9th on The Best 20 Learning Management Systems Offering LMS Free Trials (2019 Update) list. Seventh when it comes to customer experience. Third on The Best Learning Management Systems based on User Experience list. Fifth on the Top 10 Cloud-Based Learning Management Systems For Corporate Training (2018 Update) list.
Here, you can read eLearning Industry community members' reviews about iSpring Learn.
Looop is a learning experience platform that makes it easier than ever to deliver targeted and effective employee training anywhere, anytime. Book a demo to find out why eLearning Industry voted them #1 for User Experience and customer experience. A simple, powerful, learning platform. Looop is an easy-to-use, cloud-based learning platform that makes workplace learning dead simple. Rapidly create and deploy new resources. Make learning available on any device, at any location, at any time.
Achievements
Looop LMS is acing it so far, holding the top position in both the Top 20 of the best Learning Management Systems based on User Experience, and the second place Top 20 of the best Learning Management Systems based on Customer Experience.
This is where you can look up for reviews on Looop.
Best-suited for large companies, 360Learning is the 1st collaborative learning solution helping L&Ds engage learners in corporate training and reconnect with business. Detect, reward, and transform 5% of your employees into knowledge-sharing leaders. Enhance corporate training with an engaging, gamified Learning Experience Platform. From SCORM to Coursera, empower influencers to share course lists and leverage AI to map individualized learning paths. Enable your L&D teams to create, distribute, and continuously enhance top-performing courses. Feedback loops, human interaction, and data make 360Learning the only solution that achieves the engagement rates that drive transformation and align with C-suite goals.
Achievements
It ranks 7th on The Best 20 Learning Management Systems Offering An LMS Demo (2019 Update) list and 8th on The Best 20 Learning Management Systems Offering LMS Free Trials (2019 Update) list. Eighth on the Top 10 Cloud-Based Learning as well as on The Ultimate List Of Cloud-Based Learning Management Systems (2018 Update).
Read what 360 Learning Engagement Platform customers are saying.
Train the easy way. With Coassemble's all-in-one online training platform. Create, deliver, train and report all from the one place. Easy! One platform for companies of all shapes and sizes.
With 40+ customizable, interactive drag-and-drop templates, you can make your campus look like you do. Their mobile-responsive designs turn heads on any device, while live editing and updating capabilities let you make tweaks 24/7. So, whether you sell tap shoes or are HQed in Timbuktu, they can work for you.
Achievements
Coassemble is featured on two significant lists. They ranked 8th on 'The Best Learning Management Systems based on User Experience List' and 3rd on 'The Best Value for Money Learning Management Systems for Small Businesses (SMBs).'
For more information on Coassemble, reviews can be found here.
Create online courses, deliver exceptional learning experiences and monitor training metrics, all from a single platform. Northpass supports asynchronous learning and gives customers the ability to register and enroll on their own. Moreover, it offers you all sort of reporting and content management so you can custom-tailor your training program. User Experience is high, with various certifications, badges awarded through gamified training courses, and other personalization features. All this adds up to making Northpass a secure choice.
Achievements
Northpass ranks 10th on The Best 20 Learning Management Systems Offering An LMS Demo (2019 Update) list. And 7th on The 20 Best Learning Management Systems (2018 Update).
Check for Northpass customer reviews!
Train your employees, partners, and customers with eFront, the powerful Learning Management System that shapes to fit your needs. One learning platform, limitless functionality eFront is the enterprise Learning Management System engineered to support the most demanding and complex learning ecosystems. With eFront's powerful customization options and access to their source code, you can build an enterprise training platform unlike any other. Starting with a private cloud or on-premise hosting and advanced functionality down to the look, feel and structure, you decide what you need your training platform to do, and eFront does it.
Achievements
eFront holds place number 15 on The Best 20 Learning Management Systems Offering An LMS Demo (2019 Update) list and 11 on The Ultimate List Of Cloud-Based Learning Management Systems (2018 Update) 
For more information on eFront, reviews can be found here.
Your own video eLearning platform—developed with microlearning in mind—where you can use your videos to increase the skills of ​your key audiences—easy, fast, inexpensive and with high business value—fun and effective to use for both admin and learners. The uQualio® platform is an incredibly efficient way to make sure that your employees have the right skills. With uQualio® platform, you can get the full impact of your training videos. You can see who watched your videos; how many times, whether they understood the message, communicate with them based on their actions or lack of the same. Easily recognizable features enable users to operate intuitively without instruction—based on videos, uQualio® facilitates the learning method, proven more effective than traditional learning.
Achievements
They are placed on the 14th position on the Best 20 LMS offering Free LMS Trials.
Check the latest reviews about uQualio.
Touted as a way to train your customers online, tops at engagement and effectiveness. An award-winning microlearning platform, optimized for mobile, that works across all devices. Designed to make it incredibly easy for you to create and deliver training. Equally easy for customers to enlist and participate. Together with its reporting, attendance tracking and personalizing options, EduME is to be considered a full, competitive package for customer training.
Achievements
EduMe is featured 10th on 'The Best 20 Learning Management Systems Offering LMS Free Trials
This is where you can look up for reviews on EduME.
A powerful learning platform with mobile, social and microlearning features that delivers today's modern experiences, like gamification and blended learning. In addition, Agylia is fully mobile, making digital learning accessible anywhere, even offline. There are quick and easy ways for customers to register, enroll and participate. Likewise, organizations can track, get reports, upload content, personalize, and use eCommerce plug-ins. As a result, you get to empower your brand and your customers at the same time.
Achievements
Agylia features in the best Value for Money Learning Management Systems for Small Businesses (SMBs) (18th) as well as the +18th place on the Best LMS offering Free Demos.
Read Agylia reviews to discover how other eLearning Industry community members have experienced the software.
BrainCert is a cloud-based, all-in-one training platform that comes integrated with 4 core platforms in one unified solution—courses platform, online testing platform, HTML5 virtual classroom, and Content Management System. Your own custom branded, easy-to-use, and cloud-ready learning and teaching platform for your organization. The only LMS with built-in WebRTC powered HTML5 virtual classroom that provides real-time collaboration and state-of-the-art classroom environment for all your learners.
This is where you can find reviews for Braincert Enterprise LMS Suite.
VioletLMS is a simple to use tool enabling the smooth translation of organizational needs with our varied courses & reporting formats.
Gamification Ready
15+ languages
40+ Countries
Attractive pricing.
We're the most selected 'Go-To' LMS brand. Offering businesses with a scalable and ever-evolving learning platform to manage and track training effortlessly. On-the-go learning delivered via mobiles and tablets with easy access anytime anywhere.
Check Violet LMS reviews to discover how other eLearning Industry community members have experienced the software.
Vowel LMS is a flexible Learning Management tool that allows you the freedom to manage every form of learning within your organization—be it online, or in the classroom. Easily assign courses, track learner progress and view customized reports. Chart every user's learning journey based on individual learning curves. Vowel LMS is not only about training management—it opens up a whole new world for all your training needs! You can upload any form of content, and Vowel LMS tracks it. Create courses using the easy to use course builder. Integrate social tools to provide holistic learning.
This is where you can look up for reviews on Vowel LMS.
Skyprep LMS specializes in automating and transitioning any aspect of your customer training to an online platform, simply and painlessly. Robust analytics provide you with insight into learners' activity and what content they use most. This cloud-based platform offers asynchronous and blended learning, self-register and enrollment, and creating content. In addition, you get access to various types of reporting, badges, and certifications, along with other options for personalizing an altogether unique training experience.
This is where you can look up for reviews on Skyprep LMS.
Build a culture of Learning and Development. With Cornerstone's Learning Management software, move beyond the traditional Learning Management System (LMS) and reinvent the way Learning and Development initiatives make an impact on employees. Cornerstone solutions help employees learn and grow and, in turn, help businesses reach their potential. What is smart for business, is great for people.
Wondering how others are experiencing the software? Read Cornerstone LMS reviews here.
How To Get The Most Out Of Customer Training Learning Management Systems: 8 Questions To Ask
Keeping customers happy is the number one rule for most companies. Keeping them well informed is of equal importance. There are many things that customers don't know about the product they have bought or are interested in buying. You need to inform them. Customer training is rewarding for the companies that go after it. So, do it the right way and gain a competitive advantage in your market niche, by launching it through a customer training LMS. Below, you can find a list of 8 crucial questions to ask before you decide to proceed with customer training and search for the most suitable customer-training LMS for your organization.
1. Can I Increase Customer Retention And Engagement Through Customer Training?
Customer retention and engagement are the main goals, but definitely not the only ones. By letting buyers know more about your product and its potential uses, you increase the likelihood of turning them into loyal customers who will recommend your product to others. Guide them from the basic features and functions to more specific ones, and teach them new ways to use your product. Keeping them satisfied and engaged is a fantastic way to increase their loyalty to your brand and turn them to repeat buyers.
2. How Can Customer Training Help Me Cut Down Costs And Increase ROI?
Taking it one step further, you can safely assume that engaging prospects and current customers in customer training will give you the chance to improve your customer retention rate and cut down on other advertising and promotional costs. Informed customers will renew their trust in your company, and rarely keep your support team tied up. Another way of increasing ROI is deploying eCommerce features, which are quite common in customer-training Learning Management Systems. eCommerce gives you the option to sell your products or services by redirecting your online learners to your main website to download a demo or buy your product. Thus, through the customer training courses, you offer and, depending on the level of acceptance you have reached and the marketing techniques you've implemented, you'll get an estimable amount of sales.
3. Must Customer-Training Learning Management Systems Support Multiple Languages?
Even if you are targeting specific markets and deal with speakers of two or three languages, you should think ahead. Don't put limitations to the extent of reach your products may have. Once you launch your customer training course, you can't rule out the possibility of customers from other countries being interested. It's important to have a customer -training Learning Management System that is multilingual and allows users to easily change language settings. As a result, everyone will make the best use of your online training courses, which gives your organization a competitive advantage.
4. Which Are The Customer-Training LMS Features That Contribute To A Successful Customer Training Program?
While one prerequisite to your success is having compelling online training content, a customer-training Learning Management System is a very strong asset. It should possess all those features that contribute to delivering a unique online training experience to your customers.
Accessibility
Starting from accessibility, customer-training Learning Management Systems should be simple enough to allow easy access to the platform with a single sign-on, or even using a social media account to log in. Simple enrollment to the customer training online course with a minimum number of clicks is another advantage.
Microlearning
The online training content should be provided in the form of bite-sized online training activities targeted to a busy audience looking for specific information at the moment of need. Thereby, search options that easily locate such material maximize both course effectiveness and learner engagement.
Responsive Design
Another essential feature of your customer-training LMS is to allow for responsive design, so customers can access online training content from any device.
Ease Of Navigation
Consistency is key for a simple User Interface design. Placing navigational buttons on the same part of the screen, availability of help, as well as course navigational maps, progress bars, etc. are just some of the elements that facilitate navigation within the customer training online course.
Gamification
A customer-training LMS with gamification features offers an added-value. It not only increases learner engagement but allows customers to share their achievements on social media. Thereby, attracting new prospects and establishing your brand in the market.
Tracking And Reporting
Last but not least, a customer-training LMS should possess tracking and reporting features you can use to collect Big Data and adjust your next promotional activities accordingly.
Ultimately, all of the above features enhance User Experience, especially when you cooperate closely with your marketing, customer success, and support teams.
5. How Does Customer Training Meet The Requirements Of Each Stage Of The Customer Journey?
When setting up your customer-training strategy, one thing will prove to be of great help: to have all stages of the customer journey in mind. That is, to plan in advance the kind of support your customer training will provide at each stage of the customer's journey. This is key to customer training success. Different needs arise at each stage of the customer success lifecycle. It is crucial to recognize and address them by offering relevant online training material.
Pre-Sales Support
During the pre-sales stage, your customer-training LMS should be used to familiarize prospects with your product or service, by showing them how it can meet their needs. You can also upload testimonials and case studies to show potential buyers how your product or service has worked for other customers in the past.
During Τhe Decision-Making Process
Uploading online training tutorials and video demos to your customer-training Learning Management System can facilitate the decision-making process of potential customers. Concluding all of the online training activities by offering free demos or trials is the ultimate risk-free option you can offer potential buyers so they can evaluate your product before investing in it.
After-Sales Support
This section of the customer training may include less known features and functionalities of your product. We all know from experience that we never use 100% of the functionalities of a product we buy. Having someone show us how to take full advantage of the product maximizes ROI and increases brand loyalty.
Repeated Sales/Customer Loyalty Stage
A gamified customer training online course can go viral on social media increasing brand awareness and attracting new prospects to your business. Online surveys addressing your current customers show that you care about their opinion. You want to improve your product, a fact that also maximizes brand loyalty and increases the likelihood of getting referrals.
In addition, customer-training Learning Management Systems should be customizable to reflect your brand and mentality.
6. What Specifications Must An LMS Have To Meet Customer Training Needs?
Many features and specifications are fundamental to the success of a customer-training Learning Management System. Some of the most important are listed below:
Scalability
Your customers may multiply in no-time, or their needs and expectations may increase. The fundamental goal is to satisfy and retain them, thus grow accordingly. For this reason, you need a customer-training Learning Management System that is flexible and expandable to accommodate increasing numbers of online learners without compromising performance.
User-Friendly Interface
In terms of navigation, easy login and enrollment on the online training course are must-haves. Another highly appreciated feature is a single sign-on. It means that users won't need a separate login name and password, other than the one they already use for other corporate accounts.
Personalized Views
Allowing customers to set their own view preferences based on their personal interests is a big plus. Personalized preferences set by your online learners is a great source of Big Data that—if analyzed properly—is an excellent tool for identifying potential gaps in your niche market, which may lead to product improvements or even to completely new products.
Responsive Design
It seems crucial for the success of a customer training course to be delivered through an LMS with responsive design features. This way, online training content can be accessed on any device or browser, and your online learners can learn about your product any time they choose to.
7. Does Customer Training Work Better By Offering Personalized Training Paths?
Depending on the stage of the customer journey, prospects or your current customers are interested in different aspects of your product or service. Therefore, allowing for personalized training paths has many benefits. First, it allows for grouping your audience into categories, such as prospects, potential buyers, current buyers, referrals. As a result, you can target them accordingly: not only in terms of the online training content you allow them to access but also in terms of the promotional activities they may receive. Another important benefit is increased learner engagement, as the online training content is relevant to their needs at the particular stage of the customer journey. A personalized training path saves your online learners valuable time and increases the level of customer satisfaction with your brand. Thereby, it maximizes the effectiveness of your customer training course as well.
8. What Is The Importance Of Customer Feedback In Customer Training?
By providing and asking for customer feedback, you keep your customers informed and happy. At the same time, you get to see what the audience thinks about your product if they use it properly and whether you need to make improvements. Perhaps, your product lacks a feature your competition offers, or there are functions that are not known or not explained comprehensively.
Some of these eight questions may have already been addressed during your initial evaluation with the customer-training LMS vendor. However, they are basic questions, and you need to have them handy. They are to be considered prerequisites when narrowing down your list and during your final decision. Picking the perfect customer-training Learning Management System relies on the aforementioned questions to a significant percentage.
As you can see, there are more than plenty of customer-training Learning Management Systems. Hence, you have to prepare thoroughly and know what you want, or else the LMS selection could become complex. Always have in mind that there is some valuable help and even more options in eLearning Industry's Learning Management Systems directory.
Picking the right customer-training LMS for your organization doesn't have to be stressful and resource-draining. eLearning Industry is here to help you get free LMS consulting tailored to your needs. It's important to remember that exploring the platform before you make the investment is worth the effort. It ensures that you and your L&D team find a tool that has all the features you require and aligns with your experience level.
Want to learn even more on LMSs before purchasing one? Read the article 41 Free Learning Management System eBooks: The Ultimate List to find out how you can make the most of an LMS and download free eBooks.