Gamified Microlearning For Engaging eLearning
Microlearning refers to those short and focused learning nuggets that fit naturally into the learning workflow. Combine this with a dose of gamification, and voilà! You have a winning training solution in your hands. But hold your horses! If combining gamification with microlearning was enough, then we would all be doing it every time, wouldn't we?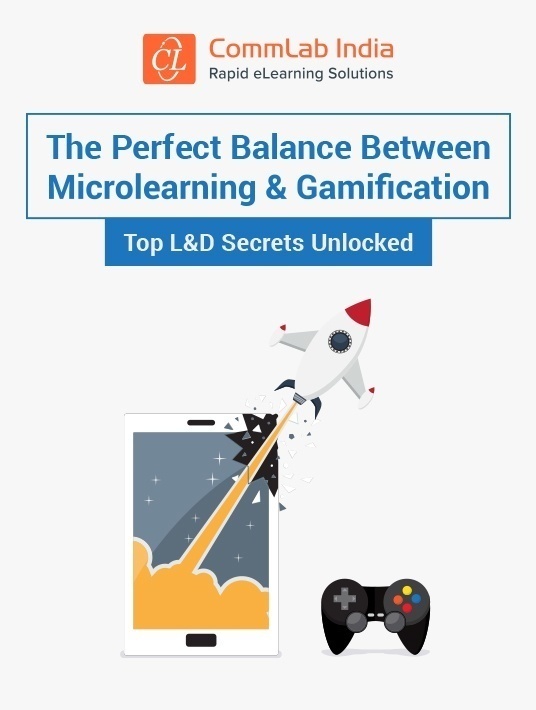 eBook Release
The Perfect Balance Between Microlearning And Gamification
Discover why microlearning is important for today's learners and why training managers should care.
There's no doubt that including gamification in learning infuses some fun into the learning experience. But gamified microlearning is not simply about throwing in a couple of micro activities and tracking points and badges on a leaderboard. If your aim is to engage learners with nuggets of top-notch eLearning content, you'll have to put in a lot of thought and planning to effectively leverage gamification in microlearning.
7 Steps To Delivering Great eLearning Content With Gamification And Microlearning
1. Focus On Performance-Based Learning
Microlearning is a much-preferred approach to learning because it:
Provides focused learning essential for learners at their moment of need
Allows learners to access it on multiple mobile devices
As the primary aim of microlearning is to improve performance, it can be used in different parts of the learning journey. It can be used as:
Pre-training
A standalone training solution
Reinforcement of learning
A performance support solution [1]
Irrespective of where you want to use microlearning, your focus should be on performance improvement. Ensure that each microlearning module helps learners meet a specific performance-based learning objective. And it all begins with the right content, without which no amount of gamification can boost learner engagement—we might only have engagement without any learning!
Here are a couple of ideas for integrating gamification into your microlearning:
Flashcards that pose questions on a topic
Micro quizzes that unlock information on the next topic/module
Progress bars that indicate a learner's progress in a module
Reflective activities that provide bonus points
After all, you want your learners to engage with the content and learn, not just gather points and badges.
2. Employ Meaningful Game Mechanics
Developers often get overwhelmed by the idea of gamifying microlearning; they end up adding meaningless game elements that add nothing to the learning experience, serving only to distract learners from the training.
On the other hand, game elements woven within the context of the training add a lot of value and engagement to the learning. Instead of letting learners score points for completing a microlearning module, challenge them with questions.
Consider a microlearning quiz or questions that pop up on flashcards intermittently during the microlearning module.
Keep them updated in real time on the points they have scored (or in a previous microlearning module in case of a microlearning curriculum).
Microlearning design follows the principle of "form follows function." This means that you choose your microlearning format depending on the purpose it is intended for [2].
For example:
An infographic or a flow chart would be a great microlearning asset when you need to help learners remember the steps in a process.
A micro quiz would work well to reinforce learning.
We had used a gamified quiz in a microlearning module that aimed to reinforce food safety practices for employees in a restaurant chain. And it was a great success. Why?
The young workforce loved the idea of gamified content.
The concept of points and rewards gave learner engagement a boost.
The microlearning module could be quickly accessed on smartphones.
3. Include Real And In-Context Scenarios
Microlearning is seen as a way to enable learners to absorb information quickly, without disrupting the flow of work.
Let's take the example of employees working on the shop floor of a manufacturing unit. They have strict deadlines for deliverables with very little time to set apart for training. If they need a refresher on, for example, safety training, microlearning with its short learning nuggets would be ideal as learning can happen within 2-10 minutes.
Gamification has proven to increase learner engagement [3]. But what if the gamification scenario is not related to their work context? Then, no amount of multimedia razzle-dazzle can help build learner engagement.
For instance, taking learners through a treasure hunt in their learning journey sounds interesting, but if it doesn't relate to the content and exists as a separate entity, it will not help learner engagement.
If content is king, context is the kingdom!
Instead, simple gamified scenarios would do the trick. And when these scenarios use characters and settings that learners can relate to at the workplace, the learning becomes sticky.
With rapid authoring tools [4], designing scenarios will not take up a lot of eLearning development time. For example, iSpring TalkMaster can be used to create branching dialog simulations quickly and it can be integrated with a scoring system for gamification.
4. Deliver Gamified, Personalized And Adaptive Microlearning
Gamified microlearning nuggets can be used to take learners on personalized learning pathways based on their role, knowledge level, department, and so on.
Organizations with a need to deliver adaptive learning and with the budget for it [5] can take it a notch further with a gamified adaptive microlearning approach.
Adaptive microlearning platforms can be leveraged to identify knowledge gaps in learners by using data from baseline tests and algorithms. The adaptive platform also delivers additional microlearning modules to plug those knowledge gaps. All this, in real time!
5. Challenge Learners To Improve Their Performance
Rather than using leaderboards to compare a learner's performance with others, why not try using a mastery board where the learner competes against themselves?
Instead of wasting time and resources on highly creative game elements, you could use the principle behind game mechanics to present content in a format that motivates learners.
When done right, gamification in microlearning can drive intrinsic motivation in learners by:
Fuelling learners' curiosity and desire to acquire knowledge
Challenging learners to beat their previous performance
Templates provided by rapid authoring tools such as Articulate 360, Adobe Captivate, iSpring Suite, and Lectora can be leveraged for the gamification of the eLearning content.
6. Provide Meaningful Feedback
One of the reasons why gamification is such a success in learning is that it provides meaningful feedback in real time. Combining gamification with microlearning in your eLearning content helps deliver effective feedback for formative assessments—very essential for effective learning.
When your learners cross a milestone, they are instantly rewarded with points that can be used to buy additional rewards or a superpower from the virtual store. A continuous feedback loop gives learners cues to assess their progress. This can happen through simulations, one-on-one interaction with a coach, or peer interactions where a coworker or mentor provides feedback.
By gamifying your microlearning, not only will you catch learners' attention, but also motivate them to proceed to the next level of learning.
7. Enhance Retention Of Knowledge
One challenge training professionals face is helping learners beat the forgetting curve [6]. The human brain processes information in small units and microlearning supports this principle of incremental learning, where the brain is encouraged to connect new information to what is already stored in its memory. This increases retention.
Hand in hand with incremental learning comes spaced retrieval. When learners are required to recall or apply the information that they have learned through interesting gamification, information is moved from short-term to long-term memory, which is what knowledge retention is all about.
Wrapping It Up
While there's no doubt that gamification and microlearning are a great combo, getting gamification right is essential if you want to see learners engaged with your eLearning content. Remember, it's not the points and badges, it's the relevance that counts. 
Download The Perfect Balance Between Microlearning And Gamification and discover how gamification brings engagement to corporate training. Also, join the webinar The Ultimate Guide To Implementing Microlearning to find out how microlearning can boost learner engagement!
References:
[1] The When and Where of Performance Support in Corporate Training
[2] What's Microlearning? An Overview of its Benefits and Formats [Video]
[3] 7 Terrific Strategies to Improve Learner Engagement in eLearning
[4] 10 FAQs About eLearning Authoring Tools
[5] 5 Questions on Adaptive Learning Answered – For Beginners
[6] 6 Ways to Beat the Forgetting Curve in Online Training
CommLab India Rapid eLearning Solutions
Working with multiple outsourcing vendors can be stressful, and a waste of time & money. With CommLab India Rapid eLearning Solutions, all your online training needs are taken care of, rapidly and economically.