Gamification And Microlearning ROI
What does your brain conjure up when hearing the term "gamification"?
"Play?" Yes!
"Fun?" Surely!
But "ROI"?
That's not something you would think when you think of gamification, is it? But here's the thing! Gamification can improve ROI and can be applied successfully to your microlearning content strategy as well.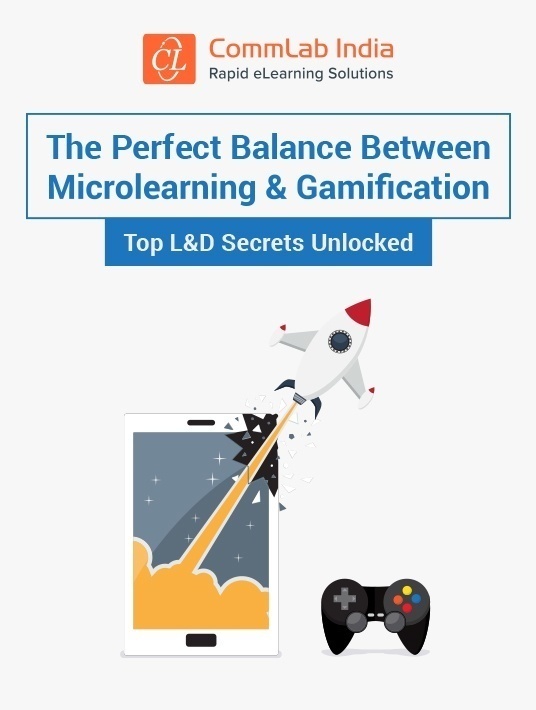 eBook Release
The Perfect Balance Between Microlearning And Gamification
Discover why microlearning is important for today's learners and why training managers should care.
Let's first understand how gamification can improve ROI. (We'll come to the microlearning content strategy a little later.) Here's an interesting example of how Starbucks used gamification to improve their supply chain management and increase profits [1].
Starbuck's suppliers were unable to distribute disposable materials (such as coffee cups and napkins) to their stores on time. There were many reasons for that, like stores placing frequent last-minute orders, improper planning, etc. The company had to resort to transporting the materials by air to meet the urgent demand, resulting in hugely increased costs.
Starbucks gamified its data center so that members of its supply chain management team could see others' performance. If a store delayed placing an order for supplies or did it at the last minute, it incurred a negative score. Good performance was rewarded with points. This transparency among suppliers, distributors, and stores helped them collaborate in real time. They got better and better at taking stock of the inventory and placing orders on time.
This magically resulted in a reduction in air shipments and the company was able to use land shipments which costed much less. And how did this improve business? Increase in profits through cost reduction!
Using Gamification To Increase The ROI Of Your Microlearning Content Strategy
Would you now like to explore the ways in which gamification can increase the ROI of your microlearning content strategy? Here you go.
1. Spend Less On Training, Not More
Rolling out an expensive training program does not by itself guarantee learner engagement. It's a fact that most people tend to learn efficiently when they have an inherent need to learn. But what about the times when you must get your learners to go through mandatory training such as compliance [2], code of conduct, or safety? Even with a full-fledged classroom or eLearning program available, there's no guarantee that the learning will be retained.
Why not try gamification in your microlearning content strategy instead? A simple scenario that rewards learners with points each time the learner makes the right decision with respect to compliance or safety would be a great strategy to increase learner engagement.
And what's more, it might cost just half of what you might otherwise spend on an extensive classroom training program. You also get the added benefit of using these microlearning assets time and again for new learners and also as refresher training—all contributing toward saving costs and increasing ROI.
2. Bridge The Gap Between Theory And Practice
Microlearning modules are designed to deliver targeted content that addresses one performance-based learning objective at a time [3]. While microlearning attempts to bridge the gap between knowledge and its application, gamification adds an additional element of "fun" and "play" and helps build an emotional connect with learners. And when emotions are involved in the learning process, learning and retention become better.
Gamifying your microlearning content strategy can be the way to go if you're looking to quickly address skill gaps in employees or equip them to meet organizational goals.
Microlearning—with scenarios and videos that mimic the real-world context—can be combined effectively with game elements (such as challenges, rewards, and rules) to successfully drive the application of learning in the real world.
And when the gap between theory and practice is reduced, it leads to improved performance and increased productivity, and therefore, increased ROI!
3. Beat The Forgetting Curve The Fun Way
Organizations spend billions of dollars on training. But what about the ROI? How many of these training programs achieve the desired ROI?
If you've heard of Herman Ebbinghaus's forgetting curve [4], you would know that almost 50% of newly learned knowledge is forgotten within a few days after training, without reinforcement of the learning. And in a couple of months after the training, you'd be lucky if your learners remember even 10% of what they were taught.
That makes refresher training an important part of the training cycle [5], without which your entire training efforts will be in vain. Microlearning modules can be used very effectively for refresher training as learners can review information frequently and as often as they need to, through their mobile devices.
Effective use of gamification in your microlearning content strategy enhances learning. Setting goals for learning activities through gamification and giving learners opportunities to practice what they have learned in a fun and risk-free environment leads to better learning and improved retention. And this gives ROI the much-desired boost.
4. Drive Long-Term Motivation
In this era of instant gratification and innumerable distractions, driving motivation in learners is an important factor for the success of a training program. While extrinsic motivators such as rewards and points increase engagement, they cannot be sustained in the long run. What you're looking for is intrinsic motivators. And when you use gamification in your microlearning content strategy, you motivate learners to successfully overcome the challenges posed, creating a sense of accomplishment and mastery—powerful intrinsic motivators.
Here's what boosting long-term motivation through gamified microlearning does to learners:
Increases commitment to participate and complete the training program
Increases learner engagement by making learning fun
Fosters healthy competition
Provides reinforcement and enhances retention
Motivated learners turn into star performers, boosting productivity and ROI!
5. Build A Continuous Learning Culture
Your microlearning content strategy should aim at building learning that sticks in order to help learners learn and apply the learning, retain information, and continue to learn.
Let's look at a few must-have factors in your microlearning program that can build a continuous learning culture.
Learner engagement
Gamification increases engagement and makes the learner eager for the next training, leading to a continuous learning culture.
Workplace productivity
Microlearning design focuses on delivering learning in small nuggets and gamification infuses an element of fun. Not only does it not take the learner away from productive work time, but it is also designed to help learners apply it instantly to their work, making it easy to inculcate a habit of continuous learning.
Collaborative work environment
Bite-sized nuggets of gamified microlearning encourage social and collaborative learning [6], leading to continuous learning.
Awareness of training resources
You can also use gamified microlearning to direct learners to other training resources to build a culture of continuous learning. 
With changing business needs, employees are required to constantly update their skillsets to meet professional as well as business goals, and this demands continuous learning.
With a microlearning content strategy in place facilitating learning in the flow of work, you can be assured of continuous learning that automatically progresses to an increased ROI.
It's A Wrap
Normally tedious learning (e.g., sales personnel memorizing features of multiple products) becomes enjoyable with gamification if it is used well. Enable analytics in your microlearning content strategy to check how your microlearning modules have increased sales or improved safety.
There you have it, the ROI that can impress your C-suite. Who knew that a step that seems so simple, introducing gamification in your microlearning content strategy can help organizations achieve the elusive ROI?
For more information on gamification in microlearning, download the eBook The Perfect Balance Between Microlearning And Gamification. Also, join the webinar The Ultimate Guide To Implementing Microlearning to find out how microlearning can boost learner engagement!
References:
[1] Gamification: a strategy to improve logistics performance.
[2] 7 Microlearning Formats for Online Compliance Training
[3] Performance-Based Objectives and Business Goals: Making the Connection
[4] How Can Microlearning Beat the Forgetting Curve?
[5] Why Choose Microlearning for Refresher Training?
[6] Collaborative Learning – Here's Everything You Need to Know!
CommLab India Rapid eLearning Solutions
Working with multiple outsourcing vendors can be stressful, and a waste of time & money. With CommLab India Rapid eLearning Solutions, all your online training needs are taken care of, rapidly and economically.