Catch And Keep Your Student's Attention
In the wake of COVID-19, eLearning is in the spotlight and facing more scrutiny than ever. The quality of the online experience is quickly becoming an important area of differentiation for companies and higher learning institutions.
While there is an abundance of technology and the sea of Learning Management Systems (LMS) is continuously improving, the challenge of delivering high-quality eLearning content will always rest with educators. Ultimately, those who deliver subject matter in a compelling way to accomplish learning objectives will rise to the top. The ability to leverage available technologies is key to creating content that catches and keeps students' attention. Sometimes, bringing in an expert to do the work, or to consult, is the most cost-effective solution.
Case Study: A Plant-Based Nutrition Certificate Course At eCornell
In 2009, the Center for Nutrition Studies (CNS) in Ithaca, NY, created one of the most popular and successful courses ever offered on eCornell, Cornell University's online continuing education platform. The Plant-Based Nutrition certificate program has graduated more than 20,000 learners since it was first offered online.
By 2018, however, it became clear that the course design was less than perfect. Like other courses offered by eCornell, Plant-Based Nutrition is hosted on the Canvas LMS platform. Students gave feedback indicating that they found the operating interface to be bland, were not inspired and engaged by the multimedia, and were confused by some of the teaching strategies. Course administrators spent an inordinate amount of time tracking and addressing these shortcomings.
When the certificate program was originally designed, it was built from scratch by educators who were extremely knowledgeable and passionate about the material but lacked experience in the professional design aspects of producing an online course. Several enthusiastic experts and luminaries in the plant-based nutrition community volunteered to appear in the course videos, adding unique insights to the subject. However, they often recorded their lectures off laptops or home video cameras without proper lighting, sound, and background considerations. The result was often substandard video and audio.
Other components of the course had similar design shortcomings. There were few universal design considerations, and the graphics lacked professional quality. The course was mostly black and white text, with all the pizazz of law and medical journals. Some course participants may not be bothered by this—dieticians and medical professionals who sign up may even be used to it. However, other audiences, including college students and young professionals, expressed a desire for a more engaging content experience.
Bringing Hollywood Style Production To The Table
Concluding that the course development team could use some expert advice for a redesign, CNS retained my AV production team to spruce up their content. I'm a long-time producer with a background in creating documentary films and TV series for channels such as A&E, Discovery, ESPN, The History Channel, Spike TV, and Animal Planet. One of my more popular productions is the documentary Forks Over Knives, about the plant-based diet and its relationship to disease. Because they were familiar with my work, CNS was confident my team could help make the course more palatable for a wider audience.
Together with a crew of production experts—including graphics artists, camera crews, editor, and a coder for the LMS—we set out to transform the course. After a top-to-bottom review, we worked to breathe life, color, and depth into every page. We added new multimedia elements to the instructor introductions and review sections. Nutritional experts were properly reshot with professional equipment, lighting, and techniques. The graphics were improved with a vibrant color palette, drop shadows, lively animation, engaging videos, and surprisingly effective animation powered efficiently by PowerPoint.
The result was a dramatically improved course experience. The CNS staff reports much better student feedback, improved retention, and higher scores in the enhanced areas. All of these upgrades may seem costly, but our team was able to achieve the desired outcomes on a limited budget. Cable channels are notorious for expecting broadcast network-level quality on minimal budgets, and we've picked up lots of cost-saving production techniques over the years.
Necessity is the mother of invention. Demand for eLearning has long been on the rise, and the need for better online instruction has never been greater. Looking to fill the gaps in high-quality course design, I've teamed up with long-time colleague and technology veteran, Brian Hall, to address this need. With my video production background and Brian's expertise in data and analytics, we co-founded eLuminate Learning to help educators "up their content game."
Together, we've assembled a group of seasoned professionals to offer a full suite of design services and address course content from every angle. Our team members have worked with leading academic institutions such as eCornell, Emory University, Washington DC School District, and numerous high-profile companies. They include experts in online education and course design, audio/video capture, LMS coding, editing and graphic design, as well as cloud data architecture, and enterprise analytics.
Meet The eLuminate Learning Team
Our mission at eLuminate Learning is to transform online education by optimizing the student experience with Hollywood-quality content and a data-driven approach to continuous improvement. In addition to hands-on production services, eLuminate Learning also consults with educators to help them improve the quality of their online courses and prepare for scale by leveraging efficient production techniques and capabilities. Ultimately, we help them better engage with students and teach them more effectively.
Conclusion
As colleges, universities, and companies give unprecedented attention to improving online education, eLearning is the next great frontier and will ultimately become a key consideration for school rankings and corporate training programs. While many corporate and academic educators often look to do everything in-house, the current demand can make it challenging to keep up. Course production and consulting experts can help educators get ahead in the eLearning game.
Receive eLuminate Learning's Methodology and Framework Here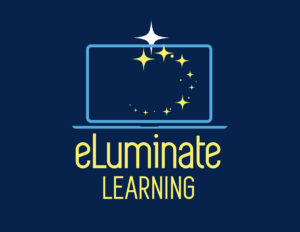 eLuminate Learning
eLearning content consulting & production services