Key Components For Impactful Compliance Training
There are different ways to shape a company culture that will make way for effective compliance training. One thing is fundamental; you have to evaluate the existing situation before channeling your efforts on improving it. This eBook will prove a valuable helper in this procedure, beginning with evaluation and hitting the spotlight on two more factors that are defined as decisive.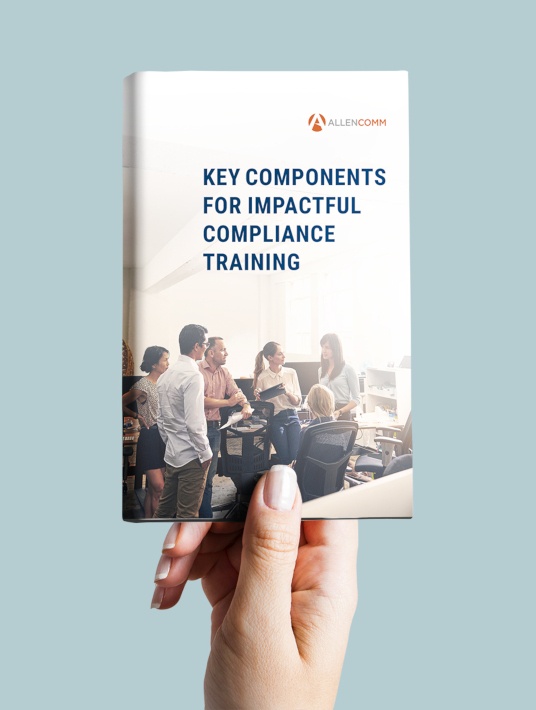 eBook Release
Key Components For Impactful Compliance Training
Discover the top elements of effective compliance training and how to get started creating your own.
Safety in the workplace relies on stability and persistence. These two are enhanced when you apply a certain methodology and stick to it. This is the one pain point where AllenComm's experience can help you out. And it expands to the third decisive factor, which is collaboration. The initiative advice, and pretty simple to work by it, is to realize that you can smoothly design and manage your compliance training by utilizing all resources that are well within your reach. More words of wisdom, are waiting to be found in the pages that follow.
About The eBook
Dealing with today's compliance concerns, Key Components For Impactful Compliance Training divides its focus between the evaluation that needs to be done to nurture a compliance culture, the best methods that will help eLearning professionals come up with a successful compliance training strategy, and the factors that weigh on finding a reliable development partner. To make this eBook even more comprehensive and useful, the authors present a list of links and resources that they used while writing.
Let's take a look at the key chapters of the eBook:
Introduction
Addressing today's compliance concerns by focusing on evaluating company culture, training methodology, and knowing when to collaborate.
Evaluation
How to create a compliance culture and a successful compliance training.
Methodology
Learn the best methods for creating a successful compliance training strategy.
Collaboration
How to find a reliable development partner and the elements to focus on while doing so.
References
Helpful links and resources used in the building of this eBook.
To start on the right foot, you must know where you stand. Thus, evaluation is of great importance. More precisely, you need to assess the level of communication, predictability, and support within your workforce. You then proceed in examining whether your compliance training has the content it should, if there are specific periods that your employees need it most, and where will they apply all they've learned.
From evaluation comes information to be used in designing your compliance training courses. Knowing that you have a variety of elements to use, you have to put them in an order. Set well-defined goals, ensure good communication, and focused instructional design. The applied methodology must also provide for monitoring, so that you can verify the results of training. A thorough mentioning of two popular and effective practices, interactive video and gamification, will surely catch your eye. The authors of Key Components For Impactful Compliance Training weigh methodology greatly, believing it makes the procedure less complex.
Closing this volume on compliance training, the spotlight falls on collaboration. This chapter is for vendors, but the role of your employees is integral as well and it's mentioned here too. While aiming for a genuine partnership with the outside L&D team, don't forget to center your attention on your company's needs. Finally, the design of your solution is on the table. Look for a flexible and scalable one, for your audience may well grow or change. These are circumstances where the experience you can find in AllenComm will be highly appreciated, time and time again.
If you want to discover how to boost productivity in a safe and happy workplace by deploying impactful compliance training, download this eBook today.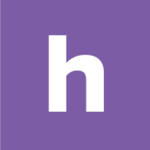 Homebase
Make work easier. Running a small business has never been harder. Homebase helps with free tools to track time and manage your team.