How To Raise Employee Performance With Continuous Learning
Many organizations make the fatal faux pas of focusing solely on employee orientation. After the new hires step into the workplace, it's up to them to seek out external training opportunities. However, while they're building skills on their own, they may just find another job that values ongoing L&D. Fortunately, you can keep your top talent and improve workplace productivity with the right LMS. Our eBook can help you choose the best system for your team. It's an invaluable resource for any organization that's considering an online training platform to promote lifelong employee development.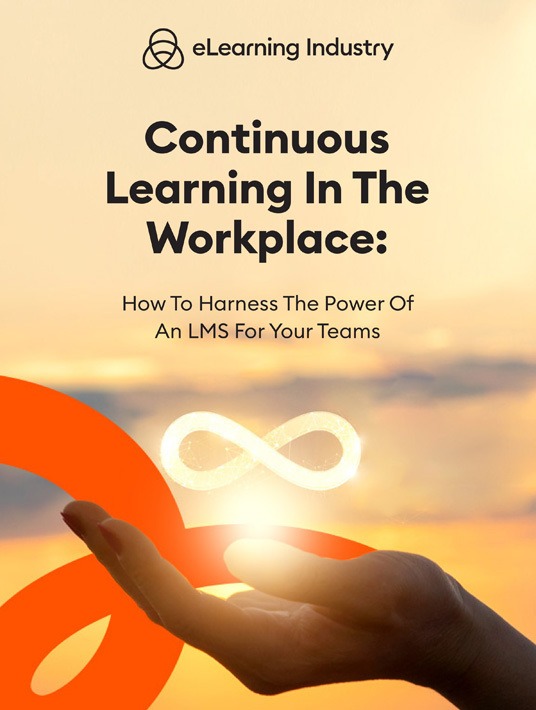 eBook Release
Continuous Learning In The Workplace: How To Harness The Power Of An LMS For Your Teams
Our guide can help you choose the best system for your team to foster continuous learning in the workplace!
The Importance Of Continuous Learning In The Workplace
Continual learning looks different for every organization. While some need to provide employees with frequently updated compliance resources because of the nature of their industry, others must address emerging performance gaps to keep customers loyal and improve sales stats. However, there are a few continuous learning expectations that every employee has. Fortunately, they can all be met with the right online training LMS and a solid employee development strategy.
Your Organization's Values Individualism
Employees assume that your organization won't take a cookie-cutter approach to L&D. That you honor individualism and will help them improve performance behaviors or skills they lack. An employee training LMS allows you to deploy personalized resources that address their problem areas and JIT expectations, such as a broad range of support tools that accommodate different preferences, goals, and gaps. This individualism should also extend to how you monitor their performance. For instance, different roles require different evaluation and assessment methods.
They're Able To Access Content On Their Device Of Choice
It's not just the quality and personalization of the content, but how employees are able to access it. Modern workers expect mobile training that goes with them and addresses their moment of need. They must be able to use their device of choice to deal with performance issues immediately. Instead of putting it on the back-burner and hoping they don't have to deal with negative repercussions. A responsive LMS that's mobile-friendly allows them to tackle work-related challenges and handle personal hurdles before making the mistake. However, they're still able to use simulations and scenarios to make the most of mistake-driven learning in safe surroundings.
Training Is Flexible And Adaptable
The path to continual learning isn't paved. It's fluid and moves along with your employees' professional pursuits and ever-evolving needs. Activities and support tools that are relevant now may not be as helpful in a year. This is why your continual learning must be flexible and adaptable. Not set in stone. You must constantly re-evaluate your organizational objectives and how employees fit into the big picture. What are their current roles and how will they change over time? What skills and topics do they need to learn now to prepare for the promotion? This flexibility also includes localization of training content. For instance, teams in different regions require resources in their own language that tie into local regulations, etc.
Collaboration Is A Given
Every organization should value performance management and give their staff ongoing support tools. Employees expect a solid training culture and community that facilitates two-way feedback. For example, they can use peer-based coaching to spot negative performance habits or simulations that subtly point out areas for improvement. Without making them feel alienated or judged by their peers. Your performance management strategy shouldn't just highlight their faults. But give them continual training tools to detect (and remedy) them autonomously and in collaborative settings.
Conclusion
Continual learning is not a luxury that only large organizations can afford. Every company must prioritize ongoing employee development to improve on-the-job performance and productivity. Thankfully, there are ways to do so on a tight timeline with limited resources so that your employees can reach their potential. You can make a strong business case for a new employee training LMS based on performance management benefits, alone. However, there are a variety of other perks it can bring to your organization. From retaining your top talent to mitigating compliance risks so that you avoid costly penalties. Continuous Learning In The Workplace: How To Harness The Power Of An LMS For Your Teams can help you select the ideal platform and implement a successful talent development program. Including how to encourage lifelong learning within your organization and overcoming the most common ongoing training challenges to improve ROI. It's free to download. But it can save you the time and expense of repairing a tarnished brand image caused by improper employee conduct.
After you get your copy of the guide, look for the best LMS for your performance management program. Our online directory features the top platforms on the market, complete with reviews, ratings, and company bios. You can also see which vendors offer free trials and demos.