Converting Your Instructor-Led Training To eLearning: 10 Benefits
The triggers for conversion of ILT to eLearning or mLearning are many. The push is coming from learners on one end (who seek the flexibility of a self-paced eLearning training offers). Organizations see this as an option to reduce costs and reach out to a wider audience in a shorter time.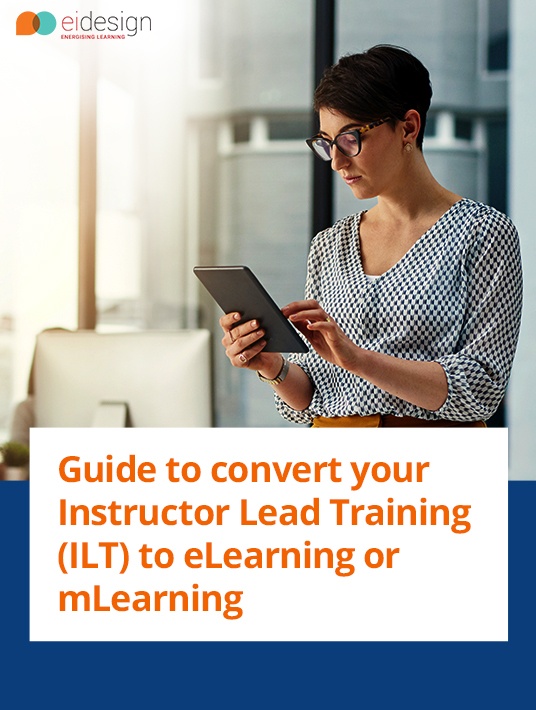 eBook Release
Guide To Convert Your Instructor Lead Training (ILT) To eLearning Or mLearning
This eBook provides useful insights for transformation from ILT to effective online training
Before I outline the benefits of converting your ILT/Instructor-Led Training to eLearning, a word of caution – this exercise is not about conversion of the existing Powerpoint slides to an online format. Instead, you need to treat your existing source content as the baseline or raw content, and plan to go through all stages of eLearning development. One of the models used extensively in eLearning development is the ADDIE model, comprising the following 5 stages that you can use as you convert your ILT to eLearning:
Analysis
Design
Development
Implementation
Evaluation
I am highlighting this important perspective because without going through this rigor during the conversion of ILT to eLearning, you will not be able to see the required benefits.
Next, let me outline the top 10 benefits that you will see as you convert your ILT/Instructor-Led Training to eLearning. I have structured these benefits into two levels:
Benefits for organizations.
Benefits for learners.
Benefits For Organizations
Savings in cost.
The most significant benefit that organizations see is cost saving. With a one-time investment on the conversion of ILT courses to eLearning, the online training can be used repeatedly. It helps organizations save on the recurring costs of travel. as well as on the instructor fees.
Scalability.
The second significant benefit to organizations is the potential of scalability that the online training offers. Now, they can reach out to the entire audience (spread geographically) with one version and at the same time.
Consistency.
Unlike ILT, which heavily depends on the capability of each trainer, eLearning provides an identical and consistent message to all learners.
Leverage new and emerging trends.
With changing learner demographics (read that as inclusion of Millennials as a significant part of the global workforce) and the range of learning strategies that are available in online training, organizations are spoilt for choice. Along with the conversion plan of ILT courses to online, they can enhance its impact and eventual ROI by opting for current and trending approaches like:
Higher training efficiency.
Show that adoption of online training improves training efficiency. Not only do the learners go through more training material (as compared to ILT), this is done in a shorter time with much lesser disruption to their time on work.
Benefits For Learners
Providing flexibility to the learner.
eLearning is "learning on the go" and provides an anytime-anywhere access to the learners. This flexibility is the most significant benefit from the learner's perspective.
Providing control to the learner.
By definition, the eLearning approach is learner-centric. The self-paced core of online training empowers the learners and gives them control to take the training at their preferred time, on the device of their choice, and at the pace they are most comfortable with. This is not all; online training is always available to them should they need to refer to it or go back to refresh.
Shorter seat time.
As you convert ILT to online, you would find that the run length of the eLearning programs is much shorter (typically the reduction can be 50% or, in some cases, even to 33%). As a result, learners are spending much lesser time to achieve the same learning outcome.
Extending the learner engagement.
Unlike ILT session engagement that normally ends with the conclusion of the facilitated session, with online training, you can continue to engage the learner. After the primary training is over, you can create learning paths to offer reinforcement/remediation and supplementary learning nuggets.
Higher retention of learning.
Several studies indicate the retention levels of eLearning-based training are significantly higher than those of ILT sessions. A study conducted by the Research Institute of America in 2014 showed that the retention rate was in the range of 25-60% for eLearning as opposed to a mere 8-10% for face-to-face training. This value-add directly impacts the ROI of training.
I hope this article provides the required insights on the 10 benefits of converting your ILT/Instructor-Led Training to eLearning. Do contact me at [email protected] if you have any queries.
Read more: